Tuesday
Community Articles
In Loving Memory of Shastri Russell Rogers
This remembrance was originally published as part of the Touching the Earth Collective's July 2020 Newsletter. The rest of that newsletter has been shared with Times readers here.
---
We honor Shastri Russell Rogers, as he was an early supporter of the Collective, generously providing lengthy curriculum, contemplations, and building our resources. Warriors, teachers and students will forever be grateful for his exhaustive curated lists of quotes, valuable thinking, and for his manifestation as an earth protector.
Russell Rogers
By Miles Parker, former Director, Kootenay Shambhala Meditation Centre.
It is impossible to share the felt sense of what it was like to simply be with a person. The qualities of the context of space and time and the subtleties of communication don't transfer. Still, there was something so direct and complete about Russ that, even if you spent a short time with him or read his words, you could trust your sense of knowing who he was. So I encourage you to read what he had to say for yourself. And I also offer this short reflection on some of the impact he had on the world and those of us who knew him.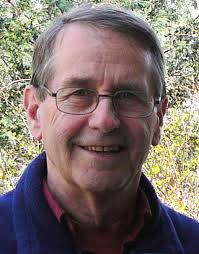 Some people spin a version of themselves with their words. Russ just shared what he was thinking and feeling at the moment. He spoke softly, simply and directly, without the regurgitated formulas that dharma practitioners and teachers often fall back on, while, underneath every observation, carrying a deep and refined understanding of the dharma; he understood that our perceptions and mental formations create our view of the world and that non-violent change only comes about by going right to these qualities of heart and mind. He took the view that radical change is not forced through aggression, but invited with gentleness.
Like all of the people reading this, Russ had a passion for the world and a concern for where we were headed as a species. But he was so unlike most of us in a crucial way. Environmentalists often fall into the trap of anger and blame, pigeon-holing others, identifying the good guys and the bad guys: "What are those morons doing sitting there idling their SUV?" "What kind of person would work for an oil company?" In the countless conversations Russ and I had about the human impact on our world, I never once heard Russ judge another person. Instead, the conversation would turn to a compassionate understanding of the roles that people play in a broken society, and how we might change that.
We live in a community where logging is a major employer. Knowing people who do this work makes it much harder to maintain an attitude of us and them. Russ related how talking to a forestry worker, he came to realize that when fallers walk in the woods, they don't see trees, they see standing lumber. When Russ shared that observation, it cut through my own judgments. We then shared a curiosity about what would need to manifest for the logger to see the trees. We talked about the people working in the woods who do exactly that, such as at the Harrop-Proctor community forest.
Russ' connection with the sacred world was not theoretical. Quite the opposite; when he realized the limits of science in describing the world — a topic we returned to many times — he threw his masters thesis off the boat, theoretically and, I gather, literally. He knew the plants and the soil and the community. He was literally an earth protector.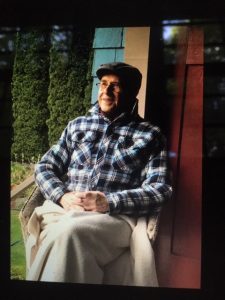 Russ loved animals, not in a sentimental, anthropomorphic sense, but through an appreciation and respect for these beings' own power in the world. That manifested as direct communication. He shared with us the details of meeting a mother bear and her cubs and negotiating a gentle understanding, starting with recognizing his own mistake in being somewhere he should not have been. This reached the point where the local skunks were seen brushing up against his leg as he sat in the garden in the early hours of the morning. His wife Margaret suspected he might be feeding them — which I wouldn't doubt, though his overall approach to nature was the very opposite of settler mentality.
Out on a walk one day during a forest retreat, I came across Russ standing on the side of the trail, not moving, just observing. As I quietly joined him, he pointed to a small songbird in a bush, clearly agitated, tweeting over and over, pacing on a branch, focussed on the ground. One of her baby birds had fallen out of the nest and a snake had found it. I would have walked past without noticing any of this wilderness drama. Russ simply watched, fully connected to what was happening; yet he seemed to have no urge to interfere. Living on the edge of not turning away from suffering, while not imposing his fix on it.
Russ' connection to the environment had a completely nuts and bolts flavour. He recognized the complexities and unavoidable tradeoffs involved in the encounter of human society with the natural world. It was never pie in the sky. We would ask each other the "what's so bad about bananas" kind of questions, and he would come to council meetings having done the math for the impact of replacing our old furnace now vs. waiting instead and replacing it with a heat pump later. We might transition from incandescent to CFLs and then LEDs but regardless, the shrine room must always be filled with light!
I had the privilege of working with Russ over the last five years on a unique community interfaith collaborative for climate change; he representing the pillar of the teachings and I representing that of governance. In fact, somehow the whole thing had a very Shambhala flavour. Russ attended many of the monthly meetings that from an outward perspective were focussed on the details of scheduling and communication but from the inner aspect came to feel like a sacred circle of faith leaders and lay people from the Anglican, United Church, Lutheran, Sufi, Muslim, Yogic, Bahá'í, Catholic and other traditions. We both came to appreciate from a non-theoretical perspective the deep spiritual commitment of people of other faiths; the integrity and power of other traditions — to see our various approaches as doorways to the same space of luminosity-emptiness.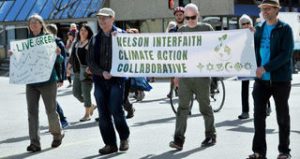 So the final thing I want to share is how among all of these people who had spent their lives devoted to their faith and caring for others, what stood out was the singular respect that everyone held for Russ — in their own words: his inspiring generosity, the calm and serenity they felt in his presence, an appreciation for the way he and his teachings touched the world. As people who care for the earth, the best way we can honour his commitment is to make our own commitment to complete unbiased and compassionate respect for the wisdom and intelligence of all of the other beings we share this world with.
Click here to access Russell Roger's Contemplations for the Earth.
Post Tags:
community
,
Enlightened Society
,
environment
,
remembrance
,
shambhala
,
shastri russell rogers
,
Touching the Earth