Tuesday
Community Articles
Touching the Earth Collective—July 2020 Newsletter
From the Shambhala Times: the original publication of this newsletter begins with a loving tribute to Shastri Russell Rogers. You can find that tribute here.
From the Collective: 
Here we share with you the first Shambhala Touching the Earth Collective monthly Newsletter,  one of the first sprouts arising out of the Board's granting of a Community Grant. The Collective is dedicated to upholding, protecting and celebrating the healthy sustainability of the sacred living and social environment within Shambhala culture and the greater society. 

The Collective is open to all. If you would like to join from wherever you are and/or receive the monthly Newsletter, let us know at 

[email protected]

. Thanks for your kind interest. 
---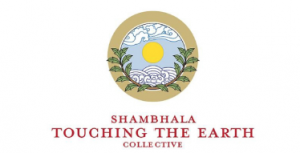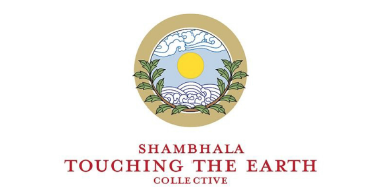 Touching the Earth Collective
— Featured Member —
Every month, we will offer a space for one of the Collective's members to share about their work, art, or passion…
Mary Lang, Photographer
Here, nowhere else
Mary Lang—Artist statement
These photographs are the visual records of a sentient being, standing on the earth, sensitive to the phenomenal world.
Each one of these photographs feels like a doorway into a separate realm. They are single perceptions, clear and vivid, like waking from a dream, finding yourself Here, nowhere else. Like the turning of a kaleidoscope, for a moment time stops, everything falls into place and I am part of the invisible pattern that holds the world together. Though standing on the earth, it still feels groundless.
In the open-hearted sadness of direct perception, in the feeling of liminal presence, there's an intimacy, a magical connection to the elemental quality of the land. Held within the camera's frame, the details of the photograph – space, light, texture, shape, tone – are portals to the infinite number of spaces, textures, light, air, movement, life and death, that is everywhere in the natural world.  My hope is that the photographs, like poetry, express something that cannot be expressed in any other way
I wake up early every day. As I drink my coffee, I look out the kitchen window into the pitch black of a dark winter morning, or if it's summer, stand on the screened porch, and take in the beauty of the yard and the relative peace of my surroundings. But there's always a hole in my heart. The suffering, coarseness and cruelty, the chaos, aggression and confusion of the times we live in are always present as a shadow, always just a breath or a news alert away. Climate change haunts me. Realizing that the world I have known for my lifetime will not be the world that my grandson will grow up in makes the hole in my heart more like a crater. Every week, if not every day, somewhere in the world, in quiet ways or with destruction fast and inexorable, we are losing the earth that we love.
I did not set out to make photographs about climate change. I wanted to make photographs that were an emotional record of what it feels like to be a sentient being here on earth, to express the emptiness and fullness of those moments. The very existence of my humanness, however, implicates me as a participant in the Anthropocene. Everything we do is changing our world, yet this is where we live.
Here, nowhere else.
Local Dralas
Washington DC Shambhala
A conversation between Mark Rasmuson and Irene Woodard
Irene: Hi Mark. Thanks for doing this, and sharing the DC story, notes from the field so to speak. I am curious how the DC eco activity began?
Mark:  We got started in earnest last summer when we planned a daylong program on Buddhist Wisdom for the Climate Crisis and offered it at the Center in September.  Then, starting in December, we began hosting an Ecosattva discussion group following One Earth Sangha's Ecosattva training program.  The group met every two weeks through April, with our discussions organized around the 8 sessions of the Ecosattva training curriculum.  We began by looking at the psychological costs of climate change—climate grief or "melancholia," the term used by teacher Renee Lertzman—and how mindfulness practice can help us stay resilient in the face of these difficult emotions.  There were sessions with ecodharma leader David Loy, brain scientist Dan Siegel, and also with several Dharma teachers of color, such as Myokei Caine-Barrett, about the intersection between climate change and environmental and social justice. One of the most moving sessions was a teaching from Acharya Adam Lobel in which he spoke very deeply and personally comparing his despair about climate change with his grief over the difficulties facing Shambhala.
Irene: So the EcoSattva class ended around Earth Day 2020, then what?
Mark: Our group members wanted to continue to meet, so we have kept up with our biweekly schedule.  At the moment, we're reading and discussing the work of Joanna Macy.  We're also making plans for expanding the focus of the group.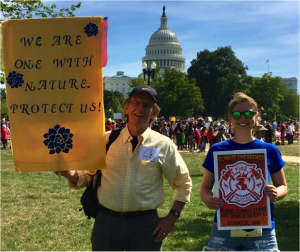 Irene: What book or books did you explore?
Mark: Active Hope: How to Face the Mess We're in without Going Crazy, great book.  We're spending 5 sessions discussing the chapters in the book and trying out some of her recommended meditations and workshop exercises.
Irene: So maybe this is obvious, but has that book moved you to action? Is that what you mean by expanding the focus?
Mark: Expanding the focus into new areas.  Our broad areas of interest include Buddhist teachings on ecology and environment; the science of climate change; deep ecology; building resilience; eco-activism; societal collapse and transformation; deep adaptation; environmental and social justice; reconnecting with nature; and interfaith climate work.  We're still in the process of choosing specific activities to undertake, but expect them to include both "Leaning In"—discussions within our group—and "Leaning Out"—offering public programs and joining in climate actions with other groups, especially interfaith groups.  Members' ideas for collective action have ranged from supporting the work of Extinction Rebellion to cleaning up a park or a river to helping with voter registration.
Irene: So what do you call yourselves?
Mark: We are tentatively calling our group EcoDharma DC and stating its purpose as "dedicated to facing climate change and developing compassion for the earth and all beings, through learning together, practicing in nature, and engaging in eco-action."  We'll continue to be hosted by the DC Shambhala Center and also to link closely with the Touching the Earth Collective and its work.
Irene: Good! We aspire for Touching the Earth to be a collective supporting local initiatives and inspiring and sharing the learned experiences between us.
Mark:  In fact, one of our specific interests is in how we can tap into and adapt some of the training programs offered on the Touching the Earth website, such as the Touching the Earth—Awakening the Warrior Program offered by David Wimberly; the Awakened Presence program offered by Ruth Wallen; and the Earth Dharma program offered by David Marshall.
Irene: I am glad the website is helpful. Do you have any last thoughts you want to share?
Mark: Maybe just to add that the group will be open to anyone with an interest in Buddhist and/or mindfulness thought and practice as well as climate change, and we feel it's especially important at this time of awakening to the issues of racial justice that we aspire to become a diverse group that honors all cultures and traditions and is open to new perspectives.
Irene: Thanks for your work, Mark, and helping share the DC sangha's good intentions and actions.  See you on Zoom and in the streets.
Mark: Thanks for the opportunity to share our work, Irene.  We're excited to be working together.
Upcoming Events
Shambhala Touching the Earth and Shambhala Online will present:
Two-Eyed Seeing
With Albert Marshall.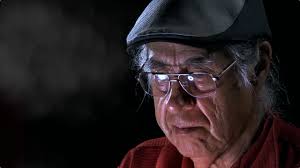 Albert Marshall is a leading environmental elder in Unama'ki Cape Breton. He is a highly regarded international spokesperson for Mi'kmaq's natural resources and environmental issues.
Saturday, July 25, 4:00 pm (Atlantic) 
Registration will open shortly via the Shambhala Online website.
To join the STEC google group and be added to our mailing list, please email: 
[email protected]

Any comments regarding this newsletter content can also be sent to: 
[email protected]
Post Tags:
community
,
Culture
,
Enlightened Society
,
environment
,
green
,
shambhala
,
Touching the Earth
,
Washington D.C.