Wednesday
Community Articles
Make a Loud Noise for Democracy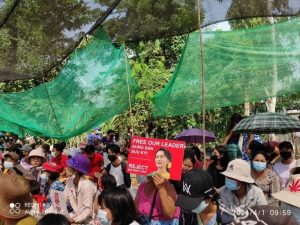 Burmese Buddhist Monk Min Thu Nya, or "King Zero" is among the most outspoken pro-democracy activists in Myanmar. Since February 1, when an armed military coup overthrew Myanmar's nascent democracy, King Zero's real-time Facebook posts have roused the courage of all Myanmar people, urging them to join in the nationwide Civil Disobedience Movement (CDM). He posted the following speech live on in late February.
Min Thu Nya visited Shambhala Boulder in 2019 as a key speaker during the "Voices of Courage" conference, and has appeared previously in the Shambhala Times.
—Larry Steele, Seattle Shambhala
---
By Min Thu Nya
May you all be free from danger and worries, be healthy and wealthy. I am sending my first wishes to you. May all be free from the danger of evil from the military dictatorship, soonest.
Since the day the military dictatorship led by General Min Aung Hlaing seized control of our country, our citizens have been standing in solidarity and fighting the most important battle for democracy.
We, the monks and citizens, participated in the election and chose our leaders with trust. (In November 2020 the National League for Democracy, led by State Counselor Aung San Suu Kyi, won Myanmar's national elections by wide margins.)
Then, all of our dreams, wishes, future, and trust were destroyed by the power of armed control. It is the act of the devil.
Don't think this is not important. This is very important. Only at this time, only if we can root out military authoritarianism, we will reach our goal. Thus, our citizens should never think it less important, but must use our utmost endeavor, wisdom, and courage consistently. Our actions must be more than a quick spark of light.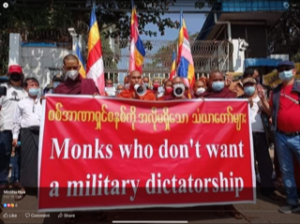 Every day at 8 pm, we will beat our pots and pans to show our desire to drive away the military dictatorship. We are very pleased and delighted to know that people have been accelerating their desire to show resistance. Please keep doing it. We are seen worldwide now.
Solidarity has shaken and frightened the dictatorship and we have to keep doing it consistently and never retreat. We have been signing "Kabar Ma Kyay" and rebellion songs. We all have been using any means to attack the military dictatorship. Today it is great that students are going out to the street. We need to follow disciplines and maintain peaceful assembly.
From our point of view, the staff of our elected government has resigned. In response, many people have been doing the "red ribbon" campaign (the color of the National League for Democracy). That is good, but not enough. We encourage people to resign their jobs in a Civil Disobedience Movement (CDM). We all can rejoin the service when our public leaders regain power.
If we have solidarity, they will lose their power sooner. If we resign and join the Civil Disobedience Movement it will stop the government administration mechanism. So while some are joining the movement, but if you stay quiet and keep going to the office, think about those who have made the sacrifice and resigned. They also have family and sacrifice their lives. What we would like is for you to resign for now.
As we all know, there have been many instances like this in other countries. When the military seized control, the public servants resigned to stop government administration. When this happens, a military regime can no longer survive. This is a very effective method.
We all know that CDM participants deserve big awards. That is why I want you to be clear about it. You are resigning from the authority of the military dictatorship. To stop the military dictatorship. The sooner it stops, the better it is.
That is why I want you to be effective. Resign from your job. We have to accelerate the fight; this is the last one. This is our last fight.
We, the monks will be chanting "Myittar Thoat" and "Maw Ya Thoat Payeik" today. So, there are monks you have been paying respect to. Discuss the situation with them. Observe if the monks do those things. You offered your donations to them. This is a public affair and they cannot ignore it.
(The monks who have been arrested) are the kind of truly holy monks who can be found perhaps 11 times in 100 years. They teach and educate Buddhists. They are lead lecturers, and are over 70 years of age. In spite of this, the military disrobed them forcefully without any legitimacy.
The military has been abusing religion for so long. They abused Dhamma and monks. Please be clear and have a strong mindset. Don't trust the fake news and rumors. Please work together with each other. Hold our hands together and don't just let this be a short-term plan. We have to fight until the end.
There has been good news about support from around the world. However, the most important thing is within our own country. The world can only support us by relying on our domestic activism.
Look at historical change anywhere in the world. If you look at the history of success against military dictatorships, the most important force comes from citizens. If there is no action from citizens, the world cannot help us. That is why the power of our citizens is very crucial.
Be courageous, have solidarity and harmony. Please make our plan to fight without violence but strategically. It is very good to see people holding signs saying "We don't want military dictatorship." Place these signs everywhere.
Take pictures and make videos of beating pots and pans and all other activities. Post all your activities. They fear media more than anything. That was why they banned Facebook. If they are doing the right things, there is no reason to ban social media. Censorship is in the genes of the authoritarian.
How long has it been from the first day of the coup? If things go forward, they will do more destructive actions in the future. Just like their grandfather, China, controlled all media to avoid protest against communist authoritarianism. The Myanmar military is following the same route. So please have solidarity.
Now the time is closer to beat pots and pans. I would like to summarize my speech. At 8:30 pm, request your monks to do chants. You can also chant Myit Thar Thoat if you can. You can also read from the books. You can also listen to programs on a mobile phone. If you have speakers, use them. By not playing it too loud, you can play it. You all can play it. Show your solidarit. We all have to show our solidarity.
May you all be healthy, wealthy, and have peace of mind and freedom from danger. To stop the military dictatorship, show your Burmese blood, courage, and solidarity to the world.
May the military dictatorship stop soon.
---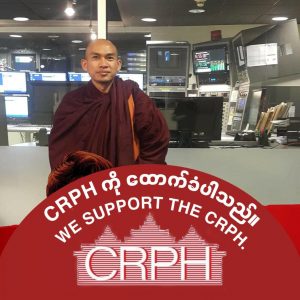 Min Thu Nya and many monks support the Burmese government in exile, called the CRPH or Committee Representing Pyidaungsu Hluttaw. Seventeen National League for Democracy party legislators formed the Committee to carry on parliamentary affairs in defiance of the military junta. They have condemned the February coup as a "criminal act" under Myanmar law, and ask the United Nations and international community to work directly with the CPRH as Myanmar's legitimate government.
Post Tags:
coup
,
Enlightened Society
,
king zero
,
Myanmar