Thursday
Community Articles
Introducing Shambhala Community Conversations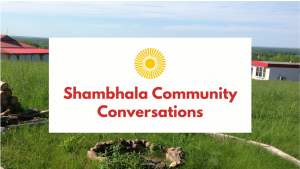 If there is an "it," we are it.
-Shambhala Community Conversations participant
This year, a growing team of Shambhalians has hosted more than 30 Shambhala Community Conversations: group discussions on key topics in our community that are open and welcoming to all. More than 350 community members worldwide have participated, with new discussion dates added in multiple languages and time zones each week.
Shambhala Community Conversations was born within the Shambhala Process Team, with the initial mission to host difficult conversations on the divisions in our community.
As the project has gained momentum, our mission has broadened: we find that these open, gentle conversations are directly manifesting enlightened society in Shambhala.
How Shambhala Community Conversations work
The design of Shambhala Community Conversations takes inspiration from the Shambhala view of basic goodness and enlightened society, from specific practices within our community such as contemplation practice and social meditation, and from related social practices such as Theory U.
Each conversation includes eight to 20 participants, and is hosted by two trained facilitators. Facilitators do not participate, but help hold the container for the participants.
Conversations start with meditation and a brief check-in, followed by discussion in breakout groups of three to four participants. Lastly, there is an open discussion among all participants.
We continuously refine topics and the format itself based on participant feedback.
The Shambhala Community Conversations archive
All conversations are documented and shared with the community, and with Shambhala's leadership structures. Participant names and identifying details are not shared. You can view the full archive at https://shambhala-process-team.org/conversations/.
To create this archive, we record a transcript of the group conversation. We then anonymize the text transcript and delete the recording. We also provide spaces for written reflection during the conversation, and after the meeting, participants can share any further insights they wish to via email.
What we've discussed to date
We design each conversation around a key topic in our community. Our first conversation topics have been:
Belonging in Shambhala
Wide-ranging conversations on what Shambhala is to each of us.
Shambhala Governance
What we're learning about leadership, hierarchy, and community structures.
Shambhala's Practice and Study Paths
Issues and opportunities along Shambhala's teachings and practice paths.
We have additional topics planned, including follow-up discussions on Governance and Practice and Study Paths, and one on the relationship of conduct to enlightened society.
What we're learning about enlightened society
These conversations have a quality that is hard to describe. They are not hard-driving contests of ideas. Participants describe them as follows:
"I felt a deep sense of being Shambhala."
-Shambhala Community Conversations participant
"Thank you all. I didn't think I would contribute, but I feel very welcomed, and heard."
-Shambhala Community Conversations participant
"What I love about these kinds of meetings is, I feel like I can bring who I am to the table. And I'm not afraid to be judged by this group of people. And I think if we can expand that out, and feel like who we are, and where we're coming from our life journey could be held and respected. Even if it doesn't, if other people don't agree with us, they could love us. Because we're part of a tribe in a way, you know, a tribe of people who sit on our asses, and work with our minds and our emotions. And that's a remarkable thing."
-Shambhala Community Conversations participant
"I realize now that I am not as isolated as I sometimes feel."
-Shambhala Community Conversations participant
"This process itself is enlightened society, painful and groundless as it is."
-Shambhala Community Conversations participant
We are learning that being together in a particular way has great power—which isn't confined to, but can include, anything we're gathered to do or discuss together.
And we're learning the enormous importance of container principle in helping establish and support this "particular way" of being together.
An image for how we feel that often surfaces on our team is Indra's Net: a huge net of jewels, each jewel reflecting the others, and hung together by threads of connection.
How to participate
Please join us in an upcoming conversation. You can view the full schedule and register at https://shambhalaonline.org/community-engagement-initiative/.
To see what participants have shared in previous Shambhala Community Conversations, visit https://shambhala-process-team.org/conversations/.
"The connection that I feel is quite magical, and I'm thinking 'This is Shambhala' in a way: this, what we're doing, seems like the real Shambhala to me."
-Shambhala Community Conversations participant
---
The Shambhala Community Conversations team consists of Process Team members, community volunteers, and dozens of trained facilitators from across the community.
Post Tags:
community conversations
,
Enlightened Society
,
shambhala
,
shambhala process team