Friday
book reviews, Favorite Books
A Book of Luminous Things – An International Anthology of Poetry: Edited with an Introduction by Czeslaw Milosz
A Book of Luminous Things – An International Anthology of Poetry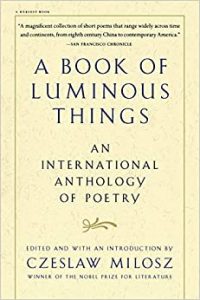 Edited with an Introduction by Czeslaw Milosz
Reviewed by Christine Heming
Before you print a poem, you should reflect on whether this verse could be of use at least to one person in the struggle with himself and the world.
Sometimes a book finds its way into your hands again and again.  A Book of Luminous Things is just such a book.  There I find just what I am looking for, most recently, a poem that captures drala.  There were an abundance of choices, for example: "Wild Geese," the well-known poem by Mary Oliver; "Mystic," by D. H. Lawrence, a poem about the awake quality of our senses; and W. S. Merwin's "Utterance," that speaks to the presence of all that has ever been spoken.  I settled on "Witness" by Denise Levertov – short and on the dot.
          WITNESS
          Sometimes the mountain
          is hidden from me in veils
          of cloud, sometimes
          I am hidden from the mountain
          in veils of inattention, apathy, fatigue,
          when I forget or refuse to go
          down to the shore or a few yards
          up the road, on a clear day,
          to reconfirm
          that witnessing presence.
What I like most about this collection, aside from the wonderful poems and poets it contains, is that the vast majority of poems are short and on the dot. Czeslaw Milosz, himself a poet, chose the poems for this anthology with just those criteria in mind.  He writes:  
My proposition consists in presenting poems, whether contemporary or a thousand years old, that are, with few exceptions, short, clear, readable and . . . loyal toward reality and attempting to describe it as concisely as possible.  
The Poetry Foundation ranks Czeslaw Milosz among the most respected figures in 20th-century Polish literature, as well as one of the most respected contemporary poets in the world.  He was awarded the Nobel Prize for Literature in 1980.  In his introduction to A Book of Luminous Things, Milosz writes the following:
I have always felt that a poet participates in the management of the estate of poetry . . . Thinking about that estate . . . I decided I could contribute to its possessions . . . that instead of theory, I brought to it something of practice.
This collection within the "estate of poetry" is meant to be a practice, the practice of poetry.  Before we look into just what that practice might be and for what purpose, it might he helpful to know a little bit about the life and work of Czeslaw Milosz.
According to his biographer, Andrzej Franaszek, Milosz was obsessed with the idea that poets have a responsibility to write in a way that not only is beautiful and true but also offers sustenance.  In a 1938 essay Milosz wrote: "Before you print a poem, you should reflect on whether this verse could be of use at least to one person in the struggle with himself and the world."*
This passion for truth and beauty, and sustenance, was born in someone who, up until he defected to the West in 1951, witnessed the worst of humankind envelope Eastern Europe – the regime of Joseph Stalin in Lithuania, the Nazi invasion of Poland and the herding of Jews in the Warsaw ghetto, the Holocaust, and the post-war occupation of Poland by the Soviet Union, from which he fled.  The horrors he witnessed and experienced clearly shaped his view of humanity and history: ". . . the instinct to strip away the inessential, to zero in on the heart of the matter . . . he sought a poetry that was truthful and perceptive enough to be trustworthy even when annihilation seemed imminent."*
Judging by the numerous times I take A Book of Luminous Things into my hands, open to any page, and lift from it a living truth, Czeslaw Milosz has succeeded in making this anthology a practice. The over 200 poems are organized under intriguing titles like "Epiphany," "The Secret of a Thing," "The Moment," "Woman's Skin" and "Nonattachment."  The poets are many – spanning time, culture, and the globe.  The reader may discover a new voice among them, likely one of the old Chinese or Japanese poets for " . . . through their lips eternal man speaks, that love, transience, death were the same then as now."  With the exception of Milosz's own poetry, which is not included, the depth and breath of the selections will not disappoint.
Milosz has accomplished his intention; these poems are "loyal to reality" and true.  Because the poems are short and clear, they are so easily read and pondered – worked under your skin and into your heart.  Milosz says we live in a time of deprivation, missing our vital organs – the ability to feel, to fully appreciate our sense perceptions, to be open both to the agonies and ecstasies of human life.  He is offering us a practice to help us come alive again through the practice of poetry.
My appreciation and enjoyment of A Book of Luminous Things inspired me to look more deeply into the poetry of Czeslaw Milosz.  Here is one of his poems from Unattainable Earth.
          EARTH AGAIN
          They are incomprehensible, the things of this earth.
          The lure of waters. The lure of fruits.
          Lure of two breasts and the long hair of a maiden.
          In rouge, in vermillion, in that color of ponds
          Found only in the Green Lakes near Wilno.
          An ungraspable multitudes swarm, come together
          In the crinkles of tree bark, in the telescope's eye,
          For an endless wedding,
          For the kindling of eyes, for a sweet dance
          In the elements of air, sea, earth, and subterranean caves,
          So that for a short moment there is no death
          And time does not unreel like a skein of yarn
          Thrown into an abyss.
*Kirsch, Adam.  "Czeslaw Milosz's Battle for Truth," The NewYorker, May 29, 2017.
---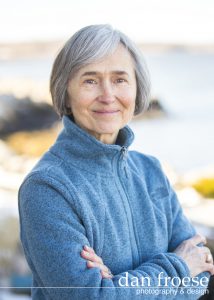 Christine Heming is a writer and educator.  She has been a student of the buddhadharma for over 45 years, and a senior teacher and meditation instructor in Shambhala.  She lives in Port Royal, Nova Scotia.
Post Tags:
Arts and Poetry
,
poetry
,
reflection