Tuesday
Community Article
Eco News from Drala Mountain Center
Shambhala Touching the Earth Collective January 2023 Newsletter Article
By Dhi Good and Alyssa Graziano
Drala Mountain Center, located on 650 acres in northern Colorado, is home to the Great Stupa of Dharmakaya and a wide variety of creatures, flora, and fauna. The land and surrounding areas hold bear, moose, mule deer, mountain lions, elk, coyotes, marmots, squirrels, rabbits, chipmunks and a variety of local and migratory birds. Recently a bobcat was spotted "downtown" near the dining area. Moose sightings are common, and the deer enjoy browsing and napping throughout the land. (They seem to know we're Buddhists, or at least earth-friendly humans!)
 
A good deal of our environmental efforts go toward recovery from the Cameron Peak Fire of 2020, which destroyed 17 structures and over 400 acres of important wildlife habitat. The streamside of Rio RMDC that was once lush with willows, birch, and aspen was severely burned, leaving the stream with a high loss of vegetation, an eroded bank, and loss of habitat.Our stream flows into nearby Elkhorn Creek— a tributary of the mighty Cache La Poudre River. The Elkhorn Creek watershed is a diverse and beautiful area; home to many Rocky Mountain species and endangered species such as the Preble's Meadow Jumping Mouse.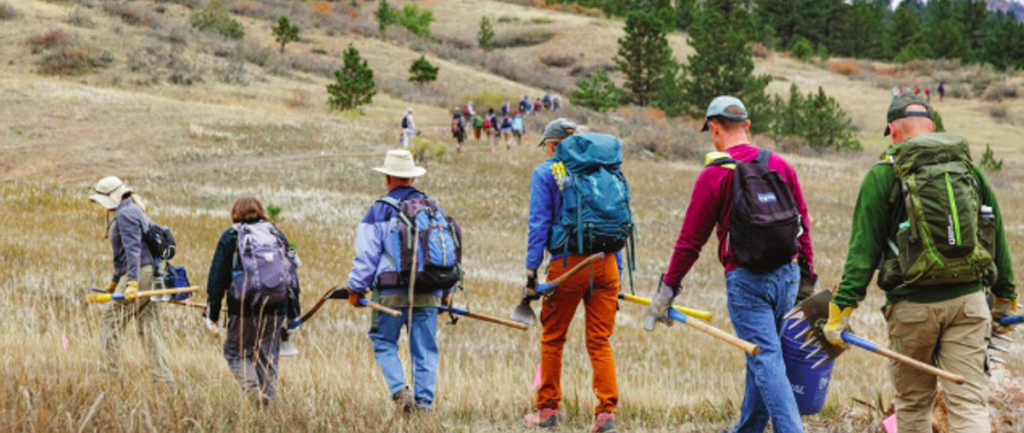 The ponderosa forests of Drala Mountain Center are fire-adapted, and wildfire is a regenerative process that is a part of the natural cycles of the ecosystem here. However, severe fires as with the Cameron Peak Fire can cause many problems within watersheds, including poor water quality, erosion, flooding, and habitat loss to name a few.
Through our commitment to land stewardship at Drala Mountain Center we are working to create the circumstances to promote biodiversity and resiliency to the land. The actions we take now will leave a lasting, meaningful impact not only on the health of the land, wildlife, and people at Drala Mountain Center, but will also be carried downstream to benefit the surrounding land and beings beyond.
Here are some recent and upcoming activities from DMC.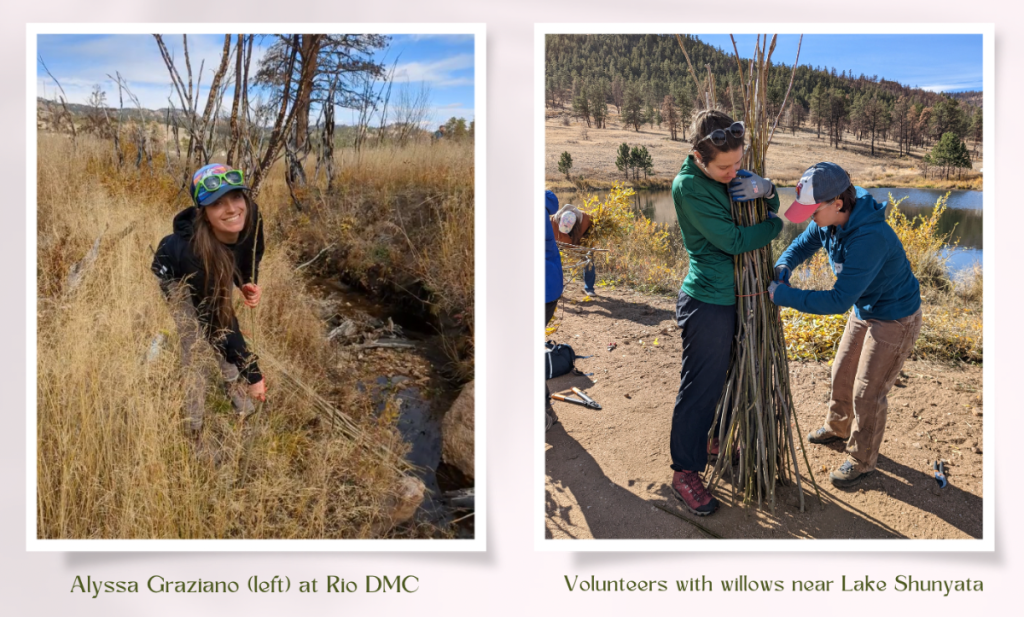 Trail Restoration
Over the summer, Volunteers of Outdoor Colorado helped to restore perimeter trails that were damaged in the fire. The work focused on the east side of the land, around Marpa Point leading up to the Stupa. The photo above, which graces the cover of VOC's annual report, shows volunteer crews with tools in hand, heading up to the east perimeter trail. 
Invasive Plant Species Mitigation
DMC is building an integrated weed management program through cooperation with county and state weed programs, developing a long-term plan, and building partnerships by working with others to produce weed education and awareness. The aim of our program is to control noxious weeds, the non-native aggressive invaders that replace native vegetation, reduce biodiversity, cause wind and water erosion and pose an increased threat.
Permaculture Practicum
In October permaculture wizards Jerome Ostenkowski and Kareen Erbe led a design practicum at Drala Mountain.  DMC's Garden Manager, Sara Buck, led this effort and oversaw the practicum.  Sara brings extensive permaculture experience and training to DMC and is leading an effort to identify the DMC path forward in our garden and food production planning. Practicum participants learned key permaculture principles and applied them to designs for the land. After some classroom time, the group ventured to the geodesic dome greenhouse structure for composting-in-place demonstrations and planting fruit trees brought from the Rocky Mountain Permaculture Institute in Basalt, Colorado.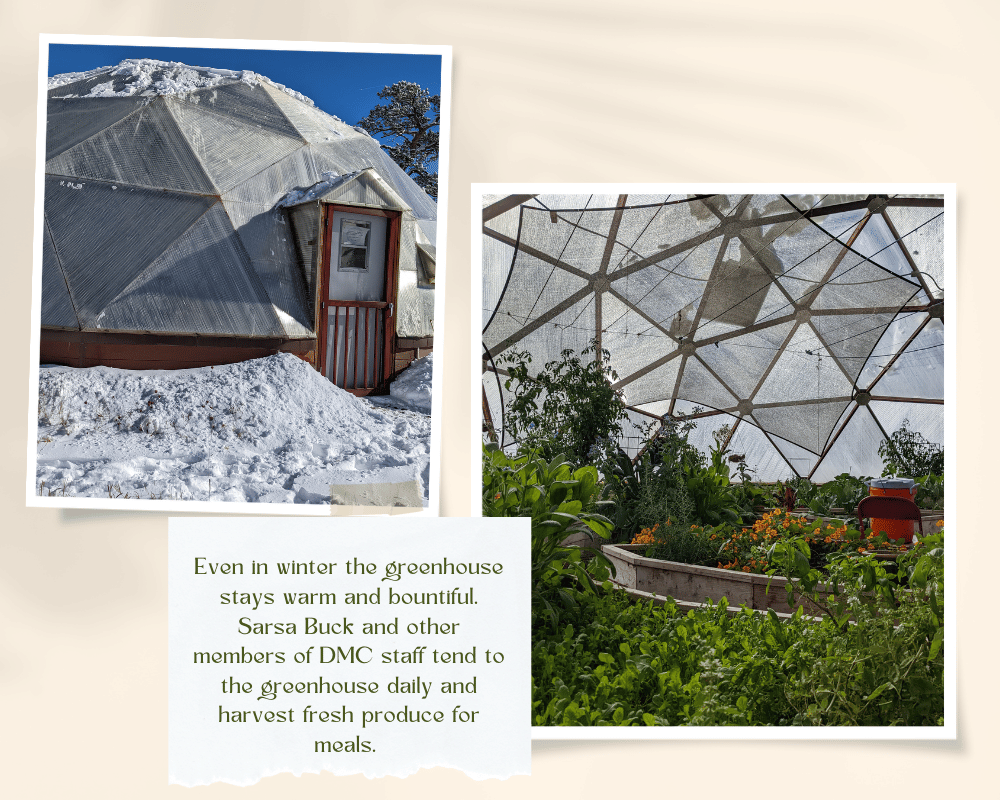 In the future, we envision an additional greenhouse and re-claiming the outdoor garden, which has been dormant since the fire. 
This summer, DMC is planning to host programs that explore the flora, fauna and feng shui of the land. Michael Gayner and Alyssa Graziano will lead hikes and nature walks all around the land, sharing their understanding and connection to this amazing place.
Volunteer Opportunities
DMC is accepting volunteer applications for periods of 2 weeks or more. Contact Alyssa at [email protected].
*****
This post is an excerpt from the Shambhala Touching the Earth Collective January 2023 Newsletter. To read the complete newsletter please click here.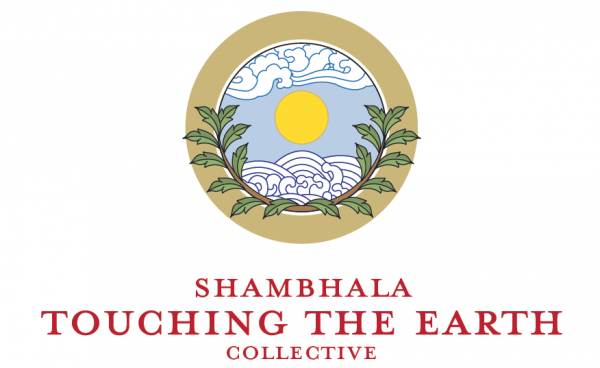 Post Tags:
Drala Mountain Center
,
Eco news
,
Sustainability Initiative
,
touching the earth collective