Monday
Community Articles
Reflections on Shambhala Day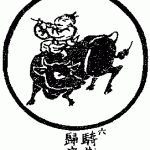 It certainly didn't feel like an auspicious day when I woke up that morning. The last part of the don season stuck me with a nasty cold and as I poured myself into my suit I couldn't help but gain confidence that the year of the Earth Ox was off to a poor start. Yet, as I slipped into the shrine room at the New York Shambhala Center (midway through the Sadhana of Mahamudra I must admit), I felt an immediate surge of energy. The knowledge that my friends and family were practicing at the same time around the world perked me right up. The fantastic brunch served after practice didn't hurt either.
However, my hesitation crept back in an hour later when an echo and static took over the international broadcast. Within a few minutes, it became clear that we were not going to be able to hear any of the messages from the Sakyong, Sakyong Wangmo, or President Reoch. I felt disheartened and a bit cheated.
Then I looked around. I was struck by the fact that not a single person got up and left the shrine room. Over one hundred people sat there patiently as we went along with the schedule. While they may have been initially drawn there that morning to hear the words of the Sakyong, they stayed because they found great joy in one another's company. This reminded me of the overwhelming power of just what we were discussing at so many of our centres worldwide: the strength of our community at this time is powerful.
When I put out an inquiry to the many individuals who had agreed to work with me on fund-raising for Shambhala Day, I was surprised to hear that similar experiences occurred all over the mandala. In Toronto, the good mood remained unchanged despite abandoning the broadcast and going straight into fund-raising. In Atlanta, one person noted that their personal irritation with the broadcast collapsed on itself several times before dissipating into the patience and relaxation that surrounded her. One sangha member In Berkeley used the opportunity to point out that "core services is doing so much well, but obviously can still use some help…" which was met with laughter throughout the shrine room. A few minutes later the Berkeley sangha was asked to make a "big aspiration" while filling out their Shambhala Day pledge cards, keeping in mind all those who have lost their homes, jobs, or are suffering in general.
While I would say that the failed broadcast was a disappointment, my own hesitation left me when I looked around that shrine room in New York City. I don't know when it happened, but so many of the problems we have discussed in depth in similar community gatherings over the years had just disappeared. I saw young practitioners chatting with "old dogs," senior students I barely ever see mentoring new ones, and people from every imaginable ethnic, racial, and class background sharing stories and mimosas. It was truly touching.
In the face of the economic crisis and despite the major upsets of the day, I was struck by the generosity that flowed in our community. The report from Minneapolis is that they had the highest return rate on Shambhala Day ever, with 20 people handing in pledge cards out of a crowd of 22 sangha members. Similar stories are trickling in with pledge cards everyday. Between the overwhelming power of being with the sangha and the outpouring of generosity, I can't help but think that in the darkest times of the dark age, Shambhalians, standing together as a community, are more radiant then ever. It looks like the year of the Earth Ox is off to a great start after all.
Post Tags:
generosity
,
sangha
,
Shambhala Day