Tuesday
Community Articles, Mandala Projects
Sky of Radiant Activity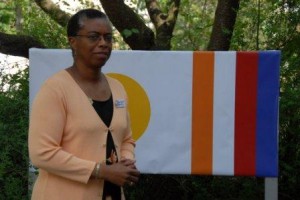 By Jennifer Holder
All it takes is a glance upwards to sense that the sky over Shambhala stretches across nations, continents, and oceans. It is physically as vast as Shambhala vision, reaching far beyond what the eye can see. Arising from the playground of this vastness, in November our community is preparing to hold Shambhala Congress in Halifax. For the fourth time since our first congress in 2003, the citizens of Shambhala—inspired members and centre directors alike—will gather from around the globe to represent their local Shambhala communities, express their wishes and challenges, and collaborate to create initiatives with far-reaching effects.
While each congress arises anew and proceeds organically, they always radiate activity. With the November 2009 congress fast approaching, our minds turn to what has been accomplished since the third congress, held in May 2007. Incredible activity has manifested around the Shambhala mandala—and few realize that almost every community initiative in the last six years arose from a congress, or was approved at one.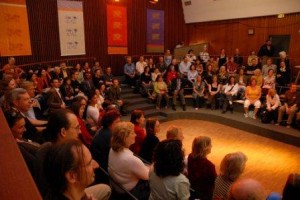 Exploring Community
The theme of the upcoming congress, "Exploring Community," reflects the underlying aspiration of all our congresses—the heartfelt intention to support the Shambhala sangha, the precious third jewel. Because each congress develops organically, participants can both relax into trusting the process and energize into planting seeds for projects that will blossom throughout the year. Rather than following a set structure, congress takes a spacious approach. The forms arising from this space naturally create a dignified, uplifted, and respectful atmosphere. There is a place at the table for everyone—with all points of view—as congress participants look at situations in the mandala, engage hearts and minds, and express the outcome with activity.
Fruition of the Third Congress
Within the dynamic reality of an ever-changing, growing mandala, much tangible accomplishment has occurred in just over two years since the third congress. In response to the goals for our community that arose from that congress, hundreds of devoted Shambhala volunteers have worked hard on projects that inspire us, educate us and improve communication among us. Congress vision, brought to fruition through the loving exertion of sangha brothers and sisters, gives us much to celebrate.
Following are brief highlights of a small number of these projects. For information about the complete activities of the international working groups and other community-enhancing groups, click here for a document outlining community activities, and here for a description of the Community Care Council.
Inspiration
To continue to support our leadership—on both local and international levels, and in both appointed and self-inspired roles— the Six Ways of Ruling sourcebook was published. It consists of teachings on leadership by our lineage holders and leaders. In a continuing effort to make the dharma available to everyone, our chants were put into formats that are accessible to the visually impaired. Yeshe Tsogyal— the mother of Tibetan Buddhism and renowned symbol of the feminine principle— is now depicted in a banner that hangs in many of our shrine rooms. And as we look forward into the future, we can all be inspired by Shambhala's 2009 Green Commitment, which called upon all Shambhala Centres to adopt action steps toward environmental sustainability.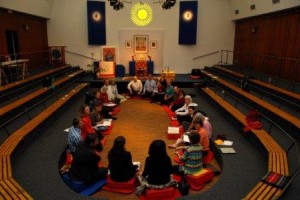 Education
A call for extensive leadership training led to the creation of the Governance Academy, which was held several times last year. There are programs being offered across the mandala on feminine principle, and now there is a weekend gateway for working with environmental sustainability and the principles of warriorship. The second Families and Children's conference is coming up, in which parenting and teaching is blended with a sense of path. The new desung training has blossomed, bringing the practice of health and social harmony deeper into our lives.
Communication
None of these myriad activities could be accomplished without the explosion of online communication. Our online presence has been both refined and expanded: the shambhala.org website has many new features; the Shambhala database is now streamlining information exchange; Shambhala Online brings programs into our living rooms and makes international question and answer periods possible; and the Shambhala Times launched to bring you news, features, and dharma happening around the mandala. Blogs by the various working groups keep everyone informed of developments and activities, including local liaisons at individual centres.
Celebration
When we're inspired, better trained and communicating more effectively, what can we do but celebrate? As members of our community age, we can celebrate their transition into esteemed elders of Shambhala. To assist this transition into new life stages, formal and informal rites of passage ceremonies are being created. Welcoming new babies into our world is a cherished moment, and we are also hoping to create a Shambhala naming ceremony to greet them. A scholarship fund for people of color will help many members of our community attend programs and retreats. And the Desung arm of the Dorje Kasung has become part of the Community Care Counsel to join civilian with military efforts for well-being and the protection of harmony.
Radiant Activity
The magical element that binds the words "society" and "enlightenment" is the wholehearted motivation by individuals to engage personally in a social transformation that will lead to the betterment of society…We therefore need to engender a genuine understanding that all individuals have a place in Shambhala society.

— Sakyong Mipham, from The Treatise on Organization and Society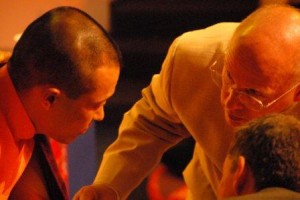 Since its inception in 2003, the Shambhala Congress truly has become the center for the peaceful community activity that arises from meditation practice. This year, as members arrive in Halifax from near and far, each bringing along their own perspectives and those of their local community, they will enter a space with the capacity to hold their view and with the power to do something about it. Just like the sky holds the diverse geography of our planet, Shambhala embraces every point of view and radiates the wisdom within it. From this ground arises profound, brilliant activity for the benefit of all.
Post Tags:
2009 Congress
,
Shambhala Congress