Tuesday
Arts and Poetry
Observing Shambhala Art Day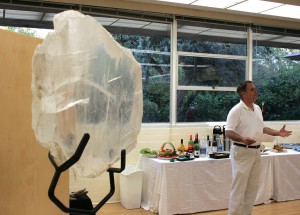 article by Amanda Tasse
photos are from the Los Angeles sangha
Today is Shambhala Art Day, which has been designated by Sakyong Mipham Rinpoche to occur on the spring equinox. It is a day when the entire Shambhala community and friends are invited to celebrate art forms and disciplines that embody the Dharma Art teachings of Chogyam Trungpa Rinpoche. These teachings encourage the creation and manifestation of art that wakes up the viewer as well as its maker to a sense of unconditional sacredness within the phenomenal world.

"A work of art is created because there is basic sacredness, independent of the artist's particular religious faith or trust. Sacredness from that point of view is the discovery of goodness, which is independent of personal, social, or physical restrictions."
~ Chogyam Trungpa Rinpoche. pg. 130, in True Perception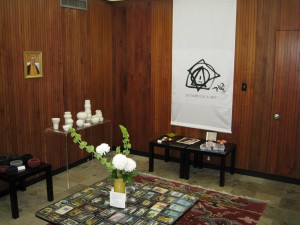 Shambhala communities are encouraged to celebrate Shambhala Art Day near the spring equinox, if possible, which is today: Tuesday March 20th, 2012. One of the main manifestations has been the Shambhala Art Festival*, which is now going into its 8th year. Internationally, Shambhala communities organize events which celebrate the connection of multiple creative forms to the Dharma Art teachings. This is an opportunity to embody and enliven this sacred view of Shambhala Art as well as realize the authenticity of art-in-everyday-life.
In honor of the 25th Anniversary of the Parinirvana of the Vidyadhara Chogyam Trungpa Rinpoche, a number of communities have chosen to offer Shambhala Art Day events which honor the most favored and practiced Dharma Art disciplines that the Vidyadhara himself practiced. Some will celebrate these art forms as part of their Parinirvana community programs directly. We are invited to keep this sacred approach, as offered by the arts, and presented through the Shambhala Art teachings, alive.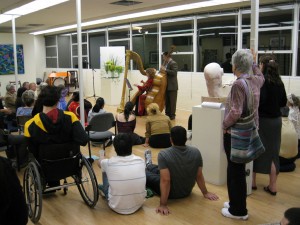 The format of Shambhala Art Day is open to the creativity of each individual Shambhala community. However, we strongly encourage those making the offerings and organizing events to reflect on and connect them to the teachings, for example through sharing artist's statements that illuminate the connection. It is also an opportunity to contemplate the relationship between receiving the arts and the teachings. Forms of offerings have included performances, art exhibitions, installations, poetry readings, plays, videos presentations, workshops, talks, lectures and more. Some centers choose yearly themes, such as Art that Wakes Us Up, or Awakening the Sacred. Where presentations are not practical, we suggest outings to art shows or performances as a means to appreciate the arts and their role in enlightened society. Internationally each center's contribution has served to magnetize the energy of its community.
For more information, please see: www.shambhalaart.org/festivals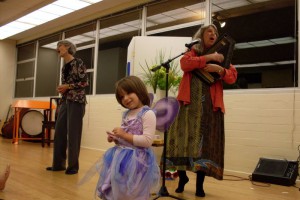 A few highlights for this year's Shambhala Art Day festivals:
This year, a number of communities will hold their Shambhala Art Festivals in combination with their 25th Anniversary Parinirvana celebrations on the weekend of March 30th – April 1st. Many will feature art events celebrating the forms and disciplines that Chogyam Trungpa Rinpoche most loved. This will include demos in calligraphy, ikebana and object arranging. Centers will perform 6 Ways of Ruling, hold music, dance, and poetry performances, and have book signings. There will be bagpipes and readings of the Vidyadhara's plays. Centers will also screen the newly released "Visual Dharma" videos by the Vidyadhara and hold discussions. Many will have similar types of activities on other weekends and days as well. Some centers will have Shambhala Art themed feasts, such as celebrating the four actions, which is an open community feast at the end of Shambhala Art Part 5. Some smaller Shambhala groups will attend local music and art performances, gather for dinner, and have discussions about the contemplative arts and the relationship between meditation and creativity.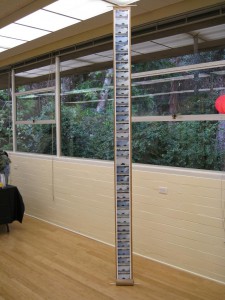 The Shambhala Art Day celebrations, whether short demos or full weekend festivals, are wonderful ways to bring the community together. Many friends, family, and new people have found these events to be a welcome introduction to Shambhala.
~~
Please share updates on your community Shambhala Art Day events with Amanda at: [email protected]. If you have any questions at all about Shambhala Art Day, please also get in touch.

*Please Note: Shambhala Arts, as distinguished from Shambhala Art, is the moniker that many in our community give to specific art forms and disciplines that appear to share and manifest Dharma Art principles.
Post Tags:
International Shambhala Arts Day Festival
,
Shambhala Art