Sunday
Featured Stories
Shambhala Time Out
A few unusual, late-breaking news stories, brought to you by the Shambhala Times.
New Research Suggests Kingdom of Shambhala Was Actually Closer To Columbus, Ohio
from Shambhala Times Regional Correspondant, Aaron Delong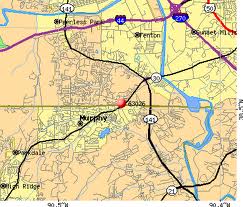 In a startling archaeological discovery, Ohio State University professor Don Gibbons reports, in the upcoming edition of the journal Archaeology Today, that a 2500 year old tablet discovered in southeast Thailand may prove that the legendary kingdom of Shambhala, once thought to be located in the Himalaya region of Tibet, may actually have historically been closer to Columbus, Ohio – specifically, inside the incorporated limits of the Columbus suburb, Fenton.
"It's a stunner, for sure," Gibbons comments. "But what the tablet is clearly saying is that Shakyamuni was basically a little burned out by all the attention he was receiving in Asia at the time, and he needed a break. So it looks like he transmigrated his corporeal body for 'a couple turns of the moon' to a land 'far, far away', where the ground would be fertile for his teachings. This was basically a holiday for him, and he took the opportunity to present the dharma in a whole new way, elucidating a more 'laid back', or 'lay' version, of his teachings for the king of this distant land, Dawa Sangpo."

"He let his hair down a little bit," Gibbons explains, "though it does appear that he continued to shave his head throughout the entire period."
One of the most remarkable aspects of the table, Gibbons notes, is the encoded presence of actual magnetic coordinates which, when decoded, have revealed the true location of the enlightened kingdom. "Buddha really took it to another level here. I mean, we know that teleportation requires a pretty intimate knowledge of the functioning of the earth's magnetic field, but to see this sort of mastery so explicitly displayed…it's like the guy was a walking GPS."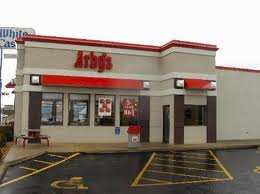 A sister research team of Gibbons Asian-based crew has been working inside the town of Fenton, Ohio, itself, substantiating the Asian team's exciting find. So far, the Fenton crew has been able to pinpoint the actual physical location of the center of Dawa Sangpo's celestial palace, at the corner of Brown Avenue and Levine, currently the location of an Arby's restaurant.
"I'm not surprised," Arby's proprietor Gus Whelp commented on being informed of the auspicious location of his fast food franchise. "We've done good business here from day one, and I tell you what, when you come here, it doesn't matter what you order, it's all basically good."
—–
News in Brief
brought to you by the good people of Shambhala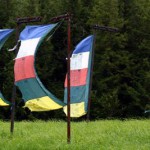 The Stupa that Conquers All Directions – Completed
As many of you know, Karme Choling has been working tirelessly to complete the Stupa that Conquers All Directions. They broke ground on the construction only last fall, and amazingly are already completed. It turns out that only those with the mind of enlightenment can view it. Karme Choling staff says its the most beautiful stupa they've ever seen.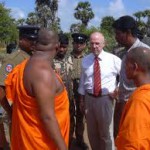 President Reoch's Latest Film
President Reoch has produced and stars in forthcoming feature film: The Life of Naropa. Long infatuated with the historic tale of this renowned scholar, President Reoch, in his free time, has been pursuing the creation of this film. He is delighted to share the silver screen with non other than Jackie Chan, playing the role of Tilopa.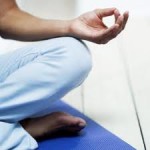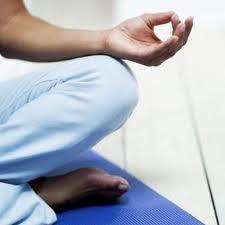 Young at Heart Assemble in Boston
Shambhala's first Under 60 meditation group has recently been formed at the Boston Shambhala Center. "Inspired by the success of the Center's active Under 30 group, we wanted to provide a similar space for those whose hearts and minds remain youthful, though their birth certificates may suggest otherwise," says the group's coordinator.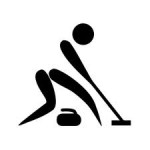 Sakyong's Sweeping New Strategy
Worried that the pace of change was slowing down, the Sakyong announced in a recent Council meeting that he had taken up the much misunderstood Canadian sport of curling. In a shocking move away from the subject of his long anticipated book Running with the Mind of Meditation, he describes curling as embodying all the characteristics of working within a microcosm of enlightened society (think: sweepers). "A great deal of strategy and teamwork goes into choosing the ideal path and placement of a stone for each situation. This," the Sakyong says, "is akin to synchronizing mind and body while engaging with others and will pave the way for enlightened society."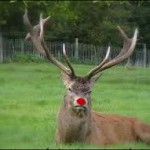 Northernmost Center Opens Doors
In a sweeping bid to turn the flower outward to the roofs of the world, and embrace further multi-culturalism, Director Kristopher Kringle is pleased to announce the official opening of the North Pole Shambhala Center. Supporting him in this role will be a cadre of willing volunteers, including much-loved Rudolph who will be a guiding light as Head of Practice and Education. "His natural glow brings a sense of radiant brilliance to this new endeavor," says Representative to the Office of Culture and Decorum Mrs. Claus. Samadhi Cushions is currently processing a large order of miniature gomdens, much to the delight of the elven population.
—–
Each year, the Shambhala Times takes "time out" to dedicate a special issue to news stories of a particularly unexpected and unusual nature on April 1st. Enjoy this feast, served with a twinkle in the eye…
Post Tags:
April Fools
,
Shambhala Timeout