Thursday
Featured Stories
Shambhala Time Out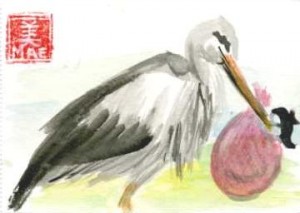 Each year, the Shambhala Times takes "time out" to dedicate a special issue to news stories of a particularly unexpected and unusual nature on April 1st. Enjoy this feast, served with a twinkle in the eye…
NAME THE BABY!
The Sakyong and Sakyong Wangmo invite the entire Shambhala community to name their first born. A spokesperson for the Kalapa Court reported, "The Royal Couple would like their child to begin its life of service with a name reflective of the community's character and wishes."
Those who would like to offer submissions should send the name to [email protected]. The lucky person whose name is chosen will win a sleep-over at the Kalapa Court (sleeping bag and jammies provided). The following names have been well received:
Masculine child names: Chad, Elwood, Wilbur, Barney, Zane, Bruno, Troy, Custis, Milford, Sylvestor, Rosoe, Durwood, Delmar, Sherman, Milford, Elmo, Laszlo, Fritz, Jeff, Garth, Reuben, Orville and Roscoe.
Feminine child names: Prudence, Fern, Barbarella, Melba, Bonita, Daisy, Mitzi, Zelda, Daphne, Thelma, Cornelia, Dorcas, Elva, Gertrude, Imogene, Mitzi, Ramona, Velma, Rowena, Bernadine, and Heidi.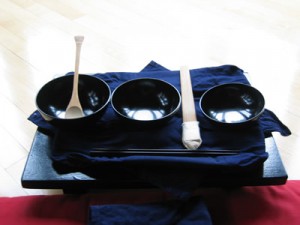 DATELINE KANSAS CITY: ORYOKI WARS REIGNITE IN SOUTHERN TOWNSHIPS
Unconfirmed reports are coming that outbreaks of the so-called "Oryoki Wars" have re-ignited among meditation students in the Southern Townships of Kansas. Sectarian conflict of this intensity has not been seen in the area since the 80's. A decades-old dispute still rages between those of the "Upper School" who place chopsticks above spoons and the "Lower School" who place them below.
The "Topeka Talks" of 1987, led by President Jimmy Carter, ushered in several hopeful years of a lessening of conflict. Such non-violent coexistence seems to be eroding in the wake of recent events.
In one instance, groups of oryoki practitioners positioned themselves outside a shrine hall with placards. During the Lower Being Offerings, rival practitioners left the hall to confront the protestors. Rinse water was hurled, and both sides pelted one another with unkind words and setsu tips.
President Carter and members of the Office of Culture and Decorum have been flown in by the UN to see if arbitration may be possible, but as one witness said, "It may be harder to eradicate prejudice than it is to get curry stains out of your setsu tip."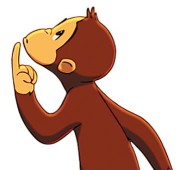 SETTING SUN INDIGNITY OF MONKEY
Frightened by the power of the Four Dignities of Tiger Lion Garuda Dragon, as described in the Shambhala teachings, the setting sun world is feverishly developing alternate literature on the "Indignities."
The first, the Indignity of Monkey is presented in a new book read by noted German film maker Werner Herzog:
[kml_flashembed movie="http://www.youtube.com/v/7T8y5EPv6Y8 " width="425" height="350" wmode="transparent" /]
This text expresses a "dim view of human potential," and the monkey as "agent of chaos" who may "attack human society from within." Shambhala students are cautioned to be mindful when approaching such "literature."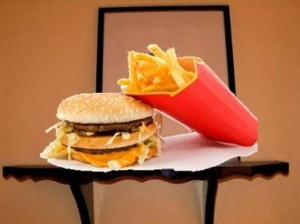 REGIONAL KITCHEN SHRINES
In line with the new Shambhala Household initiative, regions have been asked to develop kitchen shrines that reflect their local aesthetic.
Instead of rice and tea offerings, as in Asia, it is encouraged to utilize offerings of regional cuisine. This is a skillful means to manifest the kitchen shrine as a symbol of home and hearth.
The Rocky Mountain region recently announced its design for a "supersize" shrine, now available by special order through Ziji at www.jizi.com/supersize-kitchen-shrine/.
PET MEAL CHANT, TRANSLATION NOW AVAILABLE
A new text has been discovered among anonymous writings held by the Nalanda Translation Committee, brought from the Surmang region of Tibet in recent years. The text is a lower being offering, hidden away for the dark ages when species quarrel, when pets lead their masters on long walks and eat bad, cheap dog food.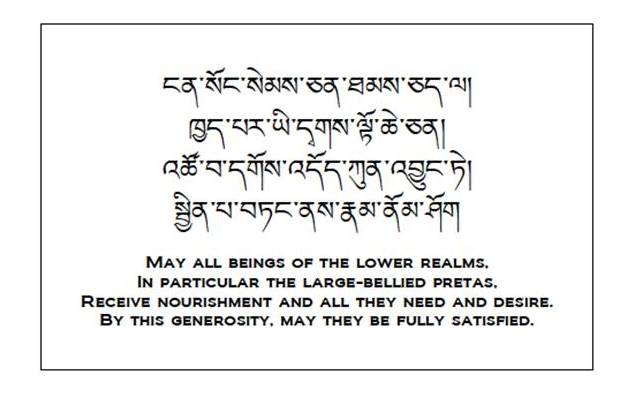 Read the Shambhala Time Out from April 1st of last year.

Visit the Chronicles for today's release on the "Scorpion Seal Reveals Itself in Canadian Arctic" with rare images of the scorpion seal, a reclusive artic species once thought to be mythical.
Post Tags:
April Fools
,
Shambhala Timeout