Friday
VCTR Tributes
Glimpses of Chogyam Trungpa Rinpoche's Life and Legacy in Tibet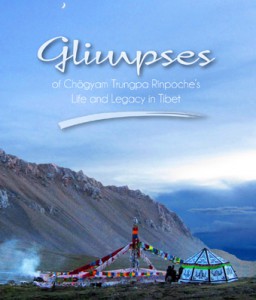 Movie Review of Glimpses
by Sean Scullion
Many have read Born in Tibet and accounts of Chogyam Trungpa's life in the west, but few have heard the stories of his early life told by the Tibetans of Surmang. In a new documentary, Glimpses of Chogyam Trungpa Rinpoche's Life & Legacy in Tibet family and friends tell these stories and show how, more than fifty years after he left, Rinpoche continues to affect them.
Glimpses is divided into four parts: Geje, Surmang Dutsi Til & Sechen, Kyere and Partings. It begins in the remote Ngam River Valley of Geje, with the ceremonial raising of a tsokshing (life force) poll marking the spot where Trungpa Rinpoche was born. I've heard that people traveled by horse or walked many miles through difficult terrain to receive a teaching. The vast, treeless landscapes shown in Glimpses gave me a much better sense of how truly difficult those journeys must have been.

The younger brother of Chogyam Trungpa, Damcho Rinpoche, tells of Trungpa's arrival and enthronement at Surmang Dutsil Til and of going to the shedra at Shechen where they met Jamgon Kongtrul, Trungpa's root teacher. He also tells the story of how the young Trungpa Rinpoche tried repeatedly to make the famous photograph of Jamgon Kongtrul that many of us have seen on the wall at Shambhala Centers.
Damcho Rinpoche and Chime Palmo's stories of Khenpo Gangshar bring to life this highly revered lama who taught at Shechen and later Surmang. Khenpo Gangshar was a tutor for Trungpa Rinpoche from the age of 13 until he presided over Trungpa Rinpoche's kyorpOn and khenpo degree examinations. Known as a crazy wisdom teacher Khenpo Gangshar is credited with making many dramatic changes at Surmang, including opening seminary teachings to laypeople. Chime Palmo tells of how she came to be his consort; what happened when the Chinese Army invaded and of khenpo's subsequent death in a Derge prison. These stories of what happened to a remarkable lama in the 1950s are, sadly, still common 50 years later.
In Kyere the group visited locations where Chogyam Trungpa discovered terma. Terma (hidden treasures) are teachings hidden by Padmasambhava and Yeshe Tsogyal in the 8th century for discovery later at auspicious times. In Glimpses, we hear how Rinpoche discovered certain terma texts and a phurba hidden by Yeshe Tsogyal. Seeing the locations and hearing details from those who were present when these terma were found brings these significant events to life.
The final segment of the documentary, Partings, is about Chogyam Trungpa's escape from Tibet. Damcho Rinpoche tells of saying goodbye to his brother. Garab, a Surmang monk with Rinpoche at Kyere Monastery tells how they learned that the Chinese army had invaded Surmang and would arrest Trungpa Rinpoche if he returned. Yonten Gyamtso, Rinpoche's attendant, tells how they began their months-long escape. Hearing these first person accounts of what it was like at the start of the invasion, the mass arrests and executions of tulkus, the narrow escapes under gunfire and being chased through the Himalayas in winter, underscores the bravery of those who made the attempt and good fortune of us in the West who have benefited from what they brought with them.
Glimpses of Chogyam Trungpa Rinpoche's Life & Legacy in Tibet is a rare film that offers personal, historic accounts of Chogyam Trungpa Rinpoche's early years in Tibet. It shows the love and devotion that continue decades later among those who knew him then. Although at times, the technical qualities of this video documentary could have been better, it is a significant contribution to our knowledge of Trungpa Rinpoche's early life. For anyone with an interest in Chogyam Trungpa Rinpoche this documentary is a must see.
For more information and to access the film, please click here.
Post Tags:
Chogyam Trungpa
,
Konchok Foundation
,
VCTR Tributes
Share: