Monday
Featured Stories
Politicians train in Mindfulness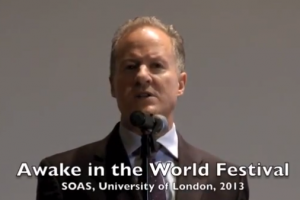 A Round-up of Events at London's Awake in the World Festival
article and video by President Richard Reoch
Politicians being trained in mindfulness? It's not a wild dream. It's happening in Britain's House of Commons and House of Lords and may be extended to the country's parliamentary civil servants.
On the last day of the Awake in the World Festival in London, Member of Parliament Chris Ruane told the gathering that two groups of parliamentarians have already taken part in a specially-designed seven-week mindfulness training program. He said another two rounds of training were in the works, and that plans were underway to offer the training to the 2,000 staff who work for the two houses of parliament.

Here is a film round-up of the weekend with highlights including the "flash mob" meditation in central London.
Member of Parliament Chris Ruane, himself a meditator, made news recently when he initiated a House of Commons debate on the value of mindfulness. He called attention to a disturbing portrait of mental health in Britain: in the past ten years, the number of prescriptions for antidepressants has risen five-fold, from nine million to 46 million.
He pointed out that there are multiple social and economic causes for the epidemic of depression, leading to the rising use of antidepressants. "But," he stressed, "the National Institute for Health and Clinical Excellence said that mindfulness was a better way (than medication) to treat repeat-episode depression."
"Mindfulness is not just for those who suffer with mental health issues, or who work in high stress occupations," he told MPs. "Its applications go far beyond that. It is being used in education. In primary schools in my constituency, it is used to train five-year olds to be more mindful, to live in the present moment and to concentrate."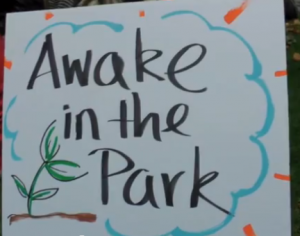 This weekend, Mr. Ruane was joined in a panel discussion at the Awake in the World Festival by two other figures in public life in Britain, Clare Melford and Mac Macartney. They talked about the inner dimension of social transformation.
Claire Melford is the former CEO of the International Business Leaders Forum, a global business membership organization working with leaders across business, government and civil society to deliver smart, inclusive and responsible business growth for a more sustainable world. Among her many achievements, she has also worked with the Nobel Women's Initiative, formed by the female winners of the Nobel Peace prize, to build relationships with the corporate sector.
Mac is the founder of Embercombe, a charity and social enterprise that champions a way of living that inspires people to contribute energetically towards a socially just, environmentally sustainable and spiritually fulfilling human presence on earth. Mac's book Finding Earth, Finding Soul – the invisible path to authentic leadership speaks to the necessity for each of us to gather our courage and step out of the shadows and become the leaders, in his words, 'we have been waiting for'.
Post Tags:
Awake in the World
,
British Parliament
,
London
,
politics
,
Richard Reoch
,
Video