Wednesday
Community Articles
The Lessons You Sow Are the Lessons You Reap
COLUMN: Youth and Family
by Elizabeth Martin, Boulder, Colorado
If you are a Buddhist practitioner and you have small children, you may be raising them on the dharma. That is what I did. Although my husband did not embrace the same philosophy, he allowed me the latitude to provide our children with the lessons of the Buddha, and I did that as best as I could. I am now the fortunate mother of a son who is 19 and a daughter who is 15, both of whom are true warriors in the world. I never dreamed that those dharma lessons would come back to me one day, but they have. And they just keep coming…
As an elementary school teacher I understood that "modeling" for children was an important aspect of teaching, but I was also assured that that alone was not enough. Children need to be explicitly taught topics such as appreciation, generosity, and patience, so that is what I attempted to do with my two.
Borrowing from Thich Nhat Hahn's prayer for mealtime, and condensing it for my younger audience, my little family would recite: "This food is a product of the universe, the earth, the sky, and much hard work. Let us live in ways that is worthy of this food." We would then launch into a discussion of what brought our food to our table, the effort of those who pushed rice seedlings into flooded soil, then harvested that rice, threshed it, and winnowed it. Then we talked about all the people involved in the packaging of it, so that someone else could then pick up the package and load it onto trucks or boats… You can imagine the length of some of these conversations, especially when there were multiple courses!
While recently sharing a week of a dathun with my son, who also happened to be working at the Shambhala Mountain Center where it was held, we listened to one of Acharya Allyn Lyon's illuminating talks. During one discourse in particular, she discussed having appreciation for the food we were offered, specifically the effort that went into bringing it to us. My son beamed at me later saying, "Mom, did you think of …This food is a product of the universe…?" In actuality, I hadn't. But what mattered is that he had, and he was bringing it back around to remind me.
Today, my daughter and I did our newly-established weekly ritual of going to the Boulder Shambhala center and meditating. Since today was "Sun"day, it gave her a chance to hear a talk during the community meeting. Andrew Sacamano spoke about the first of the paramitas: generosity.
Later, I was asking her why she had disappeared the evening before, during an after-dinner conversation that was going on between my son, my nephew, and his wife. She stated that she didn't like that my nephew was so harshly talking about his father's wife. She said, "Haven't you always said that you need to take responsibility for your relationships? If you take responsibility, you can change things for the better?"
I believe she was referring to one of the lojong cards that sat on our kitchen window sill, prompting discussion: "Drive all blames into one." I could not believe that at fifteen years of age, she was actually applying it. She went on to say, "And that guy today, he was saying that the Sakyong said, 'If you want to be miserable, focus on yourself. If you want to be happy, focus on others.' Well, he (my nephew, her cousin) is not happy, and it is because he is focused on himself." Holy crud, when did my daughter become such a ruthless Buddhist? We had to have a little talk about that…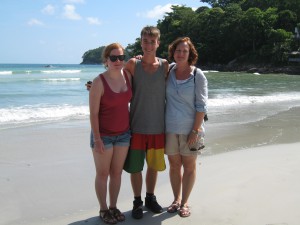 If you are reading this, I probably don't have to tell you that life as a Buddhist practitioner is not an easy road to travel. If you have children, you have another challenging dimension added to your practice. Keep it all in proper perspective by remembering that the lessons you are learning can be offered to your children as well. Model for your children through your own actions, but then back that up with explicit examples and routines. Even though you have chosen a vigorous path, you can use it to help your children learn the most important lessons of life.
And who knows, one day when you least expect it, those lessons may come back to you in a fresh, new, way.
Post Tags:
dathün
,
reflection
,
Youth and Family