Friday
Arts and Poetry
Flabbergasted Humility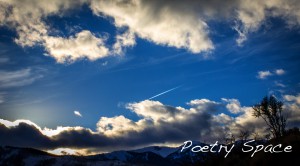 COLUMN: Poetry Space
Poetry Space offers a conversation. It offers understanding, an expression of meaning, and a forum for showcasing mindfulness in action. This regular column on the Shambhala Times is dedicated this. To that end, we've opened a group on the Shambhala Network with the hope that this thread might expand upon the admittedly static nature of printed poetry (even electronically printed poetry…) On the Shambhala Network group, please comment, add your own poems and engage (with kindness of course!) Click here to visit the group on the Shambhala Network.
Now to the work. Our editors have chosen two poems from two different poets for this second installment (yes, we have real live editors — see the closing note on process below). We're immensely grateful for all who shared their work with us. Please consider submitting if you haven't, and if you have, thanks, and feel free to submit again.
Flabbergasted
by Mark Frutkin, Ottawa Canada
Taking a slow tango sans partner
through the Bardo
Zipping about like a shooting star
hair on fire
Without a body to hold
a poet searches for a word
in his head
Photon of light ricochets
off the eye of a statue
prostrating for the very last time.
Ottawa author Mark Frutkin has published thirteen books of fiction, poetry and non-fiction in Canada, the U.S., Russia, Poland, Turkey and South Korea. His novel, Fabrizio's Return (Knopf, 2006), won the Trillium and Sunburst Awards and was a finalist for the Commonwealth Writers' Prize (Canada/Caribbean region). He is a long-time member and teacher at the Ottawa Shambhala Center. View his website here: www.markfrutkin.com and his blog here: www.markfrutkin.blogspot.com
Pride in Humility
Larry Oakner, Long Island, NY
In the kitchen of the Zen monastery
I am assigned to the work practice I asked for.
But the cook wordlessly instructs me
to clean and prep a huge carton of romaine.
Me! With forty years of chef's skills
reduced to pantry duty!
Me! Who should be chopping
the main course of vegetables for dinner!
Working with a young woman
we silently wash the leaves in a water bath,
prune the rotting blotches,
dry the leaves in a spinner
with a crank of the heavy handle,
lay out the greens on a towel,
then tear them into bite size pieces.
Wash, prune, spin, dry, tear
Wash, prune, spin, dry, tear
Wash prune spin dry tear
Washprunespindrytear
until my mind is as empty as the carton.
A lettuce leaf humbles me.
Larry has been writing poetry for almost 50 years. His poems and poetics essays have appeared in Purr (edited by Geraldine King, lover of Charles Bukowski); Westwind (UCLA literary magazine), Spectrum (UCSB literary magazine edited by Sam Hamill), Marilyn, Mobius, Long Island Quarterly, CCAR Journal, Kerem, Newsletter, Manroot (essay on Jack Spicer), and Thoth (pub. Syracuse University, essay on Willliam Carlos Williams.) He spent his business career as a writer in advertising and branding and currently lives on Long Island, NY. Larry begn a Zen practice this year at Zen Mountain Monastery in Mt. Tremper, NY, (MRO).
~~
Note on process
We are receiving new submissions continually, and we collect these until we have a sufficient number to review for possible publication. While it's still early days, it feels like we will be publishing new work quarterly, although if we do receive a large number of submissions, we may choose to publish more frequently.
We have a panel of three editors who review all submissions; the submissions are stripped of all identifiers when they're sent to the editors. To that end, please submit your poems left margin justified in a simple black font so it's easier to collect them for review.
Please submit no more than three (3) poems in the body of an email to [email protected]. We will remove the poet's name from the submission before it goes to our editors for a blind review, and will make every effort to let you know whether your poem(s) have been selected for publication within three or four weeks. All rights revert to the author 30 days after publication.
Post Tags:
Arts and Poetry
,
poems
,
Poetry Space