Monday
Mandala Projects
Pathfinders Program
Last year, the Office of Societal Health and Well-Being, under the direction of Mary Whetsell, presented "The Pathfinders Initiative." The purpose of this initiative is to support our centers with a view to improving communication and bringing conflicts to the warriorship path. As conflict is inherent in human society at all levels—from personal to group, state and national—and can so readily go awry, the value of engaging with conflict directly sounds promising. The Shambhala Times spoke with Jay Stewart, one of the members of the team of trained Pathfinders, on what this initiative is about.

Shambhala Times: Before we start talking about the Pathfinder Initiative, what is your personal interest in working with conflict? Why did you seek training as a Pathfinder?
Jay Stewart: In my relationships and as a professional mediator, I came to trust that conflict contains buried treasure. When we can open up our conflicts, we reap the wisdom that gets mired in the confusion of a dispute. We can learn about ourselves and how we can be whole and real with one another. Plus we may find innovative and surprising ways of working out all kinds and sorts of problems.
ST: What is the "Pathfinder Initiative"? How does it work?
JS: The Pathfinder Initiative uses an approach to communication breakdowns called Transformative Mediation. This is a specific avenue of mediation that is congruent with the Shambhala view of the basic goodness of humans and human society. The model was first described in The Promise of Mediation by Robert A. Baruch and Joseph P. Folger in 1994 (new ed. 2005). Mediators have been trained in the process since 1999 by the Institute for the Study of Conflict Transformation.  Transformative Mediation has now been used successfully for over twenty years in a variety of public, private and interpersonal settings.
ST: Can you expand on this particular way of doing mediation?
JS: Transformative mediation takes a relational approach to interpersonal conflicts. It is based on the view that we humans have the inherent capacity to make sound decisions about our own affairs as well as consider the perspectives of others. That this is native to us.
ST:  So how does this play out in the actual mediation process?
JS: The mediation process is, for a start, entirely voluntary for all participants. And within the process, participants choose what they want to talk about and how they want to talk with each other.  The mediator follows their lead. This can mean, for example, participants deciding on anything from conversational guidelines, the pacing of the conversation, if and when to take breaks, or even not to proceed with the conversation at all.
ST: It sounds like participants do take a lot of initiative. What does the mediator do or not do?
JS: A transformative mediator attends very closely to the participants in terms of their wishes, their stated goals, the conversation itself as well as their body language. Specifically, the pathfinder supports the individuals or a group in finding their way forward. Doing this involves focusing on helping participants to communicate effectively so that they can feel heard, clarify information and better understand each others' way of seeing the situation. When this happens, participants are better able to develop possible alternatives, explore consequences and make decisions that work for them. The mediator does not steer the conversation or make any decisions for the participants. The entire process rests in their hands.
ST:  Conversations around conflicts can bring up strong feelings. How are those worked with?
JS:  Indeed, emotions are often—even normally—front and center in a conflicted interaction. And that may be why most of us shy away from such situations when we don't have the experience and confidence to deal straightforwardly with conflict. The mediator acknowledges whatever feelings come up whenever they do as a genuine part of the conversation. This can help participants recognize and get clear on how they really feel about something.
ST: What if someone simply does not want to take part in a mediation, even if they are in the middle of a protracted conflict?
JS: The Pathfinder process is entirely voluntary on the part of everyone.  For example, one person to the conflict may want to have a friend as a support person.  For this to happen, all the other participants would have to be okay with that.  The process proceeds exclusively from the participants.  They are in charge.
ST:  So who can take advantage of this initiative?  And is the process open to anyone?
JS: Participants are people in our community whose differences or actually conflict is having—or might have—a negative effect on the functioning or the well-being of their center or community.  It is not intended for personal disputes such as divorce or family problems.
ST: Are there any situations that are not appropriate for this approach?
JS: Definitely!  Any misconduct issues are handled by the Care & Conduct Panel in a process that has been clearly outlined.  This would include, for example, behavior that breaks vows, is unlawful, or harms a range of individuals.
ST: What are the steps of the Pathfinder process? How does it get started?
JS: An example might be an ongoing struggle between two leaders in the community or even between a team and their leader.  This would come to the attention of the local governing Council or Board.  Next step would be for the Center Director or Group Coordinator to contact Mary Whetsell ([email protected]), Director of the Office of Societal Health & Well-being or Basia Solarz ([email protected]) Conflict Specialist and Lead Trainer for the Pathfinders Team.
If there is a decision to move ahead to the Pathfinder program, a case manager is appointed.  This person takes on the role of holding the process from beginning to end.  This includes, first and foremost, talking with possible participants about the process to determine if this is a suitable approach to their situation.  If so, the case manager contacts and introduces a Pathfinder, tracks meetings, and follows up to see if the participants need other supports or resources.  The case manager is a critical part of the process.
ST: This is a helpful introduction! If people want to know if the Pathfinder approach is right for their situation, how do they proceed?
JS: For more information and/or consultation about the Pathfinder approach, contact Mary Whetsell: [email protected].

ST: Thank you, Jay! This will be very helpful for the Shambhala community to be fully aware of.
~~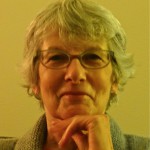 Jay Stewart is a longtime practitioner in the Shambhala Tradition.  She worked in the fields of publishing, nonprofit management, organizational development and as a mediator before retiring.  Married to a fellow practitioner, Jay has three grown sons and a grandson, Adam and another expected grandchild.  Jay engages with delight in making art, reading literary—or-not-so—fiction, and growing food.
Post Tags:
conflict
,
Enlightened Society
,
Mediation
,
Pathfinders
,
Societal Health & Well-being