Saturday
Arts and Poetry
Windhorse Poem from Jampa Pawo
Kyango Karkar: The Windhorse Song
poem and drawing by Jampa Pawo
2.28.16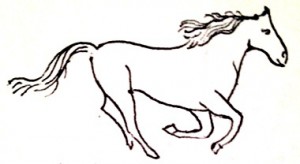 To Kyango Karkar, the supreme windhorse,
I offer this praise and invocation.
Blessed by the smoke of juniper incense,
Appear and grant us your inspiration!
Your eyes beam a rainbow of five colors.
Your perky ears resemble Bodhi leaves.
Your pink tongue shines like the sword of wisdom.
Your body bears the signs of perfection.
Your gait is primordial confidence.
KI KI SO SO! Please hear my warrior's cry!
The great windhorse, Kyango Karkar, gallops
Across earth, heaven, and the universe,
Radiating peace and prosperity.
His mane of ten thousand hairs and long tail
Flow like a comet throughout the cosmos,
The drumbeat of his hooves reverberates
Like the song of infinite prayer flags,
Carrying our requests on the four winds.
Like a flash of lightning in the night sky,
Kyango Karkar races over the clouds
Crowned by the glorious Great Eastern Sun
And dispels the troubles of this dark age.
Endowed with strength swiftness, and endurance:
Meek, perky, majestic and outrageous;
Kyango Karkar embodies our goodness.
His enlightened creative energy
Always spontaneously manifests
For the awake warriors of Shambhala,
Giving vitality and success
In out victory over the setting sun.
Rise! Kyango Karkar, mount of King Gesar!
Rise! Inflame basic goodness in my heart!
Rise! Inspire joy for all sentient beings!
Dedicated to Shastri Alice, for kindly giving me the Shambhala Vow, and the entire Shambhala community for sharing their basic goodness. Thank you!
---
Editor's Note: After an extended time on death row, Jampa Pawo now has an execution date, set for April 27th. His friends and supporters are collecting funds to cover costs of a Sukhavati ceremony. You can make a donation through the Atlanta Shambhala Center by clicking here; please add "Jampa Pawo Sukhavati" in the comments field to designate the purpose of your contribution. Any funds gathered beyond the actual Sukhavati expenses will be set aside for the support of future prison dharma ministry.
Post Tags:
Arts and Poetry
,
Jampa Pawo
,
prison dharma
,
windhorse