Sunday
Community Articles
Exploring Social Cocoon
A special weekend program in Boulder, Colorado with Reverend angel Kyodo williams 
by Melanie Klein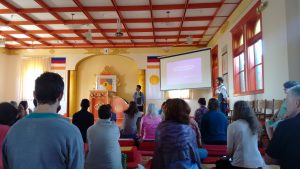 The Boulder Shambhala Center had the great fortune to host a weekend program titled Disrupting Patterns and Embodying Wholeness with Rev. angel Kyodo williams, Sensei in early June. Originally anticipated – by me, anyway – to be a secular event intended to promote sangha interest in diversity, it was instead non-stop, potent, transformative dharma.
I noticed some months back that when I mentioned the word "diversity" to fellow Shambhalians along with my interest in planning a series of events on the subject, often a strange, blank expression came over their faces. I quickly learned that for some diversity was equated with shaming: shaming white folks into reflecting on privilege, into feeling the pain of living in a society where corruption and racism permeate the culture visibly and invisibly, into confronting a sense of powerlessness and a desire to maintain what is familiar. A number of people said to me, "Oh, thanks, I've already done Shambhala diversity training."
This resistance to diversity, I've learned, is not uncommon throughout the mandala's largely white community (perhaps especially in the U.S.), as is resistance generally to the painful topic of race and social injustice – just as with anything painful.  So how do we encourage the bravery necessary for us to move beyond social conditioning and division, to recover a sense of social wholeness and become the truly, broadly welcoming community we long to be?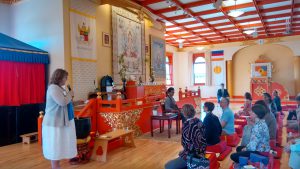 Rev. angel, the second African American to be fully authorized as a teacher in the Soto Zen tradition, and a frequent presenter at Shambhala events with the Sakyong (including at Awaken Chicago last month), fully acknowledged our pain and resistance at the outset of the two-day program. She had us begin by learning an embodying multi-step practice (known as Centering Practice, based on exercises developed by Wendy Palmer) designed to remind us of our strength (the body's rootedness in integrity); our dignity (the body extending skyward); our connection to the world (the body's exterior and reach); and "what matters most" (held in the belly and left to each of us to name). Once we were familiar with this practice, Rev. angel and her teaching companion, Śvani Grevemeyer, introduced subtle physical pressures to trigger habitual responses. Then while under pressure we practiced again, contacting our strength, dignity, connection, and wholesome view. It was only after we gained some familiarity with this that Rev. angel introduced a difficult conversation about racism, corruption, and privilege (systems that sustain unequal opportunity) in America.  During the two hour presentation and discussion, the Boulder shrine room felt hushed with sorrow yet attentive as we fifty participants sat with things as they are and have been, felt our place in their midst, periodically returning to the embodiment of strength, dignity, connection, and view.
It strikes me now that the problem with "diversity" may be that it's too theoretical a term. It points toward, but does not penetrate, a longing for social cohesion. As Rev. angel so ably demonstrated, it is only when we can – through supportive, skillful means – engage the fear that drives us to separate into tribes or clans of belonging (by class, race, ethnicity, language, religious tradition, or political persuasion…) and maintain them at the expense of others, that shifting toward something braver is possible.
At the program's close, and just before everyone was invited to share a personal "mantra" about who we will be in the world five years from now, we were reminded by the Shambhala teachers who were present that the work of unwrapping social cocoon and pacifying tribalism is precisely the work of creating enlightened society. As a center director inspired by Awaken Chicago and our own nascent efforts in Boulder to enter into dialogue with Native American neighbors, I feel Shambhala moving toward engagement with the local and global dynamics of domination, privilege, and appropriation (societal expressions of aggression, denial, and craving). How then do we skillfully and widely offer the insights of our precious Shambhala teachings – perhaps especially those about creating accommodating, wakeful spaces – along with other worthy approaches to foster a society that dares to be curious, undefended, and magnanimous?
Melanie Klein is the Executive Director of Shambhala Boulder
Post Tags:
Awaken Chicago
,
diversity
,
social justice