Sunday
Sakyong and Family
Passing of Tulku Sampten Ngedon
by the Office of the Sakyong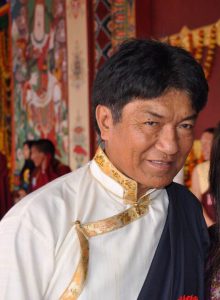 It is with great sorrow that we announce the passing of Tulku Sampten Ngedon, known to many as Tulku Oga, the youngest brother of His Eminence Terton Namkha Drimed Rinpoche.  He passed away peacefully on Thursday, September 14th, under the spiritual guidance of His Eminence, after a short illness in Katmandu.  Tulku Oga was born in 1947 in Kham Tibet. His parents were the accomplished master Drubwang Tsewang Chokdrup Rinpoche, the 3rd Ripa lineage holder, and Mayum Paldon Tsomo, the granddaughter of Drubwang Shakya Sri, one of Tibet's greatest yogis.  In 1959, along with His Eminence and other members of the Ripa family, Tulku Oga fled Tibet over the mountains to India.  In exile, they lived in the Tibetan settlement of Orissa, India, which became home to the Ripa Ladrang and Ripa community, before eventually moving to Kathmandu, Nepal.
Tulku Oga was known by all for his kindness and his tireless support of the activities of the Ripa Lineage.
He was cremated in Pharping, Nepal on Dakini day, September 15th, amid many auspicious signs at the Rigon Tashi Choeling monastery in a traditional ceremony accorded a Tulku and presided over by Dungsey Lhunpo Rinpoche and by the monks of the monastery.
---
Editor's note: translations of this announcement are available in Italian, Spanish, Hungarian and French at the following links:
Post Tags:
Namkha Drimed Rinpoche
,
Ripa Family
,
Ripa lineage