Saturday
Community Articles
Translating For Burma
"Three things cannot be long hidden: the sun, the moon, and the truth."

— The Buddha

"There is no religion higher than the Truth."

— H Hahn Blavatsky

"It is better to light a candle than curse the darkness"

— Chinese Proverb
by Larry Steele
I have a young Buddhist friend in Myanmar. He is a translator, an honored profession in Buddhism. He publishes under the name Alinsek IR, one of his several "pen names." Or perhaps they're noms de guerre.
This is not an easy time for translators in Myanmar. When Aung San Suu Kyi's National League for Democracy won the 2015 elections, Myanmar people hoped for a more open society after decades of military dictatorship. Sadly, the government still jails critical journalists and prosecutes peaceful speech.
Formerly known as Burma before it was re-named by the military government, Myanmar is a mostly Buddhist country that suffers from some serious confusion and contradiction.  Myanmar people — 80% are Buddhist — must watch as their government persecutes its ethnic and religious minority communities, especially the million Muslim Rohingya forced to take refuge in the sprawling camps of Bangladesh.
Meanwhile, Myanmar Buddhists chant the Metta Sutta, sometimes called the "this is what should be done" sutta, which says:
"May all beings be at ease.

Whatever living beings there may be;

Whether they are weak or strong, omitting none,

The great or the mighty, medium, short or small,

The seen and the unseen,

Those living near and far away,

Those born and to-be-born —

May all beings be at ease."
The Art of Translation
To help clarify Myanmar's confusion, Alinsek IR translates wisdom from many directions: humanitarian, patriotic, social and economic. Each direction is relevant to to a generation of young, globally-aware Myanmar people.
Alinsek IR's first translation, Protecting Refugees and their Rights, offered essential information for the multitude of Myanmar refugees. In 2010 there were 80,000 in Malaysia alone, and many thousands more restricted to camps for internally displaced people (IDPs). Alinsek's Burmese-language translation offered information about universal human rights and included speeches, quotes, and poems relating to refugee life and the policies of the United Nations High Commissioner for Refugees (UNHCR).
Alinsek IR also published two books of patriotic quotations. Soft Voice in Hard Times presents the pro-democracy ideas of Aung San Suu Kyi, Myanmar's embattled but still much-beloved State Counselor. The Wisdom of Aung San recalls the words of her father, General Aung San, who fought for Burmese independence.
"I also translated into Burmese language many articles, news reports and books," Alinsek said recently. "I believe that books have huge importance. They help shape our understanding of the world and deliver a considerable dose of extraordinary insight into other cultures."
"Although the days are long gone when Burma's publishers could produce such politically charged works as George Orwell's Animal Farm in the Burmese language, the country's literati still dream of establishing a truly independent and effective translation society," Alinsek IR wrote in the Irrawaddy, an independent Myanmar news outlet. "Orwell and other western authors were translated into Burmese when the country had an active Translation Society, founded in 1947 by the country's first prime minister, U Nu." Then, under the military dictatorship from 1962 to 2010, press freedom was snuffed out like a candle.
As a university student, Alinsek IR earned a master's degree in International Relations Studies. A student activist during the pro-democracy 2007 Saffron Revolution, he went into hiding for three years to avoid arrest by the military. He also worked proudly as a member of Amnesty International. Today, he teaches journalism and attends international conferences to talk about Southeast Asian economics and the role of Burmese civil society.
Today, "self-censorship has replaced the notorious press censorship that was active under the military regime," Alinsek IR said. "For increasing numbers of reporters, writers and public speakers, staying away from politically sensitive topics and practicing self-censorship has become the new survival strategy."
A Middle Way
In a country where right speech is dangerous, what can a young, educated, globally-aware translator hope to publish? Two of Alinsek's recent efforts, the Myanmar Companies Yearbook, and The Track of Chinese Economic Policy, illuminate his country's precarious balance in the 21st century global economy.
The Myanmar Companies Yearbook is Myanmar's first-ever directory of business information. It offers previously invisible information about 1,000 well-known Myanmar companies, including ownership, lines of business, and rankings by income and transparency.  Published in Japan, the yearbook surely is more valuable than its $600 price to prospective investors, customers, and clients who want to do business in Myanmar.
The Track of Chinese Economic Development analyzes 30 years of Chinese economic planning, based on plenary sessions of the Central Committee of the Chinese Communist Party (CPC).  Since 1978, from Deng Xiaoping to the current leadership of Xi Jinpeng, China has explored evolving developmental paths "to achieve domestic reform and development while maintaining stability," the editors wrote. The book charts the evolution of policies that guided China's "tremendous miracle of economic development…which is unprecedented since the Industrial Revolution," they said.
The wisdom of a translator is that both an open, informative business directory and the economic plans of the Communist Party of China are important reading for Myanmar people.
In a presentation titled "Strategic Relations between Myanmar and China," Alinsek IR offered historical, social, and economic evidence that Myanmar has entered a new phase in it's foreign policy, pivoting from 'strategic neutrality' to 'strategic alignment' with China. "Myanmar is part and parcel of China's grand strategic design to achieve its goal of becoming a great power in the 21st century," he said.
"Sandwiched between India to the west and China to the east," Alinsek IR said, Myanmar is central to China's vision of a new Silk Road across Asia called the "One Belt, One Road."  Like the ancient Silk road, OBOR envisions much more than a single road.  The project envisions a network of ports, pipelines, roads, economic development corridors, and special economic zones linking Europe, Africa, and Central Asia with China. In Myanmar, Chinese business investment is evident in every corner of the country. One third of the products in Burmese stores come from China. A new pipeline stretches across the country from the Indian Ocean to China's industrializing Yunan province.  China also applies an array of "soft power" inducements from funding medical clinics to hosting journalists and teachers on familiarization tours to China.
It is easy to characterize this as a continuing Cold War competition pitting China against the United States. "The West may be able to counter China's influence in Burma, which would be welcome by most domestic stakeholders in the country," according to Bertil Lintner, a veteran journalist covering Myanmar. "But that would require a sophisticated approach based on a better understanding of how China exerts its influence in the region as well as a willingness to devote real resources to a serious strategy."
A clear picture reflects Myanmar's position as a small, relatively weak country nurturing its infant democracy in the shadow of China's influence. The question is, can China's economic growth benefit the people of Myanmar without killing their democracy?
The signs are dismal. Myanmar's expulsion of the Muslim Rohingya is as un-democratic as China's "re-education" of Muslim Uyghirs in Xinjiang. And, if China quashes democracy in Hong Kong, repression will win again over human development.
Alinsek IR's translations point out a middle way for Myanmar. Offer compassion to refugees. Hold on to patriotism and democray. Open gatways for thousands of businesses. Understand the economic plans of your powerful trading partner.
All good things are constructed from a combination of ideas. This is why translators are honored in Buddhism.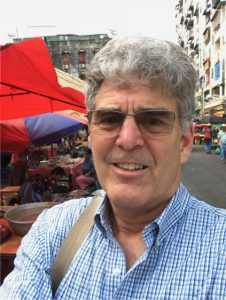 Larry Steele, who practices with the Seattle Shambhala Center, is a former world history teacher and international business person.
Post Tags:
buddhism
,
burma
,
humanitarian crisis
,
Myanmar
,
rohigya
,
shambhala
,
translator
,
world events