Monday
Uncategorized
Dakini Power by Michaela Haas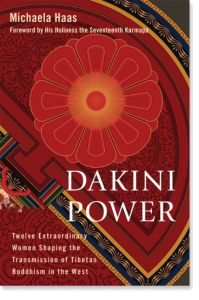 A review by Christine Heming
Michaela Haas has shared with us her "labor of love" by honoring the lives and accomplishments of twelve female pioneers of Buddhism in the West . . . and these are remarkable women.  As individuals they are direct, determined, sharp, humorous, courageous and honest–like the dakini.
At the top of the list is Jetsun Khandro Rinpoche, a well-known and revered Tibetan incarnate master.  The others include four monastic women: Jetsunma Tenzin Palmo, who's story has been told in Vicki Mackenzie's book, Cave in the Snow: Tenzin Palmo's Quest for Enlightenment; our own beloved Pema Chodron; Karma Lekshe Tsomo, who started a movement to give nuns in Asia access to education; and Thubten Chodron, who started Sravasti Abbey, the first Tibetan Buddhist monastery training Westerns in America. 
Also among the twelve are Dagmola Kusho Sakya and Khandro Tsering who were married to lineage holders in Tibet and escaped Tibet during the Chinese invasion – Dagmola and Dagchen Rinpoche to the West, Khandro Tsering Chodron and the great Jamyang Khyentse Chokyi Lodro to Sikkim.  Dagmola and Khandro were great friends for a time in East Tibet and together received empowerments and teachings usually reserved for male reincarnations.
Chagdud Khadro was a journalist from Texas who left that life, bought a round-the-world ticket, became a Buddhist, met Chagdud Rinpoche in Nepal, and asked him to marry her two weeks later.  She carries on Rinpoche's legacy through teaching, presiding over the Chagdud Gonpa Foundation and providing wise leadership over the many Chagdud Gonpa centers. 
Sangye Khandro and Elizabeth Mattis-Namgyel are Western women who, in their mid-college years, let their intuition lead them to the East and the dharma.  While both are married to well-know rinpoches, they are strong practitioners, teachers and writers in their own right.
Rounding out the twelve are Roshi Joan Halifax and Tsultrim Allione.  Although Roshi is not a teacher of Tibetan Buddhism, she is included because of her close connection with Tibet and Tibetan Buddhist teachers.  Roshi is well-known for:  many solitary wilderness retreats, her pioneering work with the dying, being ordained as a roshi in the order of Zen Peacemakers and being the Founder, Abbot and Head Teacher of Upaya Institute and Zen Center.  Lama Tsultrim Allione has been recognized as an emanation of Machig Labdron and sees her path as making these teachings accessible to Western students.  She founded Tara Mandala, which she calls, "a template of the awakened mind, a celebration of the enlightened feminine."
Dakini Power is more than just the illuminating stories of these twelve women.  It is also the story of women everywhere – mothers, wives, students, professionals – and the journey they make every day to overcome and transform the discrimination and unequal treatment they receive in many parts of the world and in many religions.  In the Forward to Dakini Power, The Karmapa, Ogyen Trinley Dorje, calls these women trailblazers.  "My heartfelt prayer is that . . . their efforts will lead to a fresh recognition of the unique insights and qualities of female spirituality, and wider acknowledgement of women practitioners and teachers."
You can find a copy of Dakini Power at Shambhala Publications here.
---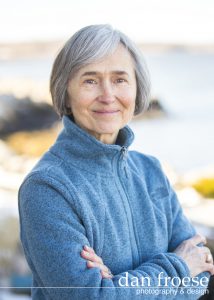 Christine Heming is a writer and educator.  She has been a student of the buddhadharma for over 45 years, and a senior teacher and meditation instructor in Shambhala.  She lives in Port Royal, Nova Scotia.
Post Tags:
book review
,
book reviews
,
buddhism
,
dakini
,
dakini power
,
dharma
,
michaela haas
,
Shambhala Publications
,
women
,
women in buddhism