Saturday
Community Articles
Climate Warriors: Move to Karme Choling
By Mike de Give
Karme Choling announced in April a fundamental shift in how it operates. Instead of depending on programs as its main source of funding, KCL is inviting people to live on the land and form a new community of practitioners.
There's a group of us already living at and around Karme Choling that calls ourselves The Foragers. We don't speak on behalf of Karme Choling, but we do speak up. And we hope to influence the things that happen here.
This post is a call to Climate Warriors. It's essential that you be part of this new community so you can influence it. 
Move to Karme Choling!
We believe that climate change is real, and that it's caused by human activity. We believe that our system of government is incapable of addressing this issue. We also believe that good people who would like to live differently are paralyzed by fear of climate chaos and societal breakdown, and overcome with guilt about our collective complicity in the state of our planet. 
Our vision is to become a hub of resilient communities around the Northeast Kingdom of Vermont. We aspire to develop food security by planting a food forest, building root cellars and instituting a canning process for the vegetables we grow. We want to feed the Karme Choling community and be a food-and-garden resource for local sangha members, while at the same time training our minds with meditation.
Our one-acre organic garden is a living classroom, with enthusiastic soil that's been worked for 30 years by a master of Master Gardeners, Jan Enthoven. Karme Choling can be a place of teaching — and learning from others — about how to survive what's to come, and disseminate this learning throughout the mandala. We need farmers and gardeners, as well as people who want to learn to become farmers and gardeners.
Our community includes healers who can help us make friends with the fear and guilt we hold. We also have the precious gift of meditation, and the profound, brilliant Shambhala dharma. And most importantly we have the support of each other and the aspiration to live in a sane and just society. 
We face a huge curve to sustainability and justice — like much of the rest of the United States. This old farmhouse is chained  to the electrical grid, full of leaks, and has an ancient and irresponsible heating system. We do not generate even a watt of energy from renewable sources. We rely heavily on fossil fuel. We're not sustainable or carbon neutral. We're not racially diverse. 
Come here and help The Foragers change that.
We've got land and exertion and meditation and each other. We offer a container of kind society. 
I've heard people say it's cruel to declare that "chaos should be regarded as extremely good news" when the racial injustice in this country is beyond the boiling point and there's a pandemic still raging. With the lives of loved ones cut short, hundreds of thousands falling ill, and our society falling into familiar and destructive patterns of misbehavior, to assert that there is "good news" seems insensitive to our collective suffering.
Except there's a window opening right now at Karme Choling. And if there's good news, it would be a mistake to overlook it.
I sense that our hearts are calling on us to ride the energy of this chaos into a saner way of living.
And way down here, near the end of this article, where fewer people will be reading, I will confess that I don't know much about climate change. I'll admit that I'm scared to read past headlines about melting ice shelves and continents of floating garbage and methane events and societal breakdown. I'm scared of my dystopian nightmares gathering energy. 
But there are people here who are braver and smarter than I am, who can look in directions that I can't bring myself to look, and who nudge me out of my cocoon. I've learned that not being a climate expert or an environmental activist doesn't bar me from wanting to evolve, and it doesn't have to shut down avenues to building a saner society.
Join The Foragers! ([email protected])
Move to Karme Choling! www.karmecholing.org/residency-2
I've lived at Karme Choling for three years. Perhaps you have lived here awhile as well, or at least visited for meditation retreats. This place will drive you nuts. Or maybe expose the aura of craziness you are already radiating. Whatever. Because this is also a place with great potential, even amongst the chaotic backdrop of the world and the general discord within our own sangha. I think we can feel into that potential and bring it into being, in some form.
If that is something you want to be part of, join The Foragers.
---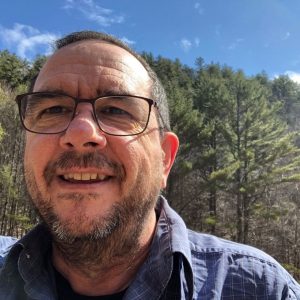 Mike de Give has been a resident at Karme Choling.
Post Tags:
bravery
,
climate
,
climate change
,
community
,
Enlightened Society
,
Karme Choling
,
land center
,
shambhala
,
warrior