Wednesday
Community Articles
Humanity at a Crossroads – a Shambhala Conversation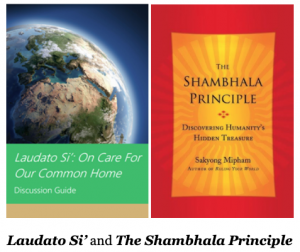 By Richard Reoch
"This needs to be an inclusive, global conversation," said Shambhalian film animator Cyndi Levine. "People are already suffering from environmental degradation. Those who are suffering the most right now are the ones who have not had any voice. We need to understand the ways in which we have failed to listen deeply to their voices and know that with a conscious effort it is still possible to do that."
Cyndi, the former Practice and Education Coordinator in Halifax, who is now planning a documentary about green spaces in cities, was speaking this month at a two-part conversation spearheaded by the ​Shambhala Touching the Earth Collective​ on Shambhala Online. Everyone's mind was on the global environmental emergency.
"The people I would love to see leading a global, inclusive discussion," she said, "are black, indigenous, and people of colour. There are people who have been living in harmony with their environment whose wisdom we can learn from. There are people who have been considered disposable when corporations are looking for a place to build a dump or a mine or an oil refinery. "We need to hear their voices, and the voices of young people whose future is determined by what older generations are doing today."
The Shambhala Online conversation was kickstarted by a comparison of two works by Pope Francis and Sakyong Mipham Rinpoche. ​The two books, ​Laudato Si'​ and​ The Shambhala Principle,​ were both published before the 196-nation conference that adopted the historic 2015 Paris Agreement on climate change. ​Both ​set out the personal and societal changes that would be needed to meet the threat of global devastation.
Part One of the conversation just took place and full footage of the event is now available. You can find out all about it, as well as join the next round of conversation on Saturday, 14 November here: ​Humanity at a Crossroads: Laudato Si' & The Shambhala Principle-Saturdays, October 17 & November 14​
Our Relationship to the Earth
As host of the event, I was struck by how many of the presenters told me that they felt that our Shambhala dharma and rituals help us re-establish our relationship to the earth, to all sentient beings, and to each other. "Our practices strengthen equanimity which helps us and others to face the great uncertainties ahead of us," said one and another said, "Simply sitting in silence can chip away at our illusion of separateness."
Each of the seven presenters took, as their starting point, parallel quotations from the Pope and the Sakyong. I had compiled them several years ago and made them into a​ chart. [​Click here to access the chart​.] ​Only recently did I share it with the Touching the Earth Collective, who asked me to facilitate these online conversations, built around the convergences between the two texts.
The conversation opened with Robert Cervelli discussing the statement in both books that humanity is at a crossroads. A practitioner since the 1970s, Bob is Executive Director of the Centre for Local Prosperity in St Margaret's Bay, Nova Scotia, an organization which helps local communities develop climate readiness in the event of a catastrophic future.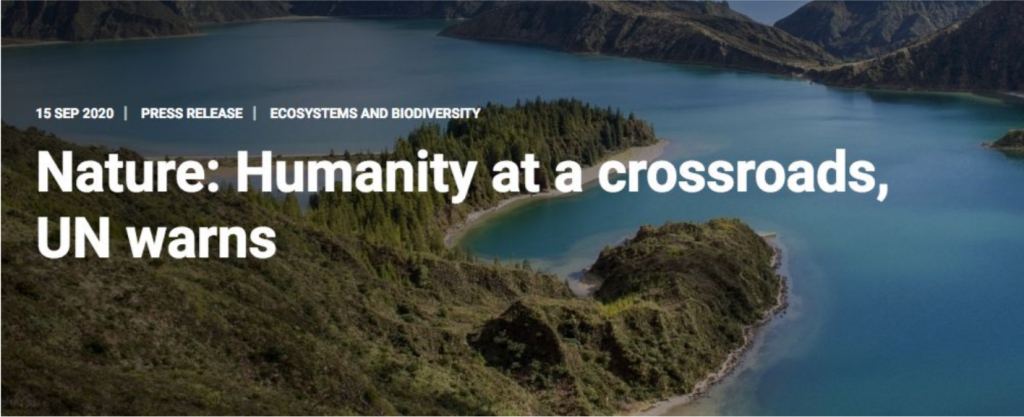 It's not just the Pope and the Sakyong who warn of our being at a crossroads, the phrase was also the drumbeat of this month's report by the UN Commission on Bio-Diversity.
"Being at a crossroads implies a journey," Bob said, "the journey of humanity. What may be the arc of our history is the rise of dualistic mind. You begin to see the advent of territorialism, wars, leading up to these dark ages where we now have the predominance of fear, hate and greed. There's even an embedded dualism when we think of "the environment" or "nature" – as if it's something other, something out your window, not your life."
"We can see our old systems dissolving, decaying," he said. "There is a lot of uncertainty, a lot of chaos. But at the same time, when you look closely there are new systems arising. It is up to us as warriors to hold our sanity and plant seeds for new systems. The ground is now becoming fertile. I think of a 108-year-old Hopi elder who, clapping his hands as he addressed his community, told them, 'These are exciting times and we are the ones we have been waiting for!' "
Deep Psychic Shift
"It is we human beings above all who need to change," Pope Francis tells his readers. It was with these words that Shambhala Acharya Fleet Maull took up the thread of the conversation. A tireless and dedicated peacemaker working for social transformation and a more just and sustainable global society, Fleet has been practicing mindfulness-awareness meditation for more than 45 years, trained in the Tibetan, Zen, and Vipassana Buddhist traditions. After quoting Pope Francis, he cited the Sakyong's words: "Any long-term solution to our concerns is rooted in a deep psychic shift."
"For me the deep psychic shift we need is to individually and collectively become more deeply embodied, heart-centred and earth connected," Fleet said. "For meditation to facilitate this shift we need to practice in a deeply embodied and heart-centred manner. For too long many of us have practiced meditation from the neck up. Approaches like the Sakyong's Shambhala Meditation and other embodied methods help us activate our innate capacity known as interoception, our internal body awareness. We are sensory, feeling beings, literally all the way down to our bones."
"Developing this deep embodiment reduces the fear, anxiety, doubt and greed driving the current crisis," he said. "This further allows us to move beyond the fixed mindsets and victim mindsets which fuel avoidance and passive inaction on the one hand, and destructiveness and conflict on the other."
"Is there a difference between using meditation which works on your own mind and trying to change society? Does societal change need other tools apart from meditation?" asked Mary Fahrenfort from the Netherlands.
"The inner change is foundational to be able to create the outer change," Fleet replied. "Even with the right intentions, if we try to realign the world from a place of fear, anxiety and a lack of confidence in our basic goodness, it will be like rearranging the deck chairs on the Titanic. Developing our unconditional confidence enables us to unhook from our failing systems and helps us co-create new systems."
This intimate relationship between inner and outer is vividly described by Pope Francis who writes, ​"​The external deserts in the world are growing, because the internal deserts have
become so vast," and by the Sakyong who tells us "the result is personal, social, and environmental deforestation."
This was the theme that Mark Rasmuson took up for us. Mark has worked for 40 years in the field of international health. He organizes the Ecosattvas group of the Washington DC Shambhala Center and is active in ​One Earth Sangha.
"We deteriorate together", Mark said, picking up the Pope's words. "Entire regions of the world are becoming too hot for cultivation of traditional crops. Populations migrate. Migration is met with resistance and hostility. Hatred and conflict arise. The human condition on both sides deteriorates."
"We see the interplay between human culture and the environment. A defining feature of the western civilizational narrative is that we are a unique species, separate from the rest of nature and entitled to dominate it, to extract its resources for our benefit. Another feature is material consumerism." He referred to Joanna Macy's characterization of these forces as the three poisons in Buddhist teachings, and highlighted the fact that this is a global phenomenon with startling photos showing how the traditional low-carbon way of life in Tibet was now being taken over by "motorbike culture".
Infinite Dignity
It was at this point, just when we might be feeling completely overwhelmed by the magnitude of the challenge we face, that Nealy Zimmermann took us on a journey into a realm that would be known in classical Buddhism as the inner world of the Bodhisattvas whose mission is to serve in the hell realms.
Nealy, a long-time practitioner who lives in Needham, outside Boston, is a student of the Sakyong, and part of the network known as "Needham United Against Racial Injustice". She is also active in a sub-group of a justice reform organization that monitors the parole hearing of prisoners sentenced to life imprisonment with the possibility of parole. As they listen to the hearings, they double check for possible racism and any failures to understand mental health issues that the prisoner's may have.
The theme she chose was "each creature possesses its own goodness and perfection". She also picked up on the words of Saint John Paul II who was quoted in ​Laudato Si​: "the special love of the Creator for each human being confers upon him or her an infinite dignity."
"I really love the phrase 'infinite dignity' as an alternative to basic goodness," Nealy said. "I am inspired by how basic goodness shows up in people's lives."
She told us the story of Laurie Etter, a Christian chaplain who worked in a women's prison in Connecticut. "She would tell the women in the prison, over and over again, 'God loves you'. When they finally got it – 'You mean God loves ​me?​ ' — to see the change was incredible. In the midst of the brokenness of their lives, God's presence was felt so incredibly. Being able to forgive themselves and to forgive others was so empowering. It was liberating. It was incredible."
"Thank you, Nealy, you really touched my heart" said Shambhala Acharya Alfonso Taboada, joining the conversation from Spain. "I thought about all we have been going through as a Shambhala society and how these same principles could be applied to heal our hearts and restore our connections – not giving up on anyone."
David Wimberly took the baton from Nealy and spoke about what ​The Shambhala Principle calls the "psychic repercussions of materialism." David moved to Nova Scotia over 30 years ago to fulfill the wishes of his root guru, Chögyam Trungpa. He made a deep connection with Sakyong Mipham the moment he met him and taught him falconry. David has what he calls: a "bone-deep love of all life on this Earth". As examples of what the Sakyong calls "a depressed culture", he gave graphic depictions of the fashion industry and food waste as devastating examples of contemporary "throw away culture", what Pope Francis calls "today's self-centred culture of instant gratification."
For those wondering what we can do about all this, he pointed out that one of the three most significant environmental changes we can make is reducing food waste – and that we can all play our part in that.
As meditators David asked us when practicing exchange of self for other, not to limit that to other people, but extend it to all the other beings in our world. "The whole earth is one living system," he said. The other practice he encouraged was to manifest gratitude, merged with compassion and wisdom. "Out of that," he said, "spontaneously comes action."
It was Ruth Wallen who finally inspired us with a vision that brought together both science and art. Originally trained in the sciences, Ruth is an ecological artist who co-chairs the Master of Fine Arts Interdisciplinary Arts Program at Goddard College in Vermont. She is also the Shastri of San Diego Shambhala.
Ruth addressed the risk of rampant individualism. She asserted that theories around the survival of the fittest and competition, extolled as basic principles of evolution, foster individualism and rampant consumption. In contrast, she described how as a biology major she used to say to herself "there must be another way of thinking."
"Fortunately," she told us, "there has been another way of thinking. Starting with Lynn Margulis, who instead asks: 'What if evolution is driven by symbiosis?' " Ruth also shared with us the work of Scott Gilbert and other researchers who are refuting our notions of individuality right down to the anatomical, developmental, physiological, genetic and cellular levels .
"Instead of focusing on the "me plan" and individual freedom," she said, "through ceremony our lives can reflect kindness, gentleness, appreciation, gratitude and love."
Looking forward to the next round of conversation on these themes, which will also address the intimate relationship between culture and environmental sanity, she reminded us of these words from ​The Shambhala Principle:
In reality, our planet is simply a small floating blue sphere in space. Our social reality is created by our ongoing ceremonies. Can we as a global community create the ceremony of basic goodness? Or will we continue to participate in a ceremony of social animosity that only leads to disempowering the human spirit?
And It is on that very point that we will be resuming our conversation in November! You can register for this event by ​clicking here​!
Post Tags:
community
,
Enlightened Society
,
environment
,
green
,
laudato si
,
shambhala
,
Shambhala Principle
,
Touching the Earth