Wednesday
Community Articles
Mindfully Naked at 80mph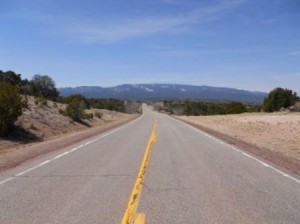 Mark Manzutto, from the Albuquerque Shambhala Center, contemplates the thrill of motorcycle riding
There is no way to express the sensation of flying down a long New Mexico road at 80 mph on a warm summer day. The realization of what you are doing is enough to either frighten you or enlighten you. I guess that could be true of any situation. However in this case you are sitting on a powerful gasoline combustion device balanced on two thin rubber wheels completely exposed to the elements. The leather coverings and helmets offer minor protection against the harsh pavement, suicidal bugs and sun/wind burn. But the real danger is the fall not only at high speed but also from a height of 5 or 6 feet above the hard earth. Try standing on a box and falling straight over without breaking your fall. Combine that with the sudden stop when you hit a stationary object or you take the long slide and tumble and you have real danger.
So why do we ride these monsters? How do you cross from a temperament of safety into this mode of travel? Is this especially difficult of a meditation practitioner who is striving daily to be alive and awake? Why take a risk? Why do we need to be daring? We are taught to be gentle with our daring, to let the world in and break down the cocoon of our fears. Does that mean we have to go screaming down a winding forest road pushing the edge of reason for a temporary thrill?
I think the reasons are a lot deeper than my first thoughts when I started riding. At first it was the thrill, the sense of movement convinces us that we are alive. Sitting behind a computer does not offer the tactile sensations of life. It really is fun when you have been inside a building all day to hop into traffic and power away. Riding a motorcycle is a lot easier than paying the cost, time and trouble to try some exotic sport like rock climbing or hang gliding. It is statistically less dangerous than rock climbing, hang gliding, or even downhill skiing. The bigger reason I ride might be that it offers the opportunity to put awareness in action.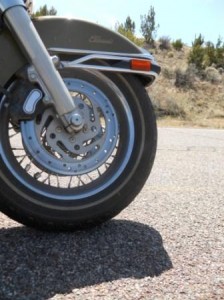 We practice mindfulness in all aspects of our lives. We feel the ground when we walk, feel the sun when we go outside, taste the food when we eat. We experience the now-ness of the world and the life we live when we pay attention. All of this is expands when you hold your life in your hands while traveling at 80 mph. You must pay attention to everything happening while you ride. Cars and trucks don't see motorcycles, a simple pothole is enough to send you flying, and hitting a bird could end your ride. You learn quickly to switch between your common internal gossips to what is happening within a 100-foot radius of yourself. You must pay attention and deal with what comes at you at all times. Sounds familiar doesn't it?
In spite of the danger and regardless of the thrill, riding allows you to participate in the world in a profound manner. You only think you know what the weather is doing until you start riding around. Rain is not the pleasant shower to be enjoyed with a sigh. It is a thousand painful pricks all over your body. It is cooling on a hot day and refreshing when it ends but then the road is wet and slippery. A favorite pastime in the desert country is watching the clouds build and move as you try to out run them. And then there is the wind. It is always there but it carries the most profound levels of smells and temperatures. The constant battering becomes a consistent reminder of where you are and what you are doing. Have you ever noticed that bikers wave at each other? We do this to remind ourselves that we are doing something unique and now and only another biker knows what this is like.
Sometimes the world offers too much and paying attention is too intense. We learn to block out, blend into and numb out in order to cope. It's hard to be open, aware and alive with everything we encounter on a daily basis. Cars offer us a shelter, a bubble to quickly pass through space while listening to the radio, talking on the phone or conversing with our passengers. Motorcycles open us up to the world as we travel. We all know the different experience in an area when we walk through or ride a bicycle and notice things beyond what a car ride will offer. We see alleys and buildings with time to really study the details. Cars offer a blur of sights and distractions. Try taking a scooter through a common downtown area and see what a difference it makes. You will awaken to a new world, a world with smells and textures and temperatures and sounds so rich and different it will amaze you. Try to find a way to experience this but remember, be safe, keep the rubber side down and pay attention.
Post Tags:
mindfulness