Friday
Arts and Poetry
The Last Breath of Summer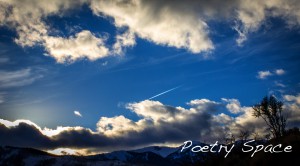 COLUMN: Poetry Space

Summer in the land of Shambhala is a time for retreat and practice, for family, for play and yes, for work. Below are our selections for the final Poetry Space of the summer.
CALL FOR SUBMISSIONS – as the season turns, dust off the pen, take a chance, share your work!
Just as our editors have been away for much of the summer, so too, apparently, have been our writers.
Let's fill the pages, fill the hearts…..
In goodness we trust

Are we soldiers
Are we merchandise
Do we feed information to trees and dogs?
The moon has struck
And I am hopelessly dumbfounded
Fear has withered more flowers than ever before
But still in goodness we trust
The day is cheering up
Each night rests in freshness
Great eastern sun whispers in everybody's heart
"You're on open sea, wind blowing your mind free"

~~
by Ans de Vries Ans lives in Amsterdam, The Netherlands, and is associated with the Amsterdam Shambhala Center as dharma translator, dorje kasung, teacher and meditation instructor. She has never published poems before, but has written poetry on and off over a period of some thirty years.
Mud Puddle Buddha
(Leshan)

Rain collects in a muddy hollow,
sun glistens in the shallow mirror.
Small ripples break white yellow rays
into a shimmering faint rainbow.
The largest Buddha in the world
shrinks to miniscule size
in a puddle of water
by his massive feet.

~~
by Monika John, a writer and attorney from Washington State. Her writings have appeared in various journals and magazines in the USA and UK: most recently, Buddhist Poetry Review, Light of Consciousness Magazine, Urthona UK, and Penwood Review, among others.
~~
Note on process
We are receiving new submissions continually, and we collect these until we have a sufficient number to review for possible publication. While it's still early days, it feels like we will be publishing new work quarterly, although if we do receive a large number of submissions, we may choose to publish more frequently.
We have a panel of three editors who review all submissions; the submissions are stripped of all identifiers when they're sent to the editors. To that end, please submit your poems left margin justified in a simple black font so it's easier to collect them for review.
Please submit no more than three (3) poems in the body of an email to: [email protected].
We will remove the poet's name from the submission before it goes to our editors for a blind review, and will make every effort to let you know whether your poem(s) have been selected for publication within three or four weeks. All rights revert to the author 30 days after publication.
Post Tags:
poetry
,
Poetry Space