Sunday
Featured Stories
Seeds of War, Seeds of Peace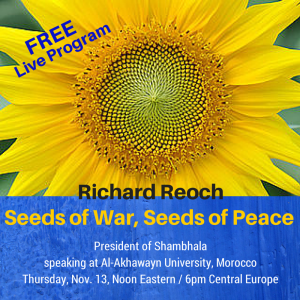 Religious Conflict in Today's World
President Richard Reoch presents at the University of Morocco
The room full of Muslim preachers, known as Imams, was keenly attentive as I introduced meditation practice to them with a short introduction to the neuroscience of mind, body and extended consciousness.
I was in Morocco to teach post-graduate students in the Philosophy of Religion at Al-Akhawayn University. It is an independent, public, coeducational university established by Royal Decree to promote "the values of human solidarity and tolerance."
Here is the video to the opening fifteen minutes of the event. It includes remarks by Al Akhawayn University's Vice President Dahbi on the importance of a Buddhist raising these issues, and the opening of President Reoch's talk. We will update everyone when the full address is completely uploaded. See link below for the full written text and photos at From Our President.
"There is tremendous academic interest in Buddhism here," said Professor Connell Monette who invited me, "particularly because it is so much about the science of the mind."
He is writing a book on mystic traditions for the Arabic-speaking world. He told me he decided to highlight Shambhala in the chapter on Buddhism because of its social vision of enlightened society.
After the class on meditation, one of the imams came up to me and said, "Can we bring this [meditation] to all our young people? It is a common basis for everyone. This takes religion to a point beyond conflict, where we can come together."
In view of my work in the field of war and peace, I was invited by the university's president to deliver a public address on the theme: "Seeds of War, Seeds of Peace: Religious Conflict in Today's World."
The university live-streamed it and linked it to Shambhala Online. Click here to watch the video.
"We are witnessing horrific incidents across the globe," I wrote to the university's president as we were planning this. "They are part of a larger and deeply disturbing tendency worldwide to denigrate, demonize and unleash assaults, often with extreme cruelty, on entire groups of people, victimizing them for their identity.
Like all forms of religious, ethnic or cultural hatred, what is happening is a direct threat to the principles of co-existence that are essential if people of different faiths and traditions are to live and flourish together."
The question and answer period was lively with students, staff and faculty asking about the effects of low self-esteem on communication with others, The Shambhala Principle, the dangers of religious ignorance, and ways of teaching kindness in schools.
A copy of my address and the slides that accompanied it, is also posted on From Our President, please click here.
Post Tags:
peace
,
President Richard Reoch
,
turning the flower