Friday
Featured Stories
Beautiful Ornaments
In the community of Dönda, Tibetan region of the Yushu Prefecture, a new stupa rises above the roof
by staff at the Gesar Fund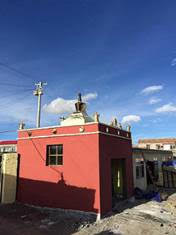 The new shrine room at the Gesar Community Centre now has a new stupa and a new prayer wheel. The older "before" picture was taken in the summer of 2016.  In October, the roof ornaments were completed, including the small stupa, and the prayer wheel was placed in December.
In the pictures, the sky is almost clear, but you can see from the clothing worn by the nomads that the temperatures are extremely cold. It is almost clear sky in the pictures but the clothes of the nomads (photo below) shows that it is extremely cold. In Dönda in general it has been so cold that all other Buddhist practice and activities have to take place inside one of the Gesar rooms.
The completed shrine room motivates the nomadic group that is supported by the Gesar Fund to come more often, which gives our local volunteers opportunity to have a better overview of health issues within the group. monitor things like health. Also in general more people are coming in on a drop-in basis, which gives us the opportunity to give ad hoc aid if required.
Slowly but surely the Gesar Community Centre is evolving into a full-fledged center, where medical aid is provided, groceries and bread can be purchased in the shop, lessons in crafts and handicrafts are offered, and people can exercise together.  In this community, Buddhism is closely interwoven with daily life, so the placement of this stupa has earned a warm place in the hearts of local nomads, and of the Dönda population in general.
---
To contribute to the excellent work being done by the Gesar Fund, please consider making a donation at their website: http://www.gesarfund.nl
Post Tags:
Gesar Fund
,
Surmang