Friday
Uncategorized
Preparing to Die by Andrew Holocek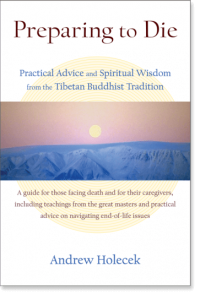 Reviewed by Christine Heming
Recently several books have appeared written by well-regarded teachers on the Tibetan Buddhist approach to death and dying.  These add to a growing collection of teachings, practices and guidance for the dying and for their caregivers. One might ask if we need yet another one.  But Andrew Holecek's book is truly a welcome addition and may be the book to go to for both spiritual and practical guidance.  As Tulku Thondrup writes in the Forward to this book:  "It is packed with clear and practical details and adorned with great love and care.  This handbook is for anyone . . . who wishes to journey with the joyful blessing light of Dharma."
This book was written to help us negotiate the difficulties of death.  The key to this, Holecek writes, is familiarity – becoming familiar with death, by becoming familiar with our own mind.  He is attempting to take the mystery out of death.  If we can deal with some of the details surrounding our death now, while we are alive, we may be able to relax at the time of death.  "Relaxation is born from familiarity."
Holecek does not shy away from clearly and directly addressing the reality of death, and he does so, as Thondrup says, with great love and care.  On every page you can feel his desire to help us prepare for our death or the death of our loved ones.  The first part of the book addresses what we can do while living that will be fruitful at the time of death – from the power of shamatha meditation to pure land practice to resting in the true nature of mind. He tells us what we may experience as we are dying as well as the bardos that follow. He encourages us to take advantage of all the opportunities we have now to face this "most precious experience in life," this "once-in-a-lifetime opportunity" with courage and an open heart.
There is a section on a dharma will that tells our dharma friends what we want them to do during and after our death.  Holecek describes having a dharma box that would contain everything our spiritual friends need to know and have at the ready to help us die, for example liturgies or readings we want to hear or practices we want people to do.  It may contain precious substances for the time of death or ritual objects you wish to have near you.
This first section of the book also addresses how we can help others die.  Holecek says that this is the time we are needed most, when we can help the dying or dead person through this important transition.  He tells us that we are as vulnerable after death as we were after birth.  In the words of Dzongsar Khyentse Rinpoche:  "Bardo beings have very refined minds . . . so what practice you do in the bardo will be much more beneficial, more powerful."  If we can help that being during this important time, rapid spiritual progress is possible.
The second part of the book is full of practical advice: legal issues, living wills, hospice care and pain management to name a few topics.  With reverence, Holecek describes the physical signs and symptoms of dying, and the care of the body after death.  He has a checklist of items you will need; no detail is left out.  Several other authors contribute to this section – persons who have experience with caring for the dying.  Options for the final disposition of the body are discussed as well as organ donation, euthanasia, suicide, abortion and death of a pet.  A discussion on exposing children to death is included as well as working with grief from a Buddhist perspective.
The final section of the book contains heart advice from a long list of Tibetan Buddhist masters who have taught in the West.  Among them are many very familiar to our Shambhala community, e.g., Thrangu Rinpoche, Dzigar Kongtrul Rinpoche, Jetsun Khandro Rinpoche, Dzongsar Khyentse Rinpoche, Mingyur Rinpoche, Dzogchen Ponlop Rinpoche and Namkha Drimed Rinpoche.   Holecek asked each of these teachers three questions:  (1) what is the best thing to do before death? (2) what is the best thing to do during death? (3) what is the best thing to do after death?
This heart advice from these masters contains very precious teachings.  There is something here for everyone, no matter what their level of practice or their faith.  For example, in response to the second question, Tsoknyi Rinpoche says:  "Mostly it depends on each person, according to their belief, to create some hope.  It's okay to connect to your own belief to find some peace."
To round out this wealth of information and teachings, there are three appendices full of more details and suggestions to aid your own preparation for death as well as to assist others – checklists, things you can write to prepare for death and further details about grief and depression.
I conclude with a recommendation from Dzogchen Ponlop Rinpoche, author of Mind Beyond Death:  "If we really want to include something as overwhelming as dying in our spiritual path, we need a way to gradually get closer to the reality.  Preparing to Die will help us do that.  It offers generous spiritual and practice guidance to help us develop confidence and compassion wherever there is fear – our own or others' – confronting death."
Find Preparing to Die from Shambhala Publications here.
---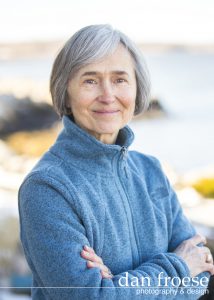 Christine Heming is a writer and educator.  She has been a student of the buddhadharma for over 45 years, and a senior teacher and meditation instructor in Shambhala.  She lives in Port Royal, Nova Scotia.
Post Tags:
andrew holocek
,
bardos
,
book review
,
book reviews
,
books
,
death and dying
,
dharma
,
preparing to die
,
shambhala