Sunday
Community Articles
Touching the Earth Collective—November 2020 Newsletter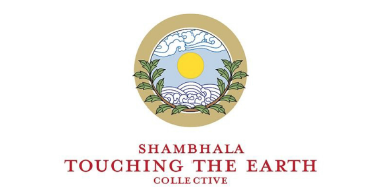 ---
Contemplating the SMC Fire
By Irene Woodard

Each month, a few of us determine what will be featured in this Newsletter. The fire at Shambhala Mountain Center clearly was the news, and would be the lead story. This "no brainer" became questionable, however, as we began to look into who could write the article. Some of the people asked were unavailable. Others, close to the situation, were involved in an emergency. At some point, I realized it was too much to ask, and so this became an interview situation—I was going to have to take the lead. As Bill Moyers says, " I'm just a beachcomber on the shores of other people's experiences."
As much care as many felt for SMC, we weren't living it. On October 9, two weeks after the fire had moved through SMC, I called my old friend Dickie Swaback, a previous employee at SMC who used to oversee water and waste management. Recently he had been a resident there, in one of the lodges. He had evacuated to Fort Collins. Initially, I thought he could write the article. I was wrong. We made a date to speak and our call was close to two hours long.
Here's what spilled forth…
Over and over, he spoke of the anxiety. Was the fire going to reach SMC? Would there be smoke damage? What would the next few months be like? The anxiety of leaving many of his possessions behind. As we talked, the SMC residents were still in mandatory evacuation. The fire was still burning, 120,000 acres. He repeated not knowing what was next.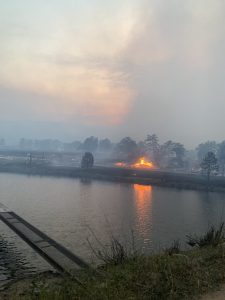 Eventually, Dickie turned to what he thought I wanted to know, my original question about how the fire would impact the biosphere of the land, the plants, the animals. At the time, I had perceived his narrative of being a mammal moved out of his habitat as separate from the other repercussions of the fire. I was wrong. As animals, we too have been touched by the flames, emotional and otherwise.
Initial reports were about the buildings, what burnt, what remained. Our discussion focused on the biosphere. As he is not a trained ecologist, he acknowledged he was raising questions, but was not attempting to answer any. He said this is just a mind drop, not in any order. This is not verbatim, but I have not added anything.
Fire had burnt through SMC, but not completely. There is a lot of black and a lot of green, he said. After a week, there were green sprouts, coming through the ash. We have seen those photos. Ash is a good carbon source. Rain and snow, storm water runoff will run through the property. Soil erosion? Willow and birch… All those habitats providing nesting sites, habitats for beavers… how fast would they be restored? Lake Shunyata was soiled, could be toxic. We don't know. Tiger salamanders, otters, great blue heron, migratory cliff swallows, those beings fed off insects. Some beetles can survive in burned landscapes, and lay eggs in burnt logs. We might gain or lose habitats for squirrels and owls…
What animals were pushed onto our property? What food is available for them? There will be competition. Don't know which plant species were burnt, what survived? SMC has lists of plants and animals. Which animals have been seen? Huge mice and rabbit population. Don't know how many survived. They have been a source of food for the raptors. Humans left and are returning. Wild turkeys, the coyotes, bobcats, mountain lions, were they able to escape? Deer? How did they survive? Bears? Complex… We will know more this year.
As Dickie said, the fire threatened his total existence, routines, all in limbo. How would I react? And survive? Where would I survive?
This week I have been in touch with Michael Gayner, Director at SMC. His quick response was reassuring. "Many of the questions posed by Dickie are being addressed through our partners."  SMC is approaching things in an environmentally holistic, science-based and spiritually-sensitive manner.
"On October 30 we will visit the land again to assess the damage with our forester and with Jim Tolstrup, ED of the High Plains Environmental Center, who was our land steward some 15 years ago and continues to pour sweats at SMC, as authorized through the lineage of Sam Movecamp, a Lakota Elder."
Both Michael and Dickie suggested the next group of questions go to Mac McGoldrik who will be able to provide a more comprehensive picture of the fire, its path, and the plans to go forward. We, the members of the Touching the Earth Collective, are looking forward to hearing about how SMC is approaching these questions in such a deliberate way.

The land is a habitat for many species, humans included. Years down the road, we will assess the damage and the growth, the learning.
For now, we send love and healing to all the beings of the land, otters, insects, herons and the humans. The trees, the greenery and so on…
Thanks, Dickie, for sharing your raw feelings. And thanks, Michael, for sharing your caring leadership. Thank you both for your time.
---
— Elemental Expression —
Every month, we offer a space for one of the Collective's members or friends
to share their work, art, or passion…
One Two Three
By Barbara Bash

During the years I spent in proximity to Chögyam Trungpa, I absorbed his teachings on Heaven, Earth and Man (Human) and observed how he enlivened these ancient principles in this western culture. From executing a brush stroke, creating a flower arrangement, arranging an interior environment or picking up a fan and waving it slowly, he seemed to be guided intuitively by how to begin, how to follow through and how to resolve. I was watching closely.
Over the following years, I noticed how many actions in life followed this three-part unfolding. We start with heaven, sensing the big vision, the potential, the uncertainty of beginnings. At some point there is a shifting to earth, getting into the work of it, landing on the page, in contact, in conversation, grounded in tools and execution. Finally, there is completion, the human principle, focusing in on the closest details, the intimate aspect. This where something resolves, insight emerges and we see how it all turned out.
When I was asked to lead Big Brush workshops for the Authentic Leadership in Action conferences (2001 – 2013) with 250 people in the room and 45 minutes available, I realized that Heaven, Earth and Human could guide and hold the process and give the spontaneous strokes an inherent structure and beauty. This was the sequence we followed, drawing on Chögyam Trungpa's teachings from three perspectives. Outer – how things are arranged in space. Inner – how one feels at each stage. And secret – what is the deepest view?  One approaches the blank page with an alive trembling. Moving into action things land, connect, counterbalance and relax. At the end, something can resolve, lift-off, let go.
With my illustrated journaling practice I discovered the process could be held and guided by the same structure. Begin by drawing what is in the sky (or touching the sky or on the ceiling), something above and connected with space. Then add an object that is on the ground (or on the floor), earthy, rich, complex. Finally choose a detail that calls to you, small and close. Each element is placed in conversation with the others on the page. When words are added, describing each one, understanding shows up (ahhh that is where I am now). The world becomes a mirror. In moving through these stages, the creative act naturally opens.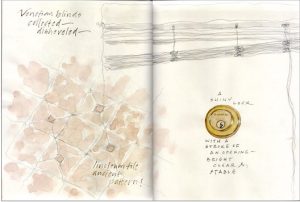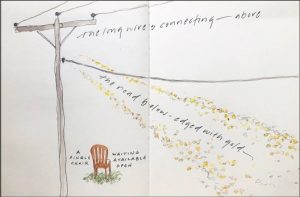 We are held by ancient forms. Feeling and responding to these forms in fresh ways allows our life momentum to move. Deep inside the heart settles.
You can enjoy more pieces by Barbara here.
You can also learn more about Barbara's art and follow her work:
Website – barbarabash.com
Visual blog – barbarabash.blogspot.com
---
MOVIE OF THE MONTH AND ONLINE DISCUSSION
Every month from November 2020 – May 2021, we will offer a film to watch on your own time and a scheduled online Zoom discussion for the opportunity to come together and have a discussion based on the topic(s) presented in the film. The program will present a broad spectrum of views on our relationship with this earth and will include both documentaries and features from around the world.
When?
Thursdays: Nov. 19, Dec. 17, Jan. 21, Feb. 18, March 18, April 15, May 13
At: 1:00 pm (MT) / 3:00 pm (ET) / 4:00 pm (AT) / 8:00 (UK) / 9:00 pm (CET)
Zoom Link: https://us02web.zoom.us/j/89516097467?pwd=ZHZVbUtndEJVMU53dXdMVVYrdTFyZz09
Passcode: STECfilm
Meeting ID: 895 1609 7467
How?
1- We announce the movie in this newsletter and on the Collective's website
2- You watch it at home or with a friend before the discussion date
3- We discuss it online in a Zoom Room, with a break-out groups format
Our Programmer for this series is British born film brat Angela Pressburger, who has been a Program Consultant for the Vancouver International Film Festival since 2000 and has sat on documentary juries for both the Vancouver and Seattle film festivals. In 2001, Angela founded the Sunshine Coast Film Society, which is still running, and in 2012 she started the Tatamagouche Movie Group, many of whose members will be joining us for this film series. At one point she wrote a movie review column for the Shambhala Sun and she is also the co-founder of the short-lived Shambhala Agricultural Foundation, which turns out to have been just a little before its time.
November film: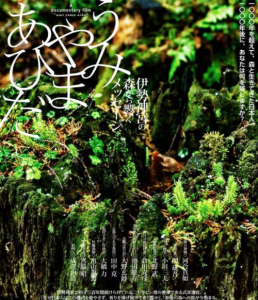 IN BETWEEN MOUNTAINS AND OCEANS, 2015, Japan, 79 min.
Online Discussion: Thursday, November 19, 4:00 p.m. AT
You can rent the movie for $2.99 by clicking here or watch it for free on Amazon Prime in the US.
Prestigious Japanese photographer Masaaki Miyazawa's debut film is a meditation on our connection with nature. From the initial ceremonial dot of Ise, we travel through deep mountains, sacred forests, and along beautiful coasts to talk with an oyster fisherman, a scientist, a master carpenter, an architect, a filmmaker and others, Miyazawa's film unveils a thousand-year-old method of coexistence with nature and reflects on the importance of living sustainably in modern society.
December Film: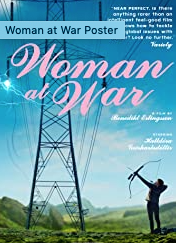 WOMAN AT WAR, 2018, Iceland/France/Ukraine,  101min.,
Online Discussion: Thursday, December 15, 4:00 pm (AT)
https://www.sbs.com.au/ondemand/video/1697720899899/woman-at-war
Also on Amazon Prime in the US and Canada
---
Upcoming Events
Earth Salons
Climate Victory Gardens with Robert Cervelli
Sunday, November 8 at 12:00 pm (Atlantic)
We will discuss the exposure we may have in the future from food shortages and higher prices, as we enter an era of increased global food insecurity. Solutions will be explored, including the incredible capacity to grow significant amounts of our food supply on little land and with only a modest labor input.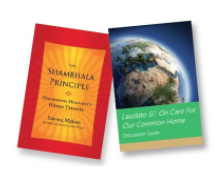 Humanity at a Crossroad (Part 2)
Laudato Si' and The Shambhala Principle
Members of the Shambhala Touching the Earth Collective will offer succinct, interactive presentations highlighting each of these points of convergence.
Richard Reoch will facilitate these presentations.
Saturday, November 14 at 3:00 pm (Atlantic)
---
To join the STEC google group and be added to our mailing list, please email: 
[email protected]

Any comments regarding this newsletter content can also be sent to: 
[email protected]
Post Tags:
climate change
,
climate justice
,
Creating Enlightened Society
,
fire
,
laudato si
,
shambhala
,
Shambhala Principle
,
SMC
,
Touching the Earth