Tuesday
Community Articles
We are now at the fork of this road
By Richard Reoch
"We are now at the fork of this road. We now have an ultimatum or an alternative," warns Albert Marshall, the Elder who speaks for the Mi'kmaw Nation on the environment. "Is it going to be business as usual? Or are we going to be truly reflecting and look at how we got here? And at what cost? Not only to the natural world and to all of its species, but even to humanity."

"Wonderful as science is," he points out, "science cannot and will not be able to transform this wonderful creation of ours into a human creation. She has a way of reminding us that she is in control and we have responsibilities to ensure that every action we take must be in harmony with the laws of Nature."
Originally speaking on the Shambhala Touching the Earth Collective's July event, facilitated by Shambhala Online, Elder Marshall's moving words were re-broadcast during its November community conversation, "Humanity at a Crossroads".
Eighty-three Shambhalians took part in the two-part series, inspired by a comparison between Pope Francis' Laudato Si' and Sakyong Mipham Rinpoche's The Shambhala Principle. Both speak eloquently of the challenges facing humanity, planet earth and all her inhabitants as a result of the disastrous trajectory on which, as a species, we have set ourselves.
"The external deserts in the world are growing, because the internal deserts have become so vast," writes the Pope. "At this very intimate level, environmental degradation begins," says the Sakyong.
The conversation that flowed from this synergy was extraordinary. You can view recordings of the full online presentations and discussions, and the chart of the original comparisons between the two books at any time. [Click here to view the two recordings]
A new culture
Angela Pressburger, a long-standing member of the Shambhala community who has devoted much of her life to arts, culture and the environment, kicked off the conversation on the theme articulated by Pope Francis as "the need to move forward in a bold cultural revolution."
She said that culture is the intangible yet vibrant medium we need to access in order to change the world. "Somewhere between our current first-world culture of rampant individualism and the aboriginal community of interconnectedness is the place of a revolutionary new culture; one which moves from noticing from without to entering within," she said.
"We need to understand what it means to dwell, to perceive and apprehend the space where this happens, as a felt sense," she said. "We could make our home a node in the interconnectedness, a beacon of a cultural principle. In fact, home in this case can be our principles." She recalled Chögyam Trungpa Rinpoche telling the early Shambhala Training teachers how 75 to 80% of what's communicated is through environment and symbols.
Angela shared a way of going about this by quoting her father on how to make a film that really connects with its audience. "I think that a film should have a good story, a clear story, and it should have, if possible, something which is probably the most difficult thing – it should have a little bit of magic. Magic being untouchable and very difficult to cast, you can't deal with it at all. You can only try to prepare some nests, hoping that a little bit of magic will slide into them. "
"At the moment we are often building nests that attract things that kill us," she said. "Our future depends on reframing and learning how to distinguish and build for principles which nourish us."
Kindness, sacredness and drala
Alfonso Taboada, well-known as a Shambhala acharya, is active on environmental issues in the locality where he lives near Madrid with his family. Before our gathering he told me ,
"To me, being a warrior bodhisattva implies loving and caring for the Earth, and our teachings on kindness, sacredness and drala have something to offer about how to do that!"
Alfonso discussed the similarities between the Sakyong and the Pope regarding the need of a new environmental education that integrates science and spirituality. He used the Pope's words as a springboard for a marvellous story about his own family. "Within the family we cultivate the first habits of love and care for life, like for instance order and cleanliness, respect for the local ecosystem and protection of all created beings," said Alfonso, quoting Pope Francis. Then he showed us this series of photos:

"We live close to a beautiful park (1)," he said. "But if you look closely you see that on the ground there are bottles and cans left by people who most likely were not raised in a family who felt the surrounding environment as theirs and therefore do not respect it (2). Last weekend we were going to take a walk and my children wanted to bring some bags to collect garbage, something we have talked about before (3). So we went along as you can see (4). And here are the two bags full of our efforts (5). A few people, mostly parents with other children, stopped to thank us."
'This anecdote shows how education and promoting new ways of thinking is really about going along with the true wishes of children, and the heart wishes of people, including ourselves, going along with them and nourishing them."
Feeling, sensing and connecting
Ecological artist, Ruth Wallen, who engages in the world of art in order to address the values that inform environmental policy and decision-making, took up the theme "All of us are linked by unseen bonds". It's a theme reflected in her participatory installation (below) with the words, "A place to envision a future when all species may flourish."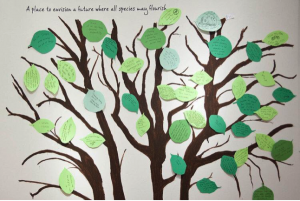 "How can we open our hearts to be present to feeling?" she asked. "This is where I feel that the Shambhala teachings have given us so many powerful skillful means. We have Shambhala Meditation. I think back to the Druk Sakyong's meditation instruction of "touch and go". It's not just going out with the out breath, but first touching heart. I think of the practice of Tonglen, and I think of the Shambhala teachings of working with sense perception.
"So many spiritual traditions are wary of sense perceptions," Ruth told us. "But our Shambhala tradition embraces them. As Trungpa Rinpoche said, 'We could feel that it is wonderful to be in this world. How wonderful it is to see red and yellow, blue and green, purple and black!'
"A tree that is cut down is not an inanimate object, not a solitary being," she said. "Now even science tells us that trees in the forest communicate with each other through the release of scents in air and with vast underground mycorrhizal networks. In her Ted talk, Suzanne Simard talks about how trees cooperate sending carbon, nutrients and defensive chemicals to each other, even to other species."
Redefining the meaning of progress
The relevance of our meditative practices is also emphasized by Alan Ness who spoke next. Alan has been involved with Shambhala since the 1970s. He is on the Board of the Seattle Shambhala Center and has been involved with the Carbon Tax Initiative in the State of Washington. Alan made a really important point to me. He has developed an analysis showing how the meditative methodology of the Obstacles and Antidotes in shamatha practice can be a template for working with current issues, including environmental issues. [Click here to access Alan's document.]
Alan opened by citing Pope Francis' description of the need to "redefine the meaning of progress" and said that "a technological and economic development which does not leave in its wake a better world and an integrally higher quality of life cannot be considered progress."
After a fascinating overview of the development of the world's dominant economic models, Alan invited us to examine where we are now. "For an individual, using economic progress as a measure of happiness doesn't work," he said. "Wealth does not correlate well with happiness. Economists speak of "The Easterlin Paradox." It states that we fall victim to a process of habituation of which we are largely unaware. We earn more money and we still want more. We still have intense desire, even though our basic needs have been met.. This is the place where our consumerist economy based on endless growth could change."
There are many ways of redefining our notion of progress, Alan said. Examples include Voluntary Simplicity, the decreasing of greed, Low Technology models where low-cost technologies from poorer countries, such as solar cookers, are being sent for use in richer countries, green banks, microfinance, and a range of economic models. "There is now a lot of interest," said Alan, "in how we restructure economics to join the material and the spiritual together."
It was entirely appropriate that the concluding words were from Irene Woodard. She is the co-founder of the Shambhala Touching the Earth Collective and a leader on its steering committee.
"Each of us holds human destiny in our hands"
Irene has been active in Shambhala for many years and was part of the historic delegation of Buddhist teachers invited to the White House by President Obama. She is also Vice-Chair of the Board of GreenFaith, one of the world's oldest interfaith environmental organizations.
She told us about attending an event at the 9/11 museum in New York where the World Trade Center had once stood. It was a gathering with Pope Francis titled, "Witness to Peace". Irene had been invited as a Buddhist and carried with her a copy of The Shambhala Principle – as it was "bigger than a pin" – and among the mementos she shared with us was a photo of the Pope arriving.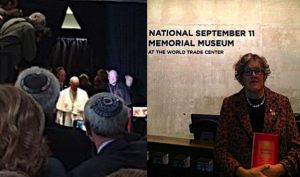 In her remarks to the Shambhala Online gathering, she said: "I have chosen to wear this collar," she said, "in honor of a great woman who died this year, Ruth Bader Ginsburg." When asked when there would be enough women on the Supreme Court, Justice Ginsberg would say, "When there are nine women. People are shocked. But there have been nine men, and nobody's ever raised a question about that!"
"We are in a position to help the culture move along and be more inclusive, deliberately so," said Irene. "So that when I say to my granddaughter you can be whatever you want to be, that will be even more true than when my Nana said it to me."
"This Collective, our mission is to behave in a manner that expresses that," she declared.
"No System can suppress our openness to what is good," she said, quoting Pope Francis. "And as the Sakyong wrote," she said, "We are all to become earth protectors. What happens next on earth is totally up to us. Each of us holds human destiny in our hands."
She closed with this aspiration, "May we bring benefit and continue to evolve as a Collective creating Enlightened Society."
---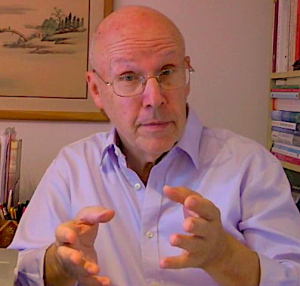 Richard Reoch was the President of Shambhala from 2002 to 2015. He has devoted his working life to human rights, peace and the environment. He was formerly the global media chief of Amnesty International. He recently helped launch the Buddhist Humanitarian Project after being part of a high-level interfaith delegation to the Rohingya refugee camps, featured in Lion's Roar: Meditating on the Buddha in the Midst of Buddhist Terror.
Post Tags:
climate change
,
climate justice
,
Creating Enlightened Society
,
laudato si
,
Richard Reoch
,
shambhala
,
Shambhala Online
,
Shambhala Principle
,
SMC
,
Touching the Earth