Monday
Community Articles
Touching the Earth Collective: February 2021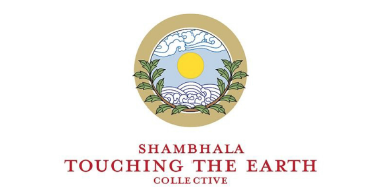 ---
Being Brave in the Iron Ox Year

By Irene Woodard and Emily Takahashi

On January 20 we breathed out, a collective physical re
lease.  In the United States, a new president was inaugurated, and we witnessed a ceremony, ritual, and some longed for peace and calm.
The ceremony offered a spot to the youngest poet laureate in history, 22-year-old Amanda Gorman.  The last lines of her poem, The Hill We Climb, are,
"For there is always light
if only we are brave enough to see it.
If only we are brave enough to be it."
These bring to mind Gandhi's memorable words, "Be the change you wish to see in the world."  Gorman's instructions include what it will take. It takes bravery. In our tradition, this person is pawo, warrior, one who is brave.

Our practices provoke bravery. When we set out to sit on a cushion and be with ourselves, we aspire to do something. Brave enough just to be, it requires further resolve to embody. This bravery embodied will help us establish the society we long for.
The Touching the Earth Collective is slowly, ever slowly, making its way into the culture of Shambhala. As the planet is on a trajectory of unrestrained carbon use, we as earth dwellers realize our own participation, and respond by being part of the light that Gorman points to.
Bravery forces us to change habits. Not just see what is wrong, but change the recipe midway. It is time to be it, warriors in the world.
This upcoming March 11th has been designated as a global day of climate action. On this day in places of prayer and in households around the globe, grassroots people of diverse religious and spiritual backgrounds are joining together to call for climate leadership in compassion, love and justice.
We are each one step from taking an action on this day. Here is the link that connects us to this global event. There is an opportunity for all of us, to engage safely from our homes, or wherever we are. https://greenfaith.org/take-action/sacred-people-sacred-earth/
In Boulder, members of the Shambhala Center participate in a GreenFaith circle, as well as the 11th Hour Calling, one of the models for this global day of action.  For over two years, once a month on the 11th, at 11 am for 11 minutes, an interfaith group gathers (now virtually) to sound bells, shofars, gongs, and sacred instruments of all kinds in a unified call for an active response to the climate crisis.
The Boulder GreenFaith circle, which includes participants from Boulder Shambhala Center, the Zen community, Methodist, United Church of Christ, Friends, Unitarian Universalists, Har Hashem, and other faith communities, is circling its wagons to offer events (covid-safely) in regenerative agriculture, plant-based diet, and advocacy letter-writing, as well as the "traditional" 11th Hour calling.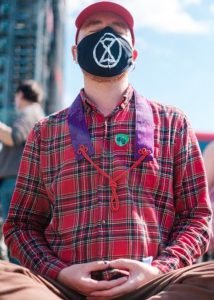 The beauty of the March 11 global event is that you can participate at whatever level you choose.  You can create your own event as a group (do you have a "green team" in your community?) or as an individual–or you can simply participate in an already-offered event. A simple first step is to register for the February 10 organizing call, or decide to join the Boulder 11th hour action from your home, with a commitment to be brave, and do something differently.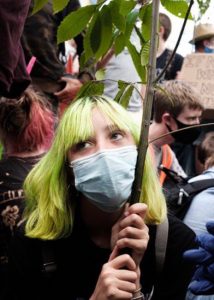 Throughout history, peoples of faith have helped break down the social norms and barriers to effect the change that was needed for humankind to evolve into a species that not only hunts but helps. By participating in global events we share in the collective and are inspired by the wisdom and actions of others. Last week on a March 11th  planning call with participants in Chile and Australia, the Chileans said, "we are from Chile, and we are making noise." The Australians have over 160 events dotted on the map.
As we enter into the Iron Ox year, we can commit to being it, being brave. The inauguration offered a fresh start, in the middle of absolute chaos. A bright sunny day in the middle of a cold winter day. A stunning young poet in a bright yellow coat, saying words that would if followed bring a storm of sanity to a planet in peril. It is time for bravery. May the Iron Ox year prompt us to be it.  Ki Ki So So!
---
— Elemental Expression —
Every month, we offer a space for one of the Collective's members or friends
to share their work, art, or passion…
Drala
By Acharya Arawana Hayashi
In the book Shambhala: The Sacred Path of the Warrior, Chögyam Trungpa defines the Tibetan word, drala, as natural wisdom or "the unconditioned wisdom and power of the world that are beyond dualism." He describes it as part of the rich cultural heritage of Central Asia, but accessible to us all. He gives us instructions on how we can access this wisdom. Drala lives in this present moment of nowness. The instructions seem simple. When we are fully present with our senses open, in tune with the natural elements, we experience this wisdom and power. And yet for us who are tossed between past memories, future hopes and fears, and present anxieties, simply experiencing this present moment is easier said than done.
One way of connecting to drala is "touching the earth, touching ground." Over these past months of close-to-home living, many of us have been fortunate enough to include walks in nature into our daily or weekly routine. On those walks, we are able to suspend our thinking and emotional ups and downs enough to experience moments of openness and connection to the natural world. The immediacy of our perceptions cuts through our stream of opinions and political views. We vividly experience pine trees, rocks, birds, and sky.  Our body-mind system opens to the natural world, and awareness vividly knows. It is not my awareness particularly, but a resonance between what I see and my own seeing. Because of our connectedness, there is knowing, maybe wisdom. It is not that I know or that the tree knows, but that knowing arises from the immediacy of the connection.
Drala is almost an entity. It dwells not only in nature and sacred spaces, but also in our homes and in the household objects that we treasure—in the piano, in my kitchen knives, in the dress I bought last summer. Ordinary magic resides in things that we appreciate. The objects themselves seem to have a living spirit. Tasting morning coffee, seeing the cats sleeping on the chair, hearing a story on NPR—these ordinary moments of perception have power. They are full of joyful appreciation and also heart-breaking sorrow. The experiences open my mind and heart to the basic goodness of humanness. Drala is the ordinary magic that lives in those experiences. The wakeful energy of drala lives vividly in nature as well as in our well-cared-for homes.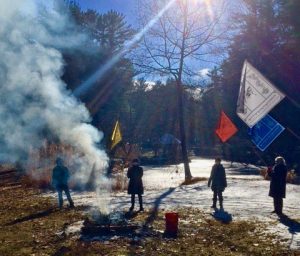 The community at the Sky Lake Shambhala Center has been gathering in the beautiful Hudson Valley outdoors during the pandemic to perform the lhasang ceremony for invoking drala. Similar to indigenous ceremonies of the Americas, we offer smoke to the "unconditional wisdom and power of the world." The community gathers around a fire pit, offering juniper branches to the fire and chanting praises to brave and wise ancestors of the past. We circle the fire with our chanting, evoking a memory of Native American people who perhaps did similar ceremonies ages and ages ago on this very spot. When we gathered the last time, at the end of the chanting and circling of the fire, everyone stood in silence without moving for about fifteen minutes. Everyone stood, watching the smoke ascending to the blue sky. Together we experienced the ancient trees and the cold winter air. Standing with our masks, still and present, we felt the blessings of the dralas— cleansing, nourishing, and binding us to the nature of reality.
– Chögyam Trungpa, Shambhala: The Sacred Path of the Warrior, Shambhala Publications, 1978, p. 103.
---
A Green and Pleasant Land Returning
By Greg Webster
The English countryside, the rural idyll, has been well documented in literature, art, and song for many centuries. Even today, many still swarm to visit chocolate box villages of thatch and Cotswold stone. But after well over half a century of brutal agricultural practices, this landscape has been changed dramatically. Where many still see the picturesque, others like me see an industrial scene, absence, the ghostly remnants of a once vibrant countryside that thrummed with wildlife. What have we done to this once green and pleasant land?
The British countryside has been decimated by large scale agribusiness, denuded of wildlife, creating deserts of monoculture. Of course, agriculture itself is not a recent development (or exclusive of polyculture). For many centuries, past feudal systems and small scale farming allowed a rich patchwork of fields and hedgerows. An altered state of nature that still allowed for an abundance of life to coexist with the needs of human food production. The landscape evolved as the commons were slowly enclosed, smallholdings transformed into larger farms, and rural populations migrated to those "dark satanic mills".
World War II meant that large swathes of often marginal land previously left wild was drafted into service to feed the nation and support the war effort. Centuries-old boundaries were eroded, further exacerbated by the post-war "Green Revolution", as efficiencies demanded ever larger tracts of land uninterrupted by wildlife-rich hedgerows, and the spread of monocultural crops only made viable by using lashings of pesticides and chemical fertilizers oozed industrial runoff into rivers and waterways. The impact on the web of life probably doesn't need spelling out.
I find myself both amazed and saddened that it is now often far easier to encounter an abundance of wildlife in urban green spaces when compared to swathes of our precious countryside. It begs the question: Is anyone noticing and how do we address this precipitous decline?
Whilst it should never be underestimated how difficult it is to…
—> To read the full article, please click here!
Greg Webster is a trustee of Berkshire, Buckinghamshire, and Oxfordshire Wildlife Trust, a director of their fledgling offshoot consultancy Future Nature WTC, and is a practitioner member of the Institute of Environmental Management & Assessment (IEMA). He lives in Oxford, England.
https://www.wildlifetrusts.org
https://www.rewildingbritain.org.uk
---
Upcoming Events
March Earth Salon
Green Burial with Dawn Carson and Hanna Longard
Sunday, March 14, 2021 at Noon AST

Green burial is the act of returning a body as naturally as possible to the earth. Green burials use less energy and resources, making them lower impact than conventional burials or cremation. They are also less toxic, reduce carbon emissions, and protect worker health. Certain types of green burial can even restore or preserve habitat.
CLICK HERE FOR MORE DETAILS!
February Movie Night Film:
This time of year it seems appropriate to watch a film about
the Himalayan Buddhist response to Global Warming, Climate Change, and Trash.
February 18th at 7 pm (Atlantic)
PAD YATRA: A GREEN ODYSSEY (7.5), 2013, Taiwan/Nepal 70 min. Subtitles
Follow HH Drikung Kyabgon Rinpoche, (head of the Drikung Kagyu and recipient of the Green Hero Award), and 700 of his students, on a traditional Pad Yatra pilgrimage with a twist: along the way, they seek to bring the local population's attention to the problems of Global Warming and Climate Change through education and the collection of human litter in the form of almost half a ton of plastic waste from the 'pristine' Himalayas.
HOW TO JOIN IN:
Watch the film on your own time before the Discussion
Link to Watch: https://www.docubay.com/pad-yatra-a-green-odyssey-2120
You will need to sign up for the one-month membership at the very reasonable cost of $3.99
Then join us in the Movie Discussion Zoom Room
Thursday, February 18, 7:00 pm AST, 6:00 pm EST
Zoom Link: https://us02web.zoom.us/j/89516097467?pwd=ZHZVbUtndEJVMU53dXdMVVYrdTFyZz09
Passcode: STECfilm
Meeting ID: 895 1609 7467
---
Did you know you can become a sustaining member of the Collective
by contributing $5/month — $60/year?
Your monthly gift will help sustain the work of the Collective
and allow us to continue in the future!
You can read Irene's letter for more details!
---
To join the STEC google group and be added to our mailing list, please email: 
[email protected]

Any comments regarding this newsletter content can also be sent to: 
[email protected]
Post Tags:
activism
,
eco
,
Enlightened Society
,
green
,
shambhala
,
Touching the Earth