Tuesday
Community Articles
Touching the Earth Collective: October 2022 Newsletter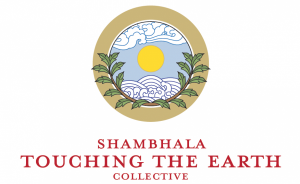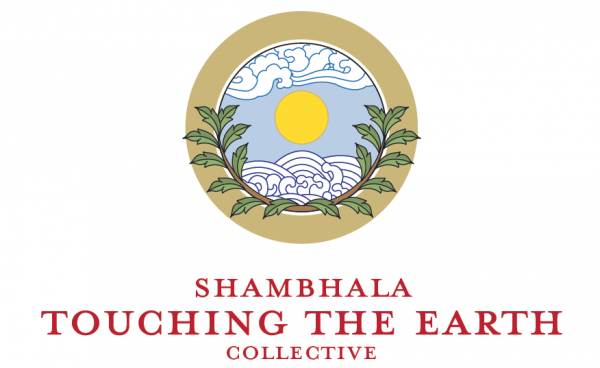 Regenerative Gardening and Meditation: Karmê Chöling, August 2022
By Donna Williams
Eight home gardeners came to Karme Choling this summer to work and learn in its amazing organic garden and wander the forest to meditate with nature.

It was our second annual gardening and meditation program, aimed at teaching people how to nourish the soil and open their hearts to the richness of life on planet Earth.

The garden section, taught by Master Gardener Jan Enthover, who was assisted by Garden Manager Emily Forse, covered the basics of regenerative gardening. Instruction included methods of no-till, low-till, composting, cover cropping, encouraging beneficial insects, bokashi usage, seeding and planting. At the end of the program, students made designs to integrate what they learned into their home gardens.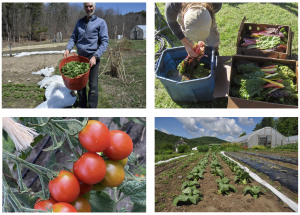 Donna Williams taught the meditation section of the program, which included "sit-spot" practice, aimless wandering, feeling the energy of the rocks and forest, and exploring the opening of our senses. 

This year we used flowers and indigo grown in the garden to dye silk scarves, sourced from old khatas, with bundles of fresh, colorful flowers, steamed and treated. The "fresh leaf" indigo dying had us in awe. We foraged for mushrooms and edible wild plants from the land and had a feast of these delectables for our final banquet.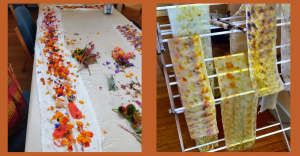 We plan on having this program on our calendar next summer, so please look for it when we post the dates.
In the meantime, you can watch this short video with advice from master gardener Jan Enthoven on how to prepare your garden bed.
*****
Shambhala Touching the Earth Collective
— Elemental Expression —
Every month, we offer a space for one of the Collective's members or friends
to share their work, art, or passion...
Mayela Padilla
Mayela Padilla's aspiration is that when people read her work they'll recognize and connect with their own tender-heartedness, our shared humanity and our continual desire to love and be loved. If you're ready to go on this poetic journey with her, pack your bags, the invitation is always open. www.mayelapadilla.com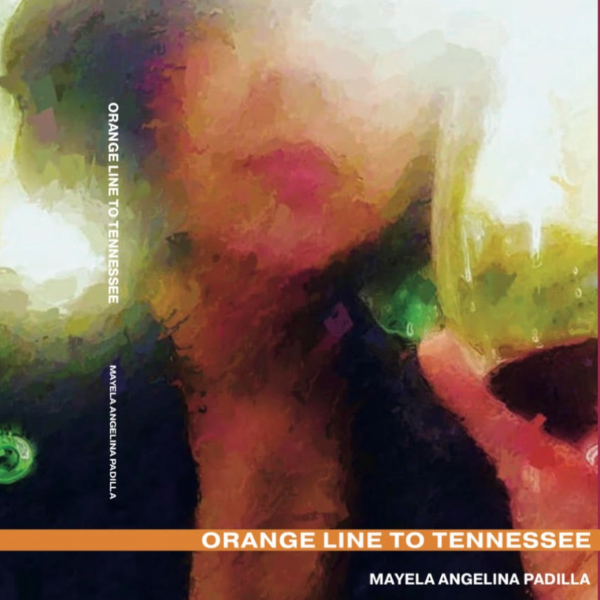 AN INCONVENIENT TRUTH
Just across the bay
there is a poem
carefully curated by the two of us
As brave new explorers
we were called forward
into this invisible universe transported to
new shorelines with
new landscapes that breathed new life forms
We could not ignore the whisper campaign look ahead
look around the corner look into your future
find your questions
find your answers
find what you want to say even if you don't say it find your courage
find your freedom
find where love lives
Our poem is fleeting and it is eternal It's how we wanted it to be
perfect
and then it wasn't
It's the way
we wanted to attain
an unattainable
desire
to save each other
and everyone in the world
past, present, and future
completely caught up in the moment
It was all too convenient and then came
the inconvenient truth
We were standing there in Sausalito
because someone else was not.
Mayela Padilla is the Executive Director of Casa Werma, a Buddhist meditation center and podcast host of Tiny Climate Challenge. Orange Line to Tennessee is her debut poetry book.
*****
Introduction to your EcoDharma Doula
By David Takahashi
"Recognizing the sacred begins when we are interested in every detail of our lives."
– Chögyam Trungpa
First, I would like to say that I accepted this role as a Laureate. For the coming year, I am willing to embody a birthing assistant, where we are conceiving a more beautiful future that is, metaphorically speaking, a yet unsubstantiated, but growing, light on the horizon. I pledge to work with you for a year and look for my replacement among you. The Doula is also a hospice worker, but more on that below.
I am a retired software guy who was able to help shepherd nimble Agile processes into a failing rigid factory development model. My late father-in-law was the scientist who measured the concentration of CO2 in the atmosphere starting in 1958. His data proved that global warming is real and induced by human activity. Our Colorado foothills home of 20 years was torched in a 2010 wildfire, a lesson in impermanence. As a significant wildfire unfolded, I stood in my front yard and realized I was being treated to pre-Bardo training featuring all the chaos without the physical death. I have experienced climate migration firsthand. I have spent a decade trying to break an addiction to fossil fuels.
As your EcoDharma Doula, I will use the Two Loops Model that Meg Wheatley conceived. The two-loop model may be described as sociologic Bardo training.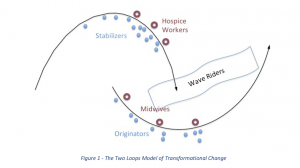 In it, we find ourselves transitioning from a worldview that no longer serves and is respectfully placed into hospice care while following the light of an emergent worldview that better accommodates current conditions. Between the two are the Wave Riders, and that's what I will be helping you become. The Wave Riders act as birthing helpers, which a Doula is. We will look at where each of us fits into the emerging Two Loops model.
We also will be spending some time in deep appreciation of the Buddhist contribution to Climate Engagement. As modern Buddhists, we have moved from the original articulation of human suffering that Prince Siddhartha experienced, to an awareness of the planetary resource depletion, earth system breakdown, and the stormy waves of a darkening planetary age. But, like the Great Wave, we, in the boats, have humbling work to accomplish. And Thich Nhat Hahn may have said it best: the next Buddha may be Sangha.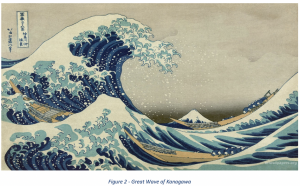 From the Seventeenth Karmapa's Kagyu Environmental Guidelines, we find this aspiration:
"Buddhism has a long tradition of environmental protection.
Buddha taught the concepts of interdependence, of cause and effect,
of karma, and of dharma values (Pratītyasamutpāda).
Most dharma practitioners want to contribute positively
to preserving the environment, but unless we all work together,
no solution will be found. Moreover, although we have begun to
learn lessons from what has already taken place,
good wishes alone are not enough to bring about change.
We have to assume active responsibility."
The journey ahead is, by nature, as deep and wide as the Ocean of Dharma. We will learn about putting dogmatic fragility to rest to make room for flexible agility. We will learn to be trusting co-creators of the world cheered on by coming generations. I will be counting on you to help shape our actions. I will not be hesitant to share what I have gleaned from the cracks I have found that are letting in light. Our journey becomes a goal. Just as the Buddha encouraged us to become Buddhas, your Doula is wishing you to become outer Doulas.
Wish us luck!  What are we curious about?
Editor's Note: 
We are pleased and honored that David has agreed to take on this role as Eco Dharma Doula. We look forward to his guidance, knowledge, and ability to listen to our questions and respond with decisive practicality, humor, and even answer with another question… Please look out for him during some Earth Salons, on Facebook, and wherever eco challenges appear. You can also reach him via the Touching the Earth Google Group: Just put "Doula Question" in the subject line.
As David wrote… "What are we curious about?" Thanks, David!
*****
Upcoming Events
October Earth Salon
Introduction to Permaculture
With Alex Denicola
As a whole system/ big picture design practice, permaculture emphasises attention to patterns and pattern recognition, whether it's in your backyard, at a city-wide level, or in the vaster and more complex world beyond. In this context, we might ask "is there a flow (or flows), energetically, socially, in so called 'nature", and.  if so, how do we recognize these, and possibly their meanings, and do our individual actions matter?"
From this initial inquiry we could go in many directions,
and so perhaps we will!
Sunday, October 9, 2022
11:00 am (Eastern) / Noon (Atlantic time) 
FREE
https://us02web.zoom.us/j/81262050347
Passcode: Sacred
*****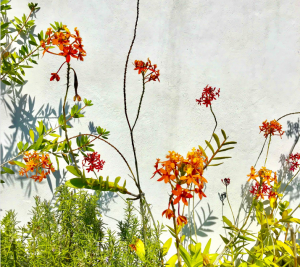 Calling all creatives!
Join us for a wonderful 3-day writing retreat this fall:
Nature Inspired Creativity,
Reconnecting with our Kin
Presented by Christina M. Burress
November 10-14, 2022
Casa Werma, Patzcuaro, Mexico
Click here for more details and to register!
*****
Did you know you can become a Sustaining Member of the Collective
by contributing $9/month — $108/year?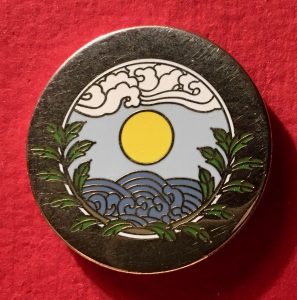 Becoming a Sustaining Member of the Collective is one way
to express your support and protect the earth.
Your monthly gift of $9 will help sustain our work
and allow us to continue into the future.
All Sustaining Members will receive the Touching the Earth pin,
with the elements of earth, fire, air and water, as an expression of our thanks…
And it helps spread the word!
Click here to contribute in US $! / Or here in Canadian $ 
Sustaining Members receive donation tax receipts from Shambhala.
*****
You can also join the STEC mailing list for free and
join the ongoing conversation!
Lots of lively exchange of information and discussion!!
Simply email us at:
[email protected]
*****
Post Tags:
Arts and Poetry
,
community
,
environment
,
meditation
,
mindfulness
,
Touching the Earth