Friday
Filed underUncategorized
Cynicism and Magic
Intelligence & Intuition on the Buddhist Path
By Chögyam Trungpa
Review by Christine Heming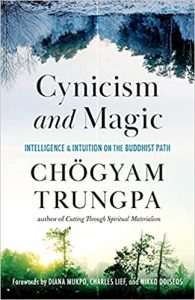 The talks transcribed and edited in this book are based on the inaugural class that Naropa's founder, Chögyam Trungpa, offered in the summer of 1974.  They are the product of a new generation of editors working under the mentorship of Trungpa Rinpoche's principal editors, Carolyn Gimian and Judith Leaf.  When I started to read Cynicism and Magic I wondered if these written words would capture the directness, power, and brilliant clarity I felt when I heard these talks for the first time, and I remember that time well.
Our small dharma study group gathered in the living room of Jacquie and Tom Bell's home in Annapolis Royal, Nova Scotia, to listen to audiotapes of the original 1974 Naropa talks.  We were mesmerized.  At one point, a woman in our group abruptly leaped up on the sofa on which she had been sitting and blurted out, "He's brilliant." 
I needn't have worried.  The teachings in this book are direct, powerful, and clear; it is a page-turner – fresh, alive, and magical.  No matter how many books you have read by Chögyam Trungpa, this volume will add clarity to what you already know, and reintroduce you to many dharma principles with words and phrases that differ slightly from what you may have read elsewhere.  For example, in presenting spiritual materialism, Trungpa Rinpoche emphasizes using our intelligence – a critical attitude exiting in you, which is not based on logic or intellect, but is experiential and intuitive.  In this context he responds to a question about spirit with, " . . . let us build our spirit.  Spirit, in this case, is a sense of inquisitiveness . . ."
In another chapter Rinpoche discusses egolessness from the Hinayana point of view, and calls it "direct egolessness," which is based on feeling:  " . . . learning how to feel, not ignoring how we feel, and not regarding what we feel as bad or good . . . feeling as we feel, fearlessly."  Egolessness in this sense is not a theoretical or philosophical concept; it is how we feel about our existence – that we don't have substance, that everything is suffering, and that we are unable to grasp onto anything.
I appreciated the presentation on the skandhas in chapter three.   Although brief, there is a simplicity and clarity to what can seem so complex.  He links spiritual materialism to the first skandha:  "It's the nonexistence of one's basic ground, the nonexistence of the first skandha that cuts through the rest of it [the other skandhas]. . . That's why it is important to understand spiritual materialism.  Otherwise, you cannot even begin on the spiritual path."
In another chapter, Rinpoche talks about mediation within the context of surrendering.  We must have some understanding of what we are doing and why we practice meditation or our practice may be pure deception.  He makes it clear that if we are on the spiritual path, we must sit and meditate.  Other activities, like swimming or walking in the woods, while they might have a meditative quality, are not powerful, honest, or genuine enough to lead to awakening.  Meditation is a question of simplicity, and of unlearning and undoing.  There is an element of spiritual materialism there of course, but it is relatively harmless: "It just lives by itself, and dies by itself, through the simple technique of putting awareness on the breath . . ."
Of the Hinayana or "narrow" path, Rinpoche says, "The shape of the path is narrow, but it is shaped by our openness to it, which may be extraordinarily wide and willing."  But no matter how open we are, we need to embrace the discipline and practice of facing ourselves. It is a process of surrendering or "slimming down," being willing to give up any kind of hope and become a worthy vessel. 
Once we feel completely at home and settled in our discipline, there is a need to develop a more open mind and be challenged to relate to the world.  This is the "open" or Mahayana path.  He compares these two paths this way:  " . . . the hinayana path is like water that collected in a cow's footprint in the mud, and the mahayana path is the ocean."   He tells us that the bodhisattva-warrior attitude to work with all sentient beings and surrender your own desire for enlightenment doesn't make sense.  It can only be understood by realizing emptiness, "ultimate nothingness."  You are nowhere, but it is fantastically good.  "The only way bodhisattvas keep functioning is through a sense of warmth and compassion for themselves and others."
Rinpoche elaborates on the disciplines of the open path.  I particularly liked the way he talks about patience – both the discipline of being without expectations as well as how we manifest expectation psychologically in everything we do.  He gives this example:  "Before we get something we want, we begin to shape ourselves. . . If we want an espresso, for example, between the time we order it . . . and when we get it, we soften ourselves.  We shape ourselves into 'an espresso coffee drinker.' We become that way.  We give in, . . . and if we don't get what we expected, . . . we attack."
There's a chapter comparing the Tibetan and Zen traditions, both of which work toward developing basic sanity.  Once again, Rinpoche warns of spiritual materialism, which can arise within either tradition particularly when we focus our training on the cultural behaviours or the esthetics of the tradition rather than its basic sanity.  
In the chapter on the "fourth moment," Rinpoche clarifies what the "gradual" and "sudden" paths to enlightenment mean.  In essence, a gradual process is taking place constantly; any sudden glimpse can only occur because of that gradual process.  He tells us " . . . we could say quite safely that there is no such thing as sudden enlightenment in Buddhism at all."
The final chapters touch on the notion of genuine poetry and song, on nirvana or freedom, and on the real magic of actual existence – all of which are full of discoveries.  I highly recommend Cynicism and Magic; it might be a good choice for a book study of the buddhist path.
---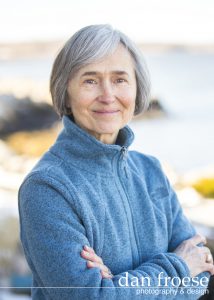 Christine Heming is a writer and educator.  She has been a student of the buddhadharma for over 45 years, and a senior teacher and meditation instructor in Shambhala.  She lives in Port Royal, Nova Scotia.
Author Archive
Website Development by Blue Mandala using Wordpress MU.
All content and source Copyright © 1994-2023. Shambhala International (Vajradhatu), Shambhala, Shambhala Meditation Center, Shambhala Training, Shambhala Center and Way of Shambhala are registered service marks of Shambhala USA
Privacy Policy