Thursday
Filed under Sakyong and Family, Uncategorized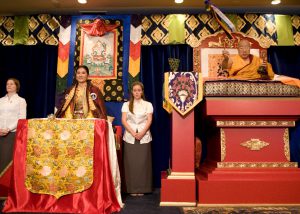 Photography © Marvin Moore 2008
Today marks the 10th anniversary of the empowerment of Khandro Tseyang Ripa as the Sakyong Wangmo, Dechen Chöying Sangmo. On Saturday, August 16, 2008, guests traveled from around the world to witness the ceremony. His Holiness Penor Rinpoche presided over the empowerment.
In honor of this anniversary, we offer memories of this special weekend celebration in Halifax, along with an article written by the Sakyong Wangmo about her relationship with her grandmother.   Continue…
Entries filed under Uncategorized
I took this snapshot in the Kalapa Court this week while waiting for a meeting with the Sakyong. You may recognize the brocaded seats from recent broadcasts and events. You may not have seen the rest of the radiant implements used by some of the other ...
continue
Posted April 24, 2013 by Richard_Reoch
The wonderful Shambhala 2011 Year in Review movie was captioned and translated into eight languages thanks to the valiant efforts of many translators who worked tirelessly to have the translations ready for Shambhala Day. Thanks to their efforts may more Shambhalians were able to see the ...
continue
Posted February 28, 2012 by Hamish_MacLaren
Following up on the tremendous multilingual efforts for the Shambhala Lineage Festival, there is more good news on the multilingual Shambhala front. In the last two weeeks four more languages have Shambhala YouTube Channels launched. They are mostly still in a "beta" phase as we refine the ...
continue
Posted October 13, 2011 by Hamish_MacLaren
Shamatha-Vipassana Retreat will be held at Camp Pringle on Shawnigan Lake in the hills of Vancouver Island. Sunday December 18th 2011 to Sunday January 1st, 2012 The Shamatha-Vipassana program will focus on mindfulness-awareness practice. Also included will be meditation instruction, Dharma Talks, contemplations, physical exercise, experiential and ...
continue
Posted June 20, 2011 by John David Smith
Have you seen www.every-bodhi.org? Everybodhi is an initiative started by Shambhala Europe to support young people on the path and open doors for new people to explore the three jewels. It is created by young people, for young people. Everybodhi's mission is To bring together the ...
continue
Posted May 25, 2011 by
Judith Broadus writes about the first Shambhala Training held at the Dalai Lama's Retreat Center in Bloomington, Indiana. A Shambhala Training Level I was held in the library of the Cultural Center at Kumbum West, The Tibetan Mongolian Buddhist Cultural Center (TMBCC), located on 108 acres ...
continue
Posted November 4, 2010 by
This content is password protected. To view it please enter your password below: Password:
continue
Posted July 17, 2010 by
We are delighted to announce that your centre's calendar and website will be upgraded with some new features on Monday November 30.  We have all been waiting for this upgrade to the SDB-Website system.  Thank you for your patience and encouragement that has resulted in tools ...
continue
Posted November 30, 2009 by Pawel_Molenda
Maybe you have an article you'd like to submit, an idea or a general comment…. Or perhaps you could volunteer a few hours per week as a writer, copy-editor, local news scout, translator or regional correspondent… For article submissions & suggestions or to volunteer… Contact one of our editorial ...
continue
Posted February 25, 2009 by
Introducing Shambhala Times Shambhala has a new online community news magazine where you are the most important story. We invite you to read and enjoy Shambhala Times, but we also invite you to participate. No matter what your daily practice is, how you contribute to the mandala, ...
continue
Posted January 6, 2009 by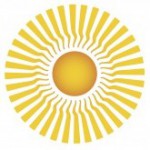 The Sakyong, Jamgon Mipham Rinpoche, has sent a message to everyone in the Shambhala Mandala about the challenge we face at this difficult time in the world. "The upheavals in the financial world are causing widespread distress," he says, "as are fears about climate change, intensified ...
continue
Posted October 8, 2008 by David_Brown
We would like to hear from every part of the mandala, every culture, language and perspective. Please feel warmly invited to submit articles about events at your center, programs you attended, personal landmarks (births, graduations, weddings), an account of recent travels, opinions pieces, and anything else ...
continue
Posted March 4, 2000 by archives-staff

RSS feed for the Uncategorized category
View all posts from authors in Uncategorized: Kelly_McCall alexvangils lstrongheart Dan_Phillips
Website Development by Blue Mandala using Wordpress MU.
All content and source Copyright © 1994-2020. Shambhala International (Vajradhatu), Shambhala, Shambhala Meditation Center, Shambhala Training, Shambhala Center and Way of Shambhala are registered service marks of Shambhala USA
Privacy Policy