Wednesday
Filed under Shambhala News Service, Uncategorized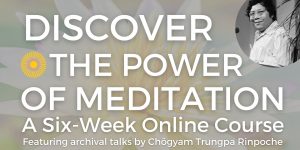 Shambhala Online presents a six-week online course based on archival videos by Chögyam Trungpa Rinpoche. Although decades old, these archival talks from the summer of 1974 retain their original potency and are a reminder of Chögyam Trungpa Rinpoche's incomparable skill at communicating Buddhist teachings to a Western audience. These short talks – from mindfulness practice, to awareness practice, to the realization of emptiness – will be supported by further commentary and facilitated discussion by some of today's leading teachers of Buddhism in the West, many of whom were actually present during these talks in 1974, including:

This course also includes the possibility of connecting in-person (or online) with a local study group in cities and regions where there are multiple registrants.
Course Preview
View the video below for an overview of the course.
Course Details
The course is held on Sundays at 1pm Eastern Standard Time. Each session will be two hours long.
Live Session Dates: January 2, 9, 16, 23, 30, & February 6, 2022
Access to course materials opens on December 26, 2021
Patron Price: $395
Full Tuition: $295
Subsidized Scholarship Tuition: $195
If the subsidized tuition is not possible for you, please email [email protected] and indicate what amount you can pay.
**No one will be turned away for lack of funds**
Register Now and discover the power of these timeless teachings from one of the most revered Buddhist teachers of our time.
Course Outline
January 2 Live Session – Meditation Instruction
With June Crow and Larry Mermelstein
The presentation of meditation practice as it was presented and recommended by the Buddha himself. Chögyam Trungpa Rincpche speaks about how he has personally gained wisdom and clarity from practicing meditation in this way.
January 9 Live Session – Shamatha or Abiding In Peace
With Dale Asrael and Marty Janowitz
An in-depth look at shamatha meditation practice. Topics include the individual nature of the Buddhist journey, the meaning of peace, and the understanding of meditation as a natural act that involves simplicity, precision, and directness.
January 16 Live Session – State of Mind
With June Crow and Dorje Loppön Lodrö Dorje
Chögyam Trunpa Rinpoche discusses sems, lodro, and rigpa – aspects of intelligence, or the mechanics of mind, as well as the development of ego through the five skandhas.
January 23 Live Session -Mid-Course Interview and Q&A
With Pema Chödron and Ashley Dinges
An interview between Pema Chödron and Ashley Dinges about the practice of mediation, as well as a Q&A session for participants about the course thus far.
January 30 Live Session – Vipashyana or Insight Meditation

With Gaylon Ferguson and Judith Simmer-Brown
How the practice of shamatha meditation naturally leads to the experience of vipashyana, or insight meditation. A discussion of mindfulness and awareness and how vipashyana experience leads to the experiential discovery of egolessness.
February 6 Live Session – The Dawn of Enlightenment

With Arawana Hayashi and Marty Janowitz
All of the talks are experiential. In the last talk, Chögyam Trungpa Rinpoche gives the audience a taste of the desolation and power of shunyata, or emptiness, and how this experience leads to the dawning of Buddha nature and the first glimpse of enlightenment. This session also will include a celebration of the collective accomplishment of practice and study!
Entries filed under Uncategorized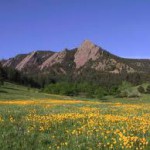 As flooding continues in Boulder Valley, Jennifer Holder offers tidbits from a hillside. Just as I sit at my computer to write this, the sun peeks through rainclouds for the second time in four days. It quickly fades, but encourages me on to write this little ...
continue
Posted September 13, 2013 by Jennifer Holder
I took this snapshot in the Kalapa Court this week while waiting for a meeting with the Sakyong. You may recognize the brocaded seats from recent broadcasts and events. You may not have seen the rest of the radiant implements used by some of the other ...
continue
Posted April 24, 2013 by Richard_Reoch
The wonderful Shambhala 2011 Year in Review movie was captioned and translated into eight languages thanks to the valiant efforts of many translators who worked tirelessly to have the translations ready for Shambhala Day. Thanks to their efforts may more Shambhalians were able to see the ...
continue
Posted February 28, 2012 by Hamish_MacLaren
Following up on the tremendous multilingual efforts for the Shambhala Lineage Festival, there is more good news on the multilingual Shambhala front. In the last two weeeks four more languages have Shambhala YouTube Channels launched. They are mostly still in a "beta" phase as we refine the ...
continue
Posted October 13, 2011 by Hamish_MacLaren
Shamatha-Vipassana Retreat will be held at Camp Pringle on Shawnigan Lake in the hills of Vancouver Island. Sunday December 18th 2011 to Sunday January 1st, 2012 The Shamatha-Vipassana program will focus on mindfulness-awareness practice. Also included will be meditation instruction, Dharma Talks, contemplations, physical exercise, experiential and ...
continue
Posted June 20, 2011 by John David Smith
Have you seen www.every-bodhi.org? Everybodhi is an initiative started by Shambhala Europe to support young people on the path and open doors for new people to explore the three jewels. It is created by young people, for young people. Everybodhi's mission is To bring together the ...
continue
Posted May 25, 2011 by
Judith Broadus writes about the first Shambhala Training held at the Dalai Lama's Retreat Center in Bloomington, Indiana. A Shambhala Training Level I was held in the library of the Cultural Center at Kumbum West, The Tibetan Mongolian Buddhist Cultural Center (TMBCC), located on 108 acres ...
continue
Posted November 4, 2010 by
This content is password protected. To view it please enter your password below: Password:
continue
Posted July 17, 2010 by
We are delighted to announce that your centre's calendar and website will be upgraded with some new features on Monday November 30.  We have all been waiting for this upgrade to the SDB-Website system.  Thank you for your patience and encouragement that has resulted in tools ...
continue
Posted November 30, 2009 by Pawel_Molenda
Maybe you have an article you'd like to submit, an idea or a general comment…. Or perhaps you could volunteer a few hours per week as a writer, copy-editor, local news scout, translator or regional correspondent… For article submissions & suggestions or to volunteer… Contact one of our editorial ...
continue
Posted February 25, 2009 by
Introducing Shambhala Times Shambhala has a new online community news magazine where you are the most important story. We invite you to read and enjoy Shambhala Times, but we also invite you to participate. No matter what your daily practice is, how you contribute to the mandala, ...
continue
Posted January 6, 2009 by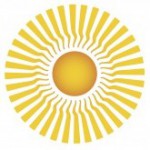 The Sakyong, Jamgon Mipham Rinpoche, has sent a message to everyone in the Shambhala Mandala about the challenge we face at this difficult time in the world. "The upheavals in the financial world are causing widespread distress," he says, "as are fears about climate change, intensified ...
continue
Posted October 8, 2008 by David_Brown
We would like to hear from every part of the mandala, every culture, language and perspective. Please feel warmly invited to submit articles about events at your center, programs you attended, personal landmarks (births, graduations, weddings), an account of recent travels, opinions pieces, and anything else ...
continue
Posted March 4, 2000 by archives-staff

RSS feed for the Uncategorized category
View all posts from authors in Uncategorized: natasha_west
Website Development by Blue Mandala using Wordpress MU.
All content and source Copyright © 1994-2022. Shambhala International (Vajradhatu), Shambhala, Shambhala Meditation Center, Shambhala Training, Shambhala Center and Way of Shambhala are registered service marks of Shambhala USA
Privacy Policy