Thursday
VCTR Tributes
Memories of Trungpa Rinpoche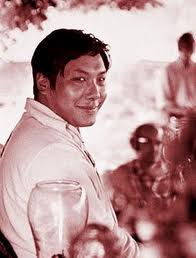 from Michael Schaefer (né Schulz), Kunga Tharpa Sopa Tepon
Merdingen, Germany
I was a participant at the 1986 Seminary, the last one that Rinpoche taught. Many, many images are burnt into my memory, and over the years they have gained mythical status, as that experience changed my life forever (as probably everybody knows who gave in to his teaching).
Rinpoche showed up a lot during that Seminary. He showed up in the dinner tent. He showed up before dinner, when (during study period) people were enjoying sake or beer. He had a beer himself and stood there, lifting his glass and drinking while the beer shone brightly in the evening sun. Such a good demonstration. He showed up at morning oriyoki while we were reciting, which made me cry. I understood he was taming us in such a good way. He gave a lot of talks. He gave the famous after-midnight-talk, when the conch sounded at around two o'clock and he said: "Never forget Hinayana." He showed up at movie nights. Once, when everybody had just settled down into the video, after five minutes or so, he got up again & and left, helped by his Kasung. He looked at everybody, and to me that seemed to be a demonstration. He seemed to say, "Don't get attached to pleasure. Be able to drop it any minute." He showed up in the kitchen during meal prep. I remember one time when I got very uptight just by his presence. It was a shocking self-discovery.
Later I heard about the crazy stuff he did to his entourage during that time. Some people really freaked out. Apparently he shocked them so much out of any routine, it was frightening. Suddenly he would say, "I want to go to Paris to see Dilgo Khyentse" and stuff like that.
The one scene that stands out most is one of frustration. He was sitting on a chair in the middle of the meadow between shrine tent and dinner tent and Karma bathhouse. He sat there on his own, and one lady went over to him and talked to him. I watched. I would have liked to go over to him too, but I didn't dare.
Over the years, that memory has filled up with intense longing. Which is probably the greatest gift of all – a pure feeling of intense sadness and joy at the same time. I wonder where he is now?
3-29-12
Post Tags:
VCTR Tributes
Share: