Thursday
VCTR Tributes
The Two Sakyongs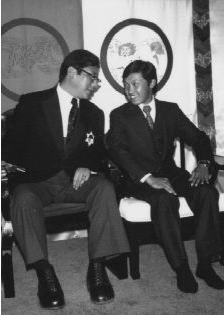 The 25th anniversary of the parinirvana (death) of the Vidyadhara, Chogyam Trungpa Rinpoche is looming – April 4th marks the day. To mark and celebrate the founder of the Shambhala Buddhist community, the Shambhala Times will be featuring articles and stories over the coming weeks. You too can leave your tribute and story on the Times! Visit the Vidyadhara Tribute page to share your story.
A Personal Memoir
by Shastri Dan Hessey
Lineage is continuity. Continuity is one of the meanings of gyu, tantra, which is said to be the unconditional cord of basic goodness on which the beads of experience are strung. In this short life, what lasts? What can we rely on that is not busy being born, living, dying? Knowing genuine continuity is the heart of feeling our life fully and being genuine; it is how we touch our basic goodness and a create a good human society on this earth.

The title Sakyong is made up of sa, earth, and kyong, protector. Just as the physical earth supports all that grows upon it, the ground of basic goodness is the support of a good life and a good society(1). If goodness is not realized, propagated and protected, it is easily appropriated by the virulent activity of the lords of materialism; these days we see this with our own eyes.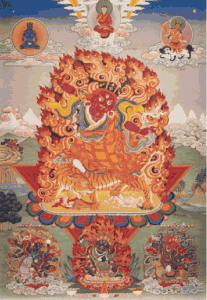 Like many of us, I was born into a realm in which basic goodness was not named, trusted or seen. It seemed to me as a child that under the surface of people's fear and in the natural world this goodness was present but generally ignored. The big lies of basic badness and the "virtue" of selfishness seemed largely unchallenged. Sadness, degradation and futile courage pervaded the world I knew, and yet as I grew up I hoped against hope that a way forward could be found.
The Dorje Dradul, the Druk Sakyong, the Viracharya, the Vajracharya , the Vidyadhara Chogyam Trungpa Rinpoche…these epithets of fearless compassion fail to encompass the hero who traversed continents, cultures and eras to plant the victory banner of Shambhala in the present age. For me, the visualization from the Sadhana of Mahamudra has always expressed his energy best: Dorje Trollo, the wrathful manifestation of Padmasambhava, carrying all the wisdom of the Kagyu and Nyingma, the embodiment of crazy-wisdom compassion, riding on a pregnant tigress.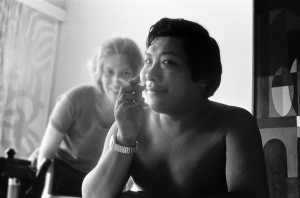 When I first met Trungpa Rinpoche in 1973, he, at first touch, disabled my conventional way of knowing. As I presented myself to him and extended my hand, his grasp left me deeply bewildered, disoriented and inspired. I felt I had shaken hands with the sky.
When I was near him, my familiar habitual world was galvanized into immediate presence. Despite our best efforts, we, his students, were never able to domesticate him or fit him in our preconceptions. His ferocious care exposed the being of "being afraid"; he showed us the raw nowness at the heart of hesitation.
Nobody was left out; he cared for all and would not allow us to make Shambhala our nest. He awakened our senses, and empowered us to feel our humanity, our ordinariness, and our life. He loved us, cared for us, and wiped our bottoms like the best stern parent. He taught us to trust who and what we are. He brought out the bravery in us.
The Dorje Dradul was the essence of courage, the Tibetan Godfather riding a tiger, conquering barbarians in foreign jungles.
The Kongma Sakyong, Jampal Trinley Dradul could not be more different, and could not be more the same. While the Dorje Dradul arrived full-blown in Vermont in 1970, his heir had to feel his way forward as he grew into his role in the midst of the uncertainty, controversy and strife that followed his father's death.
Quiet, gentle and devoted, his disciplined and deliberate way of progressing to his throne often did not match our projections of whom we thought he should be. As the incarnation of Mipham the Great, he patiently and vigorously trained and practiced, but did not offer a bandwagon for us to jump onto. Over these years, I felt keenly the loss of my king and longed to fulfill his vision. I prayed that Mipham Rinpoche could nurture the glory of the Shambhala vision, the seed of which had just been planted when his father died.
After his enthronement as Sakyong, the radiation of his clarity and gentle confidence subtly began to permeate, suffuse, pervade and soak my heart like a long, gentle spring rain. Though I couldn't see who he was very clearly when I had my Trungpa Rinpoche glasses on, I could feel the strength and virtue of his seat and his presence. Soft spoken, elegant, and yet full of certainty, in retrospect his quiet activity was amazingly broad. As I studied his teachings more deeply, I was shocked by their clarity, profundity and unique flavor. Speaking of this period he said, "I have refrained from expressing myself as fully as I wished because our community was going through a healing process, as well as a process of maturing." (2) Nonetheless, he continuously encouraged our discipline, practice of virtue and trust in basic goodness. Sometimes it seemed that he was ripening Shambhala solely by being the Sakyong.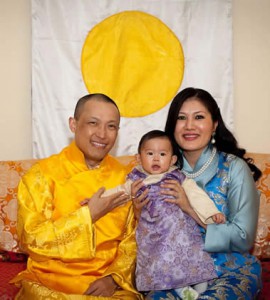 Today, he has touched my heart to its core. Following his marriage to the Sakyong Wangmo and the birth of Jetsun Drukmo, the sun began to shine brightly. In the crisp mountain air, the early spring's white pasque flowers have begun to bloom through the melting snow that surrounds the Great Stupa of Dharmakaya. Like Manjushri riding a white tiger, his journey illuminates the way of Shambhala and guides us in the disciplines that are the path to the higher realms of virtue, humanity and culture. With sharp insight and gentle skillful means, he is establishing a good human society on this Earth.
Now entering the last part of my life, I feel joy when I awaken to my morning meditation practice. Being a Shambhalian has led me to realize I am worthy to experience the depth and sacredness of this world. Increasingly I find that there is no part of my life that cannot touch my heart. I feel so fortunate to have known two Sakyongs in one life, and to share in the birth of Shambhala with my fellow warriors. Although I regularly feel some amount of confusion, resentment and fear in the face of the challenges of life, sometimes, when I look at it right, I see that all beings are playing in the "Heart of Gold Band". (3)
The diamond cord that was revealed when Lord Buddha bestowed the Kalachakra tantra on King Dawa Sangpo is equally the heart of the Druk Sakyong and the Kongma Sakyong, unbreakable and beyond time and space. It seems that same cord is our heart too; our days are the brilliant variegated beads that brilliantly reflect the Kingdom of Shambhala in this dark age.
The two Sakyongs, fearless subjugators of the savage lords of materialism, are our sovereigns and protectors, patiently and thoroughly laying the foundation of the Kingdom of Shambhala. I am so grateful for their kindness; I aspire to repay them by following their example, both in this life and in the lives that follow.

I wrote this at the request of my friend, teacher and companion on the path, Richard Reoch, known to many as "Terrifying Face."
notes:
1) With thanks to Jules Levinson for his excellent article on the word Bhumi.
2) Sakyong Mipham Rinpoche, The Letter of the Morning Sun.
3) With thanks to Jerome Garcia and Robert Hunter
Post Tags:
Chogyam Trungpa
,
Sakyong Mipham
,
Shastris
,
VCTR Tributes
Share: