Friday
Filed underbook reviews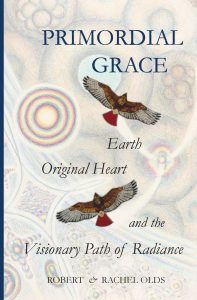 a book review by Don Beamish
In 1997 artists Robert and Rachel Olds felt the call to enter into a meditation retreat that lasted for nine years and changed their lives forever.   It is quite clear that they emerged from retreat with profound realization. Primordial Grace: Earth, Original Heart and the Visionary Path of Radiance comes directly out of their experience of the practice and Dzogchen teachings of togyal.  The results are tangible.
Primordial Grace is presented in two parts. The first is an expanded version of their previous book, Luminous Heart of the Earth: A Survival Guide for Original Heart, that presents the path of connecting with the luminous seed of original heart or what Shambhala calls basic goodness.  This journey involves leaving behind the speculation and analysis of  concepts to delve deeply into the simplicity and magic of a yogi's life in a secluded rural setting. This section also includes instructions on building a simple shelter in the woods to be closer to the natural rhythm of one's surroundings. 
The second part of the book is a well described practice manual for the visionary path of radiance connecting the original heart to the visual field. Robert and Rachel include drawings and descriptions of the circular visions and colors they experienced. The practices are presented clearly and with practical suggestions allowing for the flow of creativity. Continue…
Author Archive
Website Development by Blue Mandala using Wordpress MU.
All content and source Copyright © 1994-2020. Shambhala International (Vajradhatu), Shambhala, Shambhala Meditation Center, Shambhala Training, Shambhala Center and Way of Shambhala are registered service marks of Shambhala USA
Privacy Policy