Friday
Filed under Featured Columns, Art Happens, Share it Here, Arts and Poetry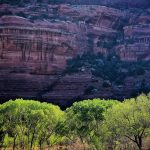 We're delighted to present the first Poetry Space of the Spring. Please enjoy, and, as always, feel free to send us your new work!
---
The Spaces Between
I love the spaces between things
The sky between branches,
The still between breaths,
The quiet between sleep and wake,
The crowded wine bar of thoughts
Emptying to leave a wide open mind.
These moments are tiny. Hidden.
Be still and wait. Just wait
For in the space lies calm and peace. Continue…
Entries filed under Arts and Poetry
Conversations With My Son By Mushim Ikeda Nash Mushim Ikeda Nash is a writer and Zen practitioner, community peace activist and member of the Buddhist Peace Fellowship, diversity facilitator for Bay Area Buddhist Groups and Naropa University, and mother of a teenage son. In the following essay ...
continue
Posted March 26, 2009 by
Llegué a Shambhala cerca de doce años atrás, cuando el Centro de Santiago era un departamento pequeño y un poco fantasma y había que "pedir hora" para recibir la instrucción de meditación. Llegué porque no podía dormir; apagaba la luz y mi cabeza no paraba de ...
continue
Posted March 19, 2009 by
I arrived in Shambhala 12 years ago when the Santiago Shambhala Center was a very small and ghostly apartment and when it was necessary to "ask for a date" in order to receive initial meditation instruction. I wanted the instruction to help me sleep better because ...
continue
Posted March 19, 2009 by
Buddhism has been intertwined with song from its beginnings. Some of the earliest female and male disciples of the Buddha wrote songs and poems about their experiences as new renunciants. As in the Homeric tradition, these songs and poems were sung or recited, memorized and passed ...
continue
Posted March 7, 2009 by Ravenna
In the fall of 2006 I found myself talking with Sakyong Mipham Rinpoche about his upcoming wedding in Orissa, India, at the seat of his father-in-law's lineage in India.  The Sakyong asked if I was going; at the time I didn't think that I would. I asked ...
continue
Posted February 22, 2009 by Marvin Ross
Sometime in the mid-1980's Khenpo Tsultrim Gyamtso Rinpoche was brought to the Kalapa Court in Boulder, Colorado for a brief informal meeting with Chogyam Trungpa Rinpoche. When Khenpo Rinpoche left, Trungpa Rinpoche remarked to his kusung, "A scholar and a yogi!" The Kusung asked, "Is that ...
continue
Posted February 21, 2009 by
By Irini Rockwell The Five Wisdoms Institute was founded in 2002 after the publication of my book The Five Wisdom Energies, a Buddhist Way of Understanding Personalities, Emotions and Relationships.
continue
Posted February 15, 2009 by Irini Rockwell
"A work of art is created because there is basic sacredness, independent of the artist's particular religious faith or trust.  Sacredness from that point of view is the discovery of goodness, which is independent of personal, social, or physical restrictions."   Chogyam Trungpa Rinpoche
continue
Posted February 14, 2009 by
By/de Nathalie-Pascale Alexandra Boisseau I am told that the magpies like to steal and accumulate shiny and precious objects. This evening in one nest, I found a mirror, And unbearable sadness. Sadness, what are you? As I struggle to console you, to fix you, to understand you, to control you, You ask ...
continue
Posted February 1, 2009 by nataliepascal-boisseau

RSS feed for the Arts and Poetry category
View all posts from authors in Arts and Poetry: Jeffrey_Fink alexvangils
Website Development by Blue Mandala using Wordpress MU.
All content and source Copyright © 1994-2021. Shambhala International (Vajradhatu), Shambhala, Shambhala Meditation Center, Shambhala Training, Shambhala Center and Way of Shambhala are registered service marks of Shambhala USA
Privacy Policy