Wednesday
Filed under International Programs
Planning continues for September's Peace Now! Symposium: Creating Peace in Difficult Times
by Michael Anderson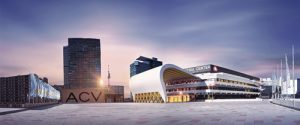 Once the seat of global empire, Vienna sits at a crossroads in a rapidly changing world. With the wars of the 20th century, and the Iron Curtain at her doorstep, many of Vienna's cultural connections to Eastern Europe were cut. The gateway between East and West in today's borderless Europe might easily be missed as the blur of a highway marker in the rear-view mirror. However, nationalist tendencies and fear of migration are once again creating renewed calls for borders and walls across the world. But difficult times bring tremendous opportunities for positive development. Therefore it is time to rouse the courage, intelligence, and compassion of our society and to face these challenges in ways that will create a peaceful future. Continue…
Entries filed under International Programs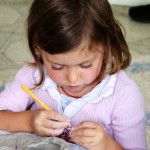 Spring is in the air today at Karme Choling, as the snow melts and the sun bears down stronger and warmer than it has in half a year's time. It is almost reminiscent of the glorious, rich summer days in the Northeast Kingdom, with flowers in ...
continue
Posted March 18, 2009 by Dan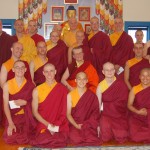 Gampo Abbey is once again hosting a Monastic Youth Dathun – June 15th to July 15th 2009 – a rare opportunity to experience a taste of Shambhala monastic life in an intensive retreat environment. The first Youth Dathun at Gampo Abbey was held in 1997, and ...
continue
Posted March 15, 2009 by Les Ste. Marie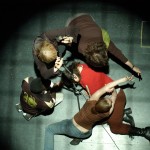 Announcing a new blog for the International Shambhala Arts Day Festival. The blog features updates, news and information in preparation for this year's events. We are quickly approaching the Spring Equinox, March 21st, when the annual International Shambhala Arts Day Festival takes place with celebrations around the ...
continue
Posted March 7, 2009 by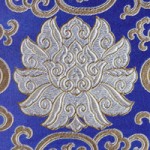 News from the Office of Practice and Education Scorpion Seal Assembly The Kongma Sakyong, Jamgon Mipham Rinpoche will open the Scorpion Seal terma path this summer to qualified vajrayana students in four locations in the mandala. These Scorpion Seal Assemblies will provide the context in which to introduce ...
continue
Posted February 25, 2009 by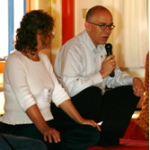 The Applied Mindfulness Conference announces it is now accepting proposals to lead interactive workshops at the second annual conference. This unique symposium brings together practitioners of mindfulness and contemplative disciplines to exchange information and ideas about extending these practices into business, organizational, and other workplace settings. ...
continue
Posted February 25, 2009 by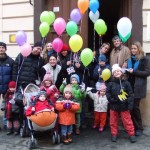 Anglicky preklad – kliknete zde. Praha je pomerne nove Shambhala centrum s velkym poctem mladych lidi. Mnoho z nich ma male deti a to velmi promenilo energii celeho centra. Zamerujeme se vic na nabizeni programu pro rodiny a snazime se zahrnout deti do cele sanghy. Diky Alici ...
continue
Posted February 24, 2009 by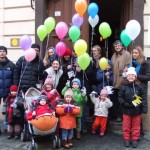 For the original Czech article, click here. Prague is a pretty new Shambhala center with quite many young people. Lots of them have little children now and it has changed the energy of the center a lot. We are now focusing on offering programmes for families and ...
continue
Posted February 24, 2009 by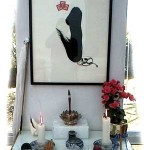 Written for the Dot For a Spanish translation of this article, click here. Brus and Jean Westby live in Bucerias, Mexico, for much of each year, and were recently invited by Acharya Allyn Lyon to help staff a week-long practice retreat at Shambhalacalli in Tepotzlan, a mountain town ...
continue
Posted February 23, 2009 by Brus Westby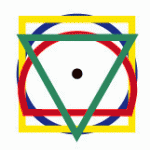 "In order to perform we have to relate to reality.  So to begin, we must have some training on how to relate to reality.  It's not a matter of questionning the nature of reality, it's learning about your style of relating to reality." Venerable Chögyam Trungpa Rinpoche
continue
Posted February 23, 2009 by Jessica Sarapoff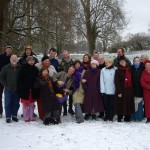 ¡Hay que experimentar Dechen Choling en invierno para creer que realmente existe un sitio así! Hay que estar ahí, sintiendo la energía desnuda en este lugar bendito: los árboles majestuosos sin hojas, el estanque helado, el aire crujiente, el cielo azul con algunas nubes blancas y ...
continue
Posted February 16, 2009 by Adrian_Bude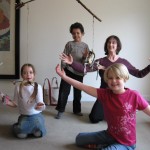 "A work of art is created because there is basic sacredness, independent of the artist's particular religious faith or trust.  Sacredness from that point of view is the discovery of goodness, which is independent of personal, social, or physical restrictions."   Chogyam Trungpa Rinpoche
continue
Posted February 14, 2009 by

RSS feed for the International Programs category
View all posts from authors in International Programs: michaela
Sites with content in this category:
Website Development by Blue Mandala using Wordpress MU.
All content and source Copyright © 1994-2017. Shambhala International (Vajradhatu), Shambhala, Shambhala Meditation Center, Shambhala Training, Shambhala Center and Way of Shambhala are registered service marks of Shambhala USA