Friday
Filed under Opinion Pieces
Mindful Eating – Joining Heaven and Earth at the Meal Table
 Review by Lynn Rossy, Ph.D. and Reposted from Tasting Mindfulness
As many of you know, I have taught mindful eating through a class called Eat for Life for 15 years, so I am familiar with the topic. However, I just had the privilege and enjoyment of taking a mindful eating program with someone else. Chef Marcella Friel has a course on Shambhala Online called Mindful Eating –Joining Heaven and Earth at the Meal Table that I would highly recommend for almost anyone.
EFT Tapping to Calm Your Food Cravings
My interest in the course peaked when I noticed that she uses the EFT tapping technique to help people calm their food cravings. Given my recent training in Energy Medicine Yoga which also uses tapping, I was particularly curious how she would weave it into a mindful eating class. She taught an easy tapping technique to use as you look at trigger food. And, as she said at the end, "you can choose to eat it or not" but you can do it without craving it. In my experience, the emotional aspect of craving takes the pleasure out of food and tapping can help you calm that.
Findings from a world-first study aimed at scientifically proving a simple "tapping" technique have shown the method is effective in reducing food cravings. This study used Functional Magnetic Resonance Imaging scans (fMRIs) to see the physical evidence of exactly how EFT self-help techniques work.  After 4 weeks (two hours per week) of EFT Tapping, participants' brain scans showed a remarkable reduction in activation. The control group that did not receive any EFT did not change.  The findings indicated EFT might decrease limbic region brain activity and reduce food-related symptoms.
EFT tapping has been shown to quickly alleviate issues like depression, anxiety and insomnia, as well as severe PTSD, physical pain, and even illness. Its popularity has significantly grown in the past few years in clinical settings.
Mindful Eating Topics
Besides tapping, Chef Marcello addresses everything from releasing negative core beliefs about food and our bodies to recipes for serving yourself delicious meals that support your mood and body. Personally, I loved her discussions regarding the importance of the microbiome in our gut and feeding ourselves fermented foods. I can't wait to try her easy recipe for water kefir. And, believe me, I never thought I'd be saying anything like that!
She has some simple instructions for mindful eating as follows:
Bring all your attention to your food. Notice the colors, textures, shapes, and smells. What do you observe? How does your body feel in relation to this food? Take notes.
Take a few more deep breaths. Bring one bite of food to your mouth.
Be as fully present to that first bite as you can. What is your mouth saying about this food? What is your stomach saying? What other sensations are arising? Take notes.
Continue eating, focusing as much attention as possible on every bite. How does your experience change as you eat? Take notes.
Can you find the point where your body says "Enough"?
Or, even more simply, before you eat take three breaths, place your hands on your heart and look at what you're going to eat. And then consider the following from Chef Marcella: "If you are what you eat, what would you want to be?"
Invited Guests at the Table
There are also a number of people that she brings into the course through articles from food journalist Michael Pollan, a short, humorous Tedx talk by Annemarie Colbin, founder of the Natural Gourmet Institute in New York City and one of Marcella's beloved mentors, and a video with Zen Chef Edward Espe Brown. I particularly liked her section on why home cooking matters. Michael Pollan points out, Americans spend an average of 27 minutes per day on meal preparation, and most of that involves heating a can of soup or microwaving a frozen pizza. Our favorite meal, for both lunch and dinner, is a sandwich and a soda. The consequences are numerous in terms of health, community, and overall wellness.
Chef Marcella doesn't leave you there but leads you in the direction of the kitchen in a delightful, fun manner. As she says, rediscovering sanity with food is a simpler journey than we might believe. She suggests simple techniques for making eating more of a pleasing ritual like setting the table, inviting a loved one, and putting on music — small gestures to make mealtime one of appreciation and gratitude.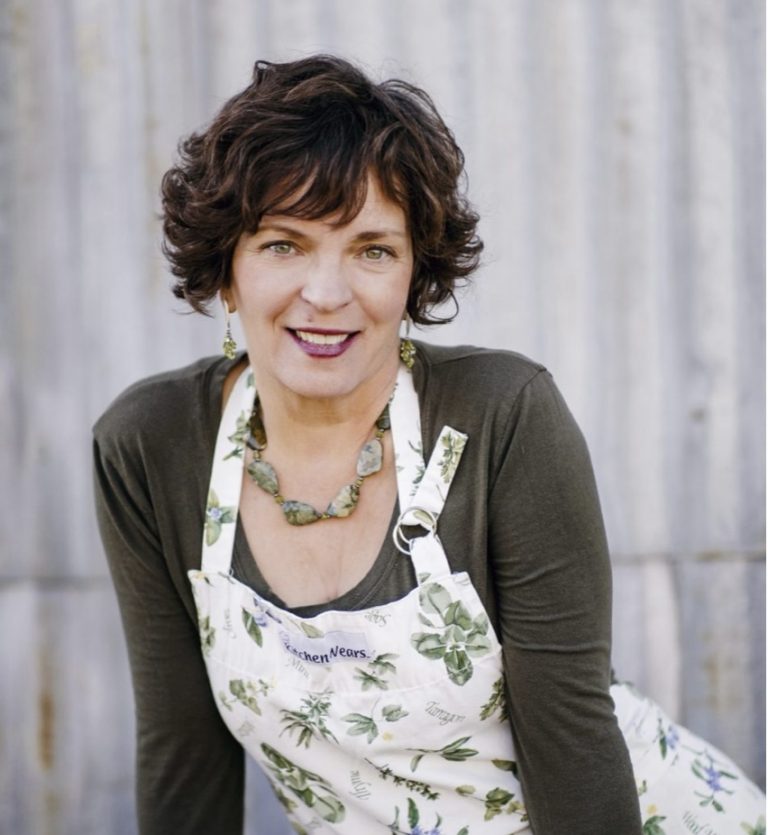 More about Chef Marcella
Chef Marcella is a mindful eating mentor who helps health-conscious women love and forgive themselves, their food, and their figure. She is the author of the book Tap, Taste, Heal: Use Emotional Freedom Techniques (EFT) to Eat Joyfully and Love Your Body. In 2018, Marcella founded The Women, Food & Forgiveness Academy, an online mentorship program to help women cultivate unconditional self-love as the path to conscious food choices and sustainable body-weight balance.
How to Take the Course
Simply go to Shambala Online https://shambhalaonline.org/calendar-details/?id=461224. The course is filled with great instructions throughout with very professional but personal articulation of the topics.
Savor and Enjoy!
---
This is a Tasting Mindfulness Blog review of the Shambhala Online Course, Mindful Eating – Joining Heaven and Earth at the Meal Table with Chef Marcello. To read more about Lynn Rossy and blog posts by Tasting Mindfulness click here.
Entries filed under Opinion Pieces
By Margot Becker For a long time, I've wished to open a discussion with the sangha about compassionate action in the world.  A few months ago, I got my chance.  I receive a fundraising letter from President Reoch.  I was disappointed—again—that the request was solely about improving ...
continue
Posted April 11, 2009 by
Dechen Choling, le centre résidentiel européen, est un lieu magique, tantôt rempli de grande félicité, comme l'indique son nom (Dechen = Grande Félicité, Choling = Lieu du Dharma), tantôt plein d'orages créés par les esprits collectifs et individuels qui s'y trouvent. Situé près de Limoges, en ...
continue
Posted April 7, 2009 by
By Waylon H. Lewis It may well be ironic, in a community founded upon the notion of impermanence—a community formed by Chogyam Trungpa Rinpoche, the rug-pulling, cocoon-popping pioneer who first succeeded in making the genuine Buddhadharma fully accessible to the modern West—that we are still so ...
continue
Posted March 26, 2009 by
When my mother died at age 86, her only grandchild–my daugher, then 14–asked if she could have my mother's well-worn, simple gold wedding band. Since then, my daughter–now 21–has worn that ring nearly every day. With my mother's death, my daughter no longer had living grandparents. ...
continue
Posted March 15, 2009 by David Whitehorn
To all babies born or about to be born in our sangha: welcome! We know how easily you are imprinted and impressed by whatever we present to you in your early months and years. Once born in this world, depending on circumstance, chances are you will face ...
continue
Posted March 10, 2009 by
In 1968, when I was 17 years old and coming into adult consciousness about the world, waking up to the need for progress in human societies, I visited New York to see an exhibit of "Paris, May 1968" poster work. I spent my formative years – the ...
continue
Posted March 1, 2009 by Marc_Matheson
By Gale Young "It's okay Gale" my long time professional partner, an African American, said in 1992, "Sunday is the most segregated time in America. Relax. It's your white ethnic experience".  Except for the Level One instructor, I hadn't seen another person of color in either the ...
continue
Posted February 25, 2009 by
Communicating the dharma in human language is a translation from the beginning. Realized beings point at the inexpressible essence through various means, transmissions, signs, dakini language and eventually human language. In addition, some translated already existing texts, as did, for instance, Vairochana, Marpa, and Chögyam Trungpa ...
continue
Posted February 24, 2009 by
Recently, a long time sangha member, a person of color, attending a vajrayana program, shared with me her experience of being greeted at a Shambhala land center entrance and asked if she was lost and needed directions. This has happened many times to her and, unfortunately, I've ...
continue
Posted February 22, 2009 by charlene_leung
Pour lire cet article en français, cliquez ici. During my early teenage years in India, I tried to read The Times of India to my grandfather, who was a scholar in English and Latin. As I read, he would give me the etymology of virtually each and ...
continue
Posted February 20, 2009 by Rohini_Schiff
Pour lire cet article en anglais, cliquez ici. Pendant mon adolescence en Inde, je lisais le Times of India à mon grand-père qui était d'une grande érudition en anglais et en latin. Tandis que je lisais, il me donnait l'étymologie de presque chaque mot anglais. J'étais trop ...
continue
Posted February 20, 2009 by Rohini_Schiff
Recently I posed a question on Sangha-announce. I asked: Are any Shambhalians in financial distress? And, if there are any, what might we have in place to alleviate such distress? In what part of our organization would this element of vicissitude be addressed? Suddenly I became the ...
continue
Posted February 1, 2009 by Phyllis Segura
In the conventional world, generosity is the way that organizations express goodness. The Rotary Club, Kiwanis Club and other such groups repeatedly raise large sums of money and donate it to non-profits, schools and civic projects. They raffle off classic cars, vacations in Europe and other ...
continue
Posted January 31, 2009 by Larry Barnett

RSS feed for the Opinion Pieces category
View all posts from authors in Opinion Pieces: jillian_johnson
Website Development by Blue Mandala using Wordpress MU.
All content and source Copyright © 1994-2023. Shambhala International (Vajradhatu), Shambhala, Shambhala Meditation Center, Shambhala Training, Shambhala Center and Way of Shambhala are registered service marks of Shambhala USA
Privacy Policy