Thursday
Filed under Featured Stories, Sakyong and Family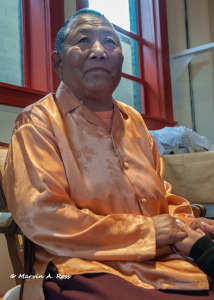 Details about how to practice with Lady Könchok at this time can be found at the end of this article.
Lady Könchok Palden, mother of the Kongma Sakyong, Jamgön Mipham Rinpoche, entered samadhi Wednesday, June 12, 2019, Guru Rinpoche day in the Buddhist holy month of Saga Dawa. In addition to the Sakyong and his family, she is survived by her husband Pema Gyaltsen Rinpoche, her son Gyurme Dorje Lama and his family, and relatives in Lhasa.
Lady Könchok Palden was born in Kham in eastern Tibet in 1931. At an early age she was ordained as a nun and spent more than a dozen of her early years, including most of her teens, in retreat, under the guidance of the renowned yogi Lama Tuga.
In 1959, she joined the Vidyadhara Chogyam Trungpa Rinpoche on his escape from Tibet. The journey took six months, during which time they were joined by hundreds of Tibetans hoping to reach sanctuary in India.
Entries filed under Sakyong and Family
By Sakyong Mipham Rinpoche Whatever our level of practice, there will always be obstacles. The Tibetan word for obstacle, parche, means "what cuts our progress." In fact, sometimes the more we are engaged in practice, the greater the obstacles become. If we understand that obstacles are ...
continue
Posted May 11, 2009 by Jennifer Holder
By Sakyong Mipham Rinpoche There are many layers to the process of enlightened society and how it manifests—and how we manifest it ourselves and in our own lives. Now we are at the point where we are looking at how we can manifest it at an earthly ...
continue
Posted May 8, 2009 by
Remarks by the Sakyong Wangmo, Khandro Tseyang on the occasion of a Werma feast on April 13, 2009 at the Halifax Shambhala Meditation Centre. These days there is so much difficulty in this world, so much uncertainty in life. The only thing that we can rely on ...
continue
Posted May 7, 2009 by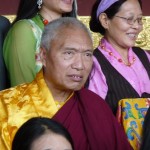 After a successful completion of the Rinchen Terdzo in Orissa, India, at the beginning of March, His Eminence Namkha Drimed Rinpoche is now back in Nepal. The teachings were accomplished after a little more than three months of almost daily practice, during which His Eminence gave ...
continue
Posted April 23, 2009 by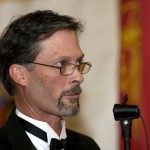 By Benjamin Buren I was honored to be present at the Enthronement Celebration for the Sakyong Wangmo.  I have compiled a beautiful slideshow of the event (with music by Tibetan flautist Ngawang Khechog), as well as made over 200 pictures available for viewing and purchase.  All profits ...
continue
Posted April 16, 2009 by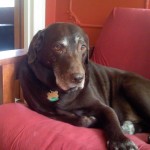 From Lady Diana Mukpo and Acharya Mitchell Levy: Winston Mukpo-Levy, also known as Mitchell's Witless Winston or "Winnie", died on April 7th, at 10:20 a.m. He ended his life as he lived it, with determination and dignity. Everyone who met him had a story about him. ...
continue
Posted April 16, 2009 by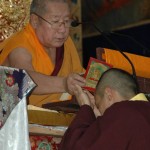 On April 4th, on the occasion of Parinirvana Day, Sakyong Mipham Rinpoche addressed the Shambhala community worldwide from New York City. Sakyong Mipham Rinpoche proclaimed Parinirvana Day to be "a day of remembering and gratitude" both for the Vidyadhara, Chogyam Trungpa Rinpoche and for His Holiness Penor ...
continue
Posted April 6, 2009 by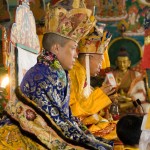 The Rinchen Terdzo concluded this week with the enthronement of the Sakyong as a lineage holder of the transmission of this "precious treasury of terma," the literal meaning of the Richen Terdzo. During the final event, the Sakyong and Sakyong Wangmo made formal offerings to His ...
continue
Posted March 13, 2009 by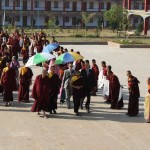 Losar, the Tibetan new year, was celebrated by the Sakyong and Sakyong Wangmo in Orissa, India with members of the Shambhala Community and Ripa lineage. These photos and a description of the festivities have been offered by Walker Blaine on the Rinchen Terdzo blog and used ...
continue
Posted March 5, 2009 by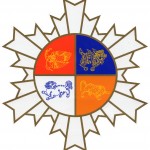 Welcome to News from the Office of the Kalapa Court. The Sakyong's Shambhala Day address and Sakyong Wangmo's address are now available on line as transcriptions and audio recordings. These are also available in Spanish, along with President Reoch's remarks. In this year's Shambhala Day address, ...
continue
Posted February 24, 2009 by David_Brown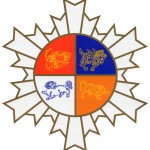 On behalf of Sakyong Mipham Rinpoche and President Reoch, the Office of the Kalapa Court wishes to announce the following appointments and retirements. Buffalo, NY: Recognized as a Shambhala Meditation Group; Steve Clookey and Trudy Stern, Coordinators Cologne, Germany: Marita van Heukelom, Warrior Cleveland, OH: Richard Weiner, Warrior ...
continue
Posted February 24, 2009 by David_Brown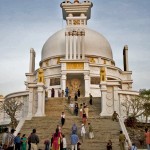 In the fall of 2006 I found myself talking with Sakyong Mipham Rinpoche about his upcoming wedding in Orissa, India, at the seat of his father-in-law's lineage in India.  The Sakyong asked if I was going; at the time I didn't think that I would. I asked ...
continue
Posted February 22, 2009 by Marvin Ross

RSS feed for the Sakyong and Family category
View all posts from authors in Sakyong and Family: alexvangils Mark_Whaley
Sites with content in this category: https://shambhalaarchives.org/
Website Development by Blue Mandala using Wordpress MU.
All content and source Copyright © 1994-2019. Shambhala International (Vajradhatu), Shambhala, Shambhala Meditation Center, Shambhala Training, Shambhala Center and Way of Shambhala are registered service marks of Shambhala USA