Friday
Filed under Community Articles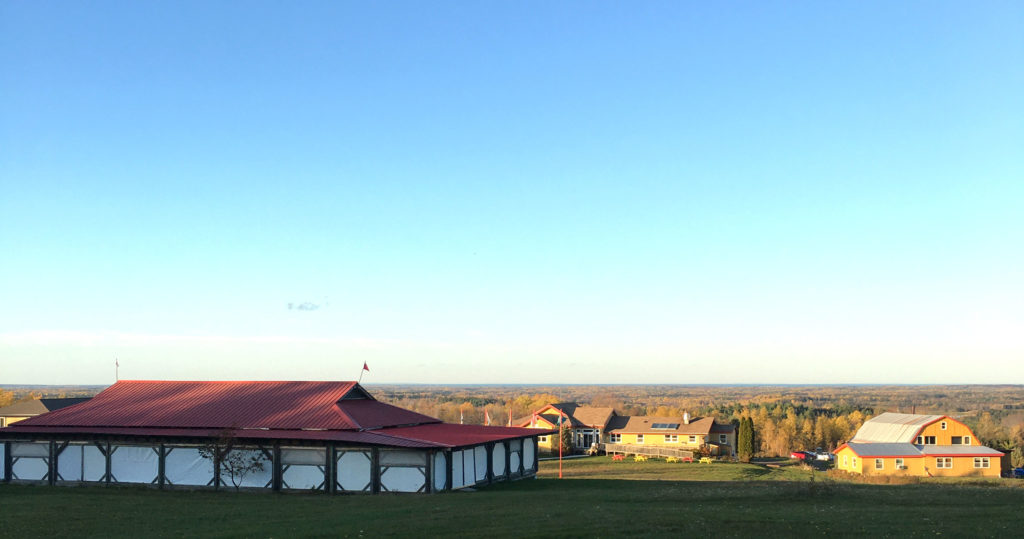 "In the practice of meditation, you step beyond your hope and fear. You develop trust in the strength of your being and in your ability to extend yourself to others, and you find you have tremendous willingness to do so."
– Chögyam Trungpa Rinpoche
Join us at Dorje Denma Ling for the Shamatha-Vipashyana Dathün with Gaylon Ferguson! This month-long meditation retreat runs from June 28 – July 27, 2022. If you cannot make the full week, there are two-week options: June 28-July 13 and July 13-July 27.
This dathün provides an opportunity to develop a deep familiarity with the form of shamatha-vipashyana meditation taught by Shakyamuni Buddha –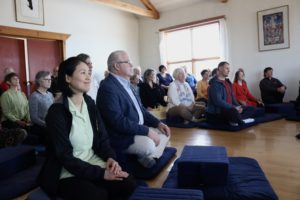 often referred to as "sitting practice." Shamatha-vipashyana meditation helps us make friends with ourselves and our circumstances, and to re-discover our fundamental awake nature.
Although there is not much talking, group practice creates a shared atmosphere of wakefulness. This mutual support, inspiration and awareness is at the heart of the journey that all the participants at dathün take together.
What to Expect
This dathün follows the intensive group retreat style introduced by Chögyam Trungpa Rinpoche.
The traditional four-session daily schedule begins at 7am and ends around 9pm most evenings. Sitting sessions are alternated with walking meditation periods, and there are regular breaks for meals, tea and a mid-day work period. Silence or "functional talking" is  practised for much of the retreat, and participants are assigned light cleaning and kitchen tasks as meditation in action. Meals are served in the meditation hall using the Zen contemplative eating practice of oryoki.
While this is primarily a practice retreat focused on deepening one's shamatha-vipashyana meditation, there will be occasional dharma talks, and opportunities to ask questions about your practice when you meet with a meditation instructor.
Who Should Attend
The dathün is open to all and can be beneficial to both new and experienced meditators. Practitioners at all levels will deepen their meditation by reinforcing
the foundational shamatha-vipashyana practice.
Some familiarity with meditation practice is recommended. Newer meditators are advised to develop a regular daily practice before taking on this intensive,
month-long retreat.
Meet the Teacher
For More Information
If you have any question about the appropriateness of this dathün for you, or any other questions about practice or the program content, please email the Program Manager, Dan Schreibman.
If you have questions about accommodations, costs, travel, Covid-19 protocols or other logistical issues, please email Guest Services for Dorje Denma Ling.
Costs
Tuition: CAD $1,000
Meals: CAD $435
Accommodations: Varies by selection. (Options can be viewed on the Registration Page.)
Scholarships and Payment Plans
For relatively new practitioners, BIPOC practitioners, and those under 40, scholarships are available through the generosity of the Pema Chodron Foundation. These scholarship funds are limited and on a first come, first serve basis, so please apply promptly by contacting Suzy Ulrich, Finance Manager.
For all other practitioners, please fill out and return the financial aid form or contact Suzy Ulrich.
Entries filed under Community Articles
As I walked up the large stone steps approaching Amaterasu's main shrine, I wished that every Shambhalian could experience this place.  Mindlessly, I flashed a picture with my camera – before a guard sharply waved his hands as to say, "No pictures!" I quickly apologized and ...
continue
Posted March 6, 2009 by
By Corey Kohn Bodhgaya is a dusty little one-horse town, replete with limbless beggars and tattered-looking street children, just as we had been told. And in the middle of this unlikely place is the Mahabodhi temple, commemorating the site where the Buddha attained enlightenment 2,500 years ago. ...
continue
Posted March 3, 2009 by
This article was a collaborative effort of Magali Meneses, Clarke Warren, Veronica Guzman, Marvin Ross and Marc Matheson. The late Acharya Simon Luna, who passed away in 2007, had a connection to Naropa University and to the Shambhala community of Latin America. Clarke Warren, a Naropa ...
continue
Posted March 2, 2009 by
[caption id="attachment_504″ align="alignright" width="150″ This document has drawn immensely appreciative feedback. The following excerpt from the Preface might help explain why: The Kootenay Shambhala Centre is in the town of Nelson, B.C., Canada. We have had the usual disagreements about whether it is appropriate to do ...
continue
Posted February 27, 2009 by James Northcote
Escrito para The Dot. Traducido al español por Luz Rodríguez. Brus y Jean Westby viven la mayor parte del año en Bucerías (México), y la acharya Allyn Lyon les invitó hace poco a formar parte del equipo de un retiro de una semana en Shambhalacalli, en Tepotzlán, ...
continue
Posted February 25, 2009 by Brus Westby
Thirty-five years ago at the age of twenty-five, I attended the 16th Gyalwa Karmapa's Black Hat [or Vajra Crown] ceremony in San Francisco at the invitation of a dear friend. This same friend also gave me a copy of Cutting Through Spiritual Materialism, which I still ...
continue
Posted February 20, 2009 by Larry Barnett
I conceived my son when I was deep into my ngondro practice. Although my aspiration to receive Rigden abhisheka in the coming months was derailed, I felt that I had received the ultimate blessing.  The ngondro for this abhisheka began after the transmission – through the ...
continue
Posted February 20, 2009 by Rebekka_Henriksen
In 2004, I returned to my hometown in South Africa after 30 years away. I found a sparse and scattered dharma scene. In Cape Town, the only Tibetan Buddhist center was that of Rob Nairn, Akong Rinpoche's senior South African student. A few months after I arrived, ...
continue
Posted February 20, 2009 by Jennifer_Woodhull
Two years ago the Berkeley Shambhala Center (BSC) opened the doors of Streetspace, a store-front, multi-purpose space located in downtown Berkeley, California. BSC has occupied the same second-floor space in a dzong-like building for over thirty years, while remaining virtually invisible to pedestrians and traffic. By ...
continue
Posted February 18, 2009 by
For the past four years I have resided part time in mainland China, living in the concrete and tin roof barracks of the artist's villages that ring the northeast section of Beijing, by the Fifth Ring Road near the airport. Personal voice and uncensored expression are ...
continue
Posted February 15, 2009 by Ellen Pearlman
Written by Joel and Sarah Mandel Sarah and I are long-term Shambhala Buddhist practitioners.  As we approach retirement age, we've been thinking about how, where and with whom we would like to spend the rest of our lives. I'll bet many of us are considering the same ...
continue
Posted February 1, 2009 by Joel Mandel
Students are practicing meditation in the unlikeliest of places: a small public school in rural southeastern Utah, USA. Encouraged by a once-a-week meditation group, students have learned to relax, pay attention to their breath and decrease negative emotions. How it Began In 2005, my supervisor at the ...
continue
Posted January 31, 2009 by tom
Written for the Dot The Taipei Shambhala Meditation Group happily hosted Shambhala President Richard Reoch for three days during his October 2008 tour of Asia. This followed Acharya Arawana Hayashi's earlier February 2008 visit to Taipei which featured an inspiring program: "Shambhala and the Great Eastern Sun ...
continue
Posted January 31, 2009 by Yeachin Tsai

RSS feed for the Community Articles category
View all posts from authors in Community Articles: natasha_west Rose_Keyes
Website Development by Blue Mandala using Wordpress MU.
All content and source Copyright © 1994-2022. Shambhala International (Vajradhatu), Shambhala, Shambhala Meditation Center, Shambhala Training, Shambhala Center and Way of Shambhala are registered service marks of Shambhala USA
Privacy Policy