Tuesday
Filed under Community Articles
Dear Shambhala Members and Friends,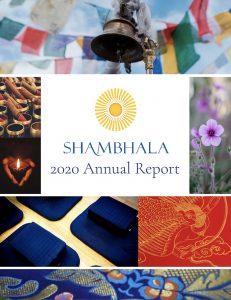 We hope you are all healthy, safe, and that you continue to be well supported during a time of ongoing challenge. We are pleased to share the 2020 Shambhala Annual Report with you, which outlines the activity of the Shambhala nonprofit organization during the 2020 calendar year. Click here to download a PDF copy.
2018 and 2019 were challenging years for our community, during which Shambhala was faced with major leadership transitions and the direction of our community was both explored and questioned by practitioners, teachers, leaders, and members at our Centres and Groups around the globe. These challenges have continued into 2020 – and we have also continued to grow and evolve as a community and organization so that we can be together in ways that are even more supportive, genuine, and kind. 
The world beyond Shambhala has also been rife with upheaval and strife. Global problems and issues related to the pandemic continue to be of concern and people around the world have been grappling with ongoing isolation and economic stress. And social and racial justice issues continue to dominate both the headlines and the ache in our hearts that tells us there is so much work to be done to bring about real equality, peace, and dignity for humanity. 
As a Board, we are committed to leaning into all of it. We will do our best every day to create a community and organization that is aligned with the principles of basic goodness, warriorship, and enlightened society so that we can be of the most possible benefit to one another and the wider world. This is not an easy path, but it is a worthy path and it is a journey we hope we can all take together. For it is only together that we can create a truly kind, just, and caring society.
Thank you for joining us on the road ahead. We are forging ahead with joyful exertion!
The Shambhala Board of Directors
Mark Blumenfeld
Susan Engel
Lilly Gleich
Peter Nowak
Tai Pimputkar
Susan Ryan
Paulina Varas
Entries filed under Community Articles
Escrito para The Dot. Traducido al español por Luz Rodríguez. Brus y Jean Westby viven la mayor parte del año en Bucerías (México), y la acharya Allyn Lyon les invitó hace poco a formar parte del equipo de un retiro de una semana en Shambhalacalli, en Tepotzlán, ...
continue
Posted February 25, 2009 by Brus Westby
Thirty-five years ago at the age of twenty-five, I attended the 16th Gyalwa Karmapa's Black Hat [or Vajra Crown] ceremony in San Francisco at the invitation of a dear friend. This same friend also gave me a copy of Cutting Through Spiritual Materialism, which I still ...
continue
Posted February 20, 2009 by Larry Barnett
I conceived my son when I was deep into my ngondro practice. Although my aspiration to receive Rigden abhisheka in the coming months was derailed, I felt that I had received the ultimate blessing.  The ngondro for this abhisheka began after the transmission – through the ...
continue
Posted February 20, 2009 by Rebekka_Henriksen
In 2004, I returned to my hometown in South Africa after 30 years away. I found a sparse and scattered dharma scene. In Cape Town, the only Tibetan Buddhist center was that of Rob Nairn, Akong Rinpoche's senior South African student. A few months after I arrived, ...
continue
Posted February 20, 2009 by Jennifer_Woodhull
Two years ago the Berkeley Shambhala Center (BSC) opened the doors of Streetspace, a store-front, multi-purpose space located in downtown Berkeley, California. BSC has occupied the same second-floor space in a dzong-like building for over thirty years, while remaining virtually invisible to pedestrians and traffic. By ...
continue
Posted February 18, 2009 by
For the past four years I have resided part time in mainland China, living in the concrete and tin roof barracks of the artist's villages that ring the northeast section of Beijing, by the Fifth Ring Road near the airport. Personal voice and uncensored expression are ...
continue
Posted February 15, 2009 by Ellen Pearlman
Written by Joel and Sarah Mandel Sarah and I are long-term Shambhala Buddhist practitioners.  As we approach retirement age, we've been thinking about how, where and with whom we would like to spend the rest of our lives. I'll bet many of us are considering the same ...
continue
Posted February 1, 2009 by Joel Mandel
Students are practicing meditation in the unlikeliest of places: a small public school in rural southeastern Utah, USA. Encouraged by a once-a-week meditation group, students have learned to relax, pay attention to their breath and decrease negative emotions. How it Began In 2005, my supervisor at the ...
continue
Posted January 31, 2009 by tom
Written for the Dot The Taipei Shambhala Meditation Group happily hosted Shambhala President Richard Reoch for three days during his October 2008 tour of Asia. This followed Acharya Arawana Hayashi's earlier February 2008 visit to Taipei which featured an inspiring program: "Shambhala and the Great Eastern Sun ...
continue
Posted January 31, 2009 by Yeachin Tsai

RSS feed for the Community Articles category
View all posts from authors in Community Articles: natasha_west Rose_Keyes alexvangils Ashley_Dinges
Website Development by Blue Mandala using Wordpress MU.
All content and source Copyright © 1994-2021. Shambhala International (Vajradhatu), Shambhala, Shambhala Meditation Center, Shambhala Training, Shambhala Center and Way of Shambhala are registered service marks of Shambhala USA
Privacy Policy