Friday
Filed under Community Articles, Dharma Teachings
The first part of a two-part series by Shastri Russell Rodgers
All over the world, wherever there are humans, there are societies. We have evolved different languages, customs, and even skin colors, but always, there is society. Society has enabled us to transmit knowledge and technologies. These have enabled us humans to dominate the earth, perhaps to our own detriment.
Some strands of Buddhism suggest that society itself can become enlightened. This is the basis of the Himalayan legend of Shambhala. If we are contemplating whether a society can become enlightened, or at least live in harmony with the earth, understanding the urge to "good" society is important.
Since most people don't like to read long articles on their screens, I will split this up into two parts. In Part I, I will look at how some prominent scientists have theorized that society-building urges are built into our DNA.
In Part II, I will explore how the social undercurrents that exist between humans can be brought into consciousness as we go about our daily lives. I'll try to explore how our sense of goodness becomes codified in societal laws, and how these can become on-the-spot channels for the expression of goodness. Continue…
Entries filed under Community Articles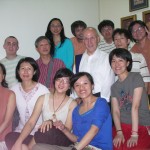 Written for the Dot The Taipei Shambhala Meditation Group happily hosted Shambhala President Richard Reoch for three days during his October 2008 tour of Asia. This followed Acharya Arawana Hayashi's earlier February 2008 visit to Taipei which featured an inspiring program: "Shambhala and the Great Eastern Sun ...
continue
Posted January 31, 2009 by Yeachin Tsai

RSS feed for the Community Articles category
View all posts from authors in Community Articles: John_Smith alexvangils Travis_May Shambhala_Portland_1 AnnicaCrouse fredvanwelsem Kathryn_Rile Jennifer_Holder Claire_Crevey Sueschubel Thacher richxyz Luz_Rodriguez Ashley_Dinges Chris_Morel Dennis_Pack Alexandra_Kalinine PauletteMGraf
Sites with content in this category: https://shambhalatimes.org/ https://shambhalatimes.org/ https://shambhalatimes.org/ https://shambhalatimes.org/ https://shambhalatimes.org/ https://shambhalatimes.org/ https://shambhalatimes.org/ https://shambhalatimes.org/ https://shambhalatimes.org/ https://shambhalatimes.org/ https://shambhalatimes.org/ https://shambhalatimes.org/ https://shambhalatimes.org/ https://shambhalatimes.org/ https://shambhalatimes.org/ https://shambhalatimes.org/ https://shambhalatimes.org/ https://shambhalatimes.org/ https://shambhalatimes.org/ https://shambhalatimes.org/ https://shambhalatimes.org/ https://shambhalatimes.org/ https://shambhalatimes.org/ https://shambhalatimes.org/ https://shambhalatimes.org/ https://shambhalatimes.org/ https://shambhalatimes.org/ https://shambhalatimes.org/ https://shambhalaarchives.org/ https://shambhalatimes.org/ https://shambhalatimes.org/ https://shambhalatimes.org/ https://shambhalatimes.org/ https://shambhalatimes.org/ https://shambhalatimes.org/
Website Development by Blue Mandala using Wordpress MU.
All content and source Copyright © 1994-2019. Shambhala International (Vajradhatu), Shambhala, Shambhala Meditation Center, Shambhala Training, Shambhala Center and Way of Shambhala are registered service marks of Shambhala USA