Tuesday
Filed underCommunity Articles
Reflections on the Social Engagement Think Tank at Sky Lake, New York, October 2017
by Lourdes de León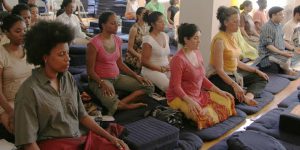 Since our Social Engagement Think Tank, I have been processing my experiences,  connecting to emotions that continue to arise. I have been trying to put my experience into words, first in Spanish and then in English, so that I can share them with the group. I read Shastri Leung's article for the Shambhala Times and felt again the same very powerful energy that ran through me during our gatherings with the People of Color.
For me, as a Latin American, the experience was very deep in both familiar and mysterious ways.  I know what it is to be discriminated against as a person of color in the United States, as I have experienced discrimination in a number of ways: as a Mexican, as a Spanish speaker, and as a Latina woman; and in different circumstances: as a patient in a hospital bringing my daughter to the emergency room, trying to cross the border and enter the United States by car and being unjustly accused of carrying drugs just because I am Mexican, being treated as a liar by an immigration officer, or being considered a threat to the United States for not choosing to become an American citizen.  I also feel it in my bones when I see my people treated as delinquents, abused by police, disrespected, and treated as second-class citizens in the United States. Continue…
Author Archive
Website Development by Blue Mandala using Wordpress MU.
All content and source Copyright © 1994-2020. Shambhala International (Vajradhatu), Shambhala, Shambhala Meditation Center, Shambhala Training, Shambhala Center and Way of Shambhala are registered service marks of Shambhala USA
Privacy Policy